So you have suffered a Jones fracture after playing basketball with your mates. Not fun at all. There are various ways to speed up the healing, and one of them is using shoes after Jones Fracture for recovery. The finest shoes for a Jones fracture should protect the fractured area from infection, strain, and, most importantly, pain.
Jump immediately to the FAQ section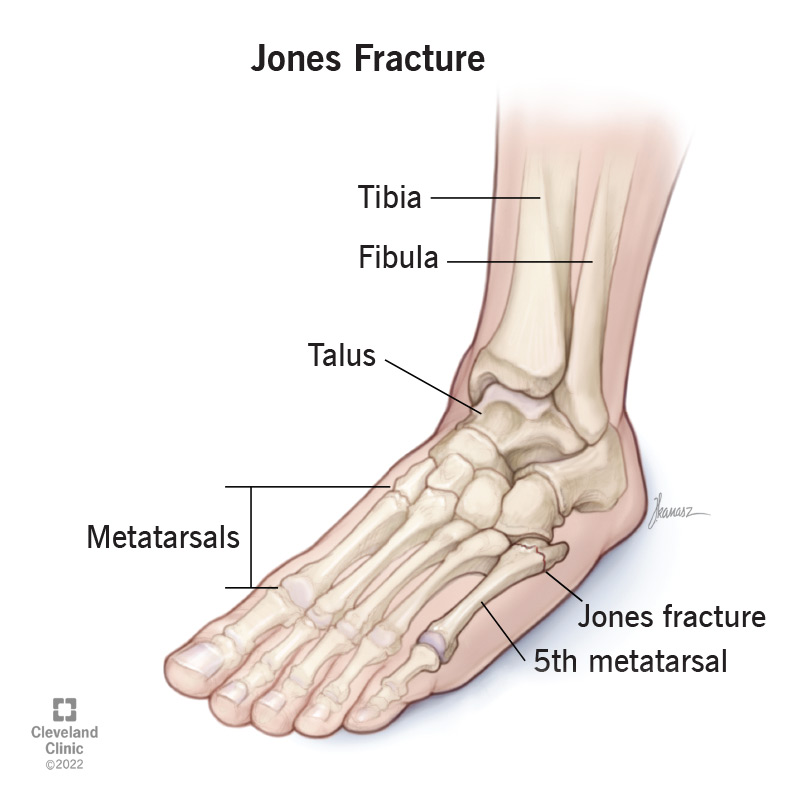 What is a Jones fracture?
A Jones fracture or a fifth metatarsal fracture is a sprain on the bone in the forefoot that connects to the little toe. Even after treatment, it makes walking difficult and uncomfortable.
However, if you wear the correct shoes, you will find them more bearable.
A fracture of your 5th metatarsal, or Jones Fracture is annoying and painful. Wearing the right shoes after Jones fracture is one of the treatments to revocer. A good shoe should be lightweight but also be stiff. A comforatble cushioning makes it perfect for revocering.

Shoe specialist
This article will help you determine which medical shoe or walking boot is best for you so you can recuperate from a Jones fracture in no time. 

Best Shoes After Jones Fracture

Post Op Recovery Shoe by Brace Direct
With a Shock Absorbing EVA Sole for optimal ventilation and cushion for a faster recovery and minimal skin irritation, this shoe is lightweight and comfy. Its non-skid tread and rocker bottom sole give improved stability and arch support while easing pain and pressure on the forefoot and heel for a more natural step.
Additionally, it allows for comfortable immobilization and breathing for all-day use and full recovery. Toe protection and bump prevention are provided by the square open toe configuration.
The pair incorporates an adjustable three-strap medical-grade strap system to ensure a safe and snug fit while accommodating bandaging and edema fluctuations. It is versatile in that it can be worn on either the left or right foot.
As a bonus, you can make an appointment with a medical professional for a free video fitting and adjustment session at BraceDirect (an American Owned Company) to achieve the optimal fit.

BraceAbility Closed Toe Medical Shoe
This BraceAbility medical shoe is closed to keep your bandages clean and dry and to prevent your damaged foot area from further injury. Are you concerned about the amount of space available?
Don't worry as the shoe is wide enough to allow bandages and swelling. At the front, there are adjustable straps to accommodate casts and bandages.
In addition, the shoe's sole is a rigid rocker, which provides arch support and reduces soreness while walking. It is also anti-slip, so it will definitely keep you safe on slick floors and walkways. Additionally, the detachable inner sole cushions the foot, absorbs shock, and reduces impact.
Because the toe box is large, it can be worn on either your right or left foot. It has a closed-toe design and a wide, stiff sole for arch support. Just remember that in a closed shoe, heat can build up, which can be quite uncomfortable.

United Ortho Short Air
If your 5th metatarsal break created a misalignment, the United Ortho short walker is the appropriate Walker boot for you. The boot is universal, which means it fits both right and left feet and is ideal for men and women. A sizing chart is available for the individual men's and women's fits.
This boot is unique in that it features air bladders that provide the necessary compression and support, making walking even easier and less painful. The insole is shock-absorbing to improve your comfort and safety, so you won't have to worry about injury or suffering from impact.
Furthermore, the short boot features a durable rocker sole that promotes natural walking while preventing the metatarsal from stressed movement. The walker will provide arch support, reducing pain in the knees, ankles, and wounded metatarsal while walking.
It provides shock absorption, with air bladders that enhance compression and support. However, the shoe becomes a liability if the air bladders stop functioning.
Finally, the closure straps make it easier to put on and take off the shoe. Your foot simply slides into and out of the shoe, putting less strain on your wounded metatarsal. Because the straps are adjustable, the shoe can also accommodate bandages and swellings.

Mars Wellness Premium Post Op
The Mars Post Op shoe comes in a big size to accommodate guys with broad and wide feet and swollen feet. To begin, the shoe has a square toe, which allows it to be worn on both right and left feet while also acting as a toe bumper to prevent harm. As a result, it serves as a type of defense.
Next, the shoe's sole and design allow you to keep bandages and other dressings dry, making recuperation easier. Given the heel padding and ankle strap, optimal foot placement and stability are apparent.
As a result, you feel more secure in the shoe. The rocker sole also provides adequate traction, ensuring your safety against inadvertent sliding.
Additionally, the shoe features adjustable straps that may be customized to accommodate bandages and a swollen foot. It also permits easy on and off without injuring the afflicted area. The accessible detachable insole provides cushioning and impact protection for the feet.
The pair is spacious and wide enough to accommodate larger feet. It maintains the stability and structure of the feet while also providing adequate traction. Remember that it might not be suitable for narrow or smaller feet.

BraceAbility Short Broken Toe Boot
The next item on this list is a boot that helps you recover faster from a Jones fracture. The inside of this BraceAbility toe boot is made of solid polymer plastic, which protects and supports your damaged foot. The 5th metatarsal is in a great position to benefit since the shell covers both sides of the foot.
Aside from that, the boot has a luxury foam liner that protects your foot from trauma and harm. Similarly, the wide toe bed and open toe design will keep your foot safe and stress-free.
The stiffness required for arch support is provided by the rocker bottom. However, its low profile allows you to take a natural step, which is difficult with a fractured metatarsal.
Above all, this shoe is ideal for a foot that is virtually to be completely motionless. It protects your foot while treating it, allowing you to walk without pain. The adjustable straps provide the necessary accommodation for bandages and swellings.
Overall, a hard-plastic shell provides excellent support and stability. Foot cushioning is improved with the use of a foam liner.
Arch support and adjustable straps for bandages and swellings are also included in the shoe. The pair does, however, squeak when you walk.

Orthowedge Forefoot Off-Loading Healing Shoe
Let's say your 5th metatarsal is so painful that you're afraid to walk. This offloading shoe for the forefoot is the answer. The shoe is universal, so you may wear it whether you're a guy or a woman and whether you will use it on a right or left foot.
The shoe protects your forefoot, which includes the 5th metatarsal. It has a 15-degree Dorsi angle sole, which shifts all of your weight to your heel and relieves pressure on your forefoot. As a result, walking will no longer be uncomfortable, and recovery will be quicker along the road.
The square toe design is also included, which acts as a buffer against injury and impact, thus cushioning the foot. The medical-grade straps will ensure that putting on and taking off the shoe is as easy as possible.
The pair puts the least amount of pressure on the forefoot, which eliminates walking pain. It also contains stress absorption and straps that may be adjusted to accommodate dressing and edema.
Its square-toe shape works as a protective bumper. You may need to cut the excess straps if they are too long.

 Vive Post Op Shoe
Do you want a medical shoe that appears to be a regular shoe from a distance? Vive is a fashionable post-operative medical shoe. It is universal, therefore it fits both men's and women's right and left feet.
The shoe has wide adjustable straps that readily accept your operation and injury bandages. The straps may be entirely flipped open, allowing you to simply insert your foot right into the shoe. This prevents you from putting undue strain on the affected metatarsal.
The shoe's most important feature is the slip-resistant rocker sole tread. This adds safety when walking, regardless of the state of the flooring or the weather outside.
The shoe also has a wide toe box, which allows for more space between the toes. As a result, your injured metatarsal will not be under strain from the front, allowing for a faster recovery.
While it has a natural normal shoe appearance, its large toe box provides excellent space and pressure relief. The design makes it simple to put on and take off. It has enough room for bandages, swelling, and a cast. You may need to shorten the straps because they are too long.
Finally, the shoe is quite light. In contrast to a walking boot, you may simply create a natural walk. Because the shoe is so similar to your ordinary shoe, you won't have to make a lot of adjustments.

ProCare XcelTrax Air Ankle Walker Brace
The ankle walker brace from ProCare is quite light. After a foot or ankle sprain, stress fracture, or post-op, this pair helps to maintain strain off the lower leg.
A nylon and foam liner in the walker provides cushioning and a lot of support for your feet when walking. The walker's internal pump allows you to inflate and deflate the liner as needed, according to your preferences.
Its lightweight design and pre-shaped ergonomic frame help to adjust the amount of pressure on the malleoli and lower leg injuries to help you recuperate quickly especially after a Jones fracture.
Finally, the universal fit of the walker allows it to be worn on any foot.
Related: Best Shoe After Calcaneal Fracture in 2022
Best Shoes After Jones Fracture Buying Guide
Size
Preventing strain and pressure on your damaged metatarsal is as simple as finding the right size. Ascertain that the size can accommodate your new foot, which is likely to be swollen, bandages, and cast.
Rigidity of the Sole
For an injured foot, sole stiffness is critical. Why is this the case? Walking with your foot straight reduces tension and pain when a section of your foot is injured. Furthermore, a firm or semi-rigid sole provides arch support, reducing joint soreness after walking.
Material
The material of the shoe you choose for your metatarsal fracture is an important factor to consider. Why? Your foot is hurting, and you can't afford to allow any room for mishaps. A scuffed sneaker on a stairwell or while walking could send you back to the hospital.
A shoe that provides support and consistent cushioning is excellent if your metatarsal is seriously shattered and needs realignment.
Design
Many people prefer an open shoe, especially if they have just had surgery. Hot spots, pressure, and heat build-up are all eliminated with this design. Furthermore, sweating is reduced with open shoes, resulting in faster recuperation.
When recovering from a fractured metatarsal, it's essential to wear a closed shoe to keep dirt out and straighten your broken metatarsal. As a result, the design you select will be determined by your injury.
Insole
You need all the cushioning and shock absorption you can get when you have a fractured foot. You don't want to walk cautiously and still have a blister on your foot.
This is why choosing the proper insole material for your medical shoe is just as important.
Shoes and treatment after Jones fracture explained (video)
Related: Best Shoe After Calcaneal Fracture in 2022

Frequently Asked Questions
Is it possible to walk with a 5th metatarsal fracture?
Yes, you certainly can. However, you should speak with your doctor to check if walking is safe for you. Even if you feel OK, walk small distances only and frequently rest to speed up your recuperation.
What is the recovery time for a Jones fracture?
A 5th metatarsal is a bone, and bones mend in about 4 months on average. After that, you'll need to take extra precautions for a few months to recuperate fully.
Is walking on a broken metatarsal okay?
Yes, that's fine, although it depends on the severity of your fracture. If your doctor says it's okay, go ahead and do it. You should, however, wear a medical shoe to help with mobility and healing.
What kind of shoes should you wear if you have broken foot?
The finest walking boots and shoes for damaged feet are orthotic walking boots and shoes. They're designed to assist you in walking while putting the least amount of strain on your foot to promote healing.