Hardwood floors are an attractive and stylish addition to any home, and it's unsurprising why they're such a popular choice when renovating a property. Our research has resulted in a top 10 list of Houseshoes for hardwood floors. There are 3 reasons why it's a great idea to get a pair of slippers for hardwood floors:
The soft materials will not damage your floor
House slippers protect your feet from the cold floor
Most slippers have a sole which avoids slipping and accidents.
Jump immediately to the FAQ section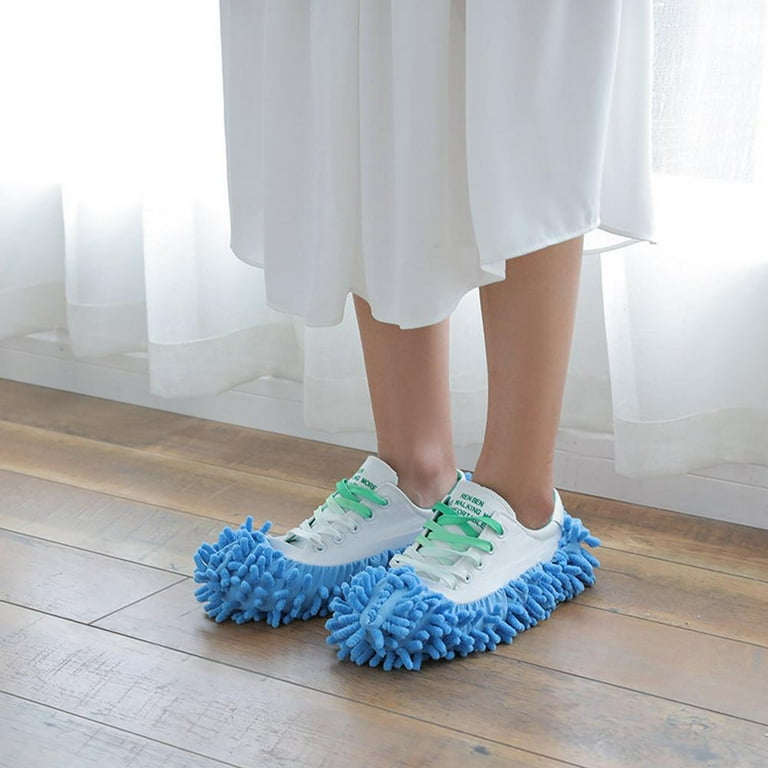 Why use slippers on hardwood floors?
Protect your floor
Because hardwood floors are polished and varnished wood, every impact on them, especially by shoes like high heels, can act as a tiny little hammer or blade, scratching at the finish and slowly but surely wearing them down over time, causing your expensive investment to end up looking cheap and damaged.
A warm feeling on a cold floor
Hardwood floors, being wood, can get very cold, especially in winter, and there's nothing worse than getting out of your cozy bed in the middle of the night, only to be greeted with ice-cold floors that jolt you awake.
Related: Best Heated Insoles in 2022
A good grip on a slippery floor
Hardwood floors can be slippery, so a good grip is essential, especially for anyone who might be a little older or who struggles with health.
Luckily, there's a cheap and effective solution to all these problems. House slippers.
Should you wear slippers on hardwood floors?
Yes, A good pair of house slippers offers everything you need to fix these issues. They're warm and cozy, so stop the chilling effect of colder days. The soft padding prevents damage to your gorgeous flooring, and the grippy soles will prevent you from slipping, even in the worst circumstances.
Here are our top choices for the best house slippers right now.
Best House Slippers for Hardwood Floors
RockDove Men's Moccasin Slipper
A traditional moccasin design, these slippers are cosy enough to be worn on the coldest nights, and hard-wearing enough that you can dart outside to grab the morning paper without worry.
RockDove started with hiking boots, and their heritage shows here. The outer of these slippers is 92% cotton, with 8% Spandex to give it just enough flex for comfort. The closed-back design is soft and comfortable, adding enough support to keep them on your feet.
The soles are sturdy rubber, designed for anti-skid traction, making them perfect for hard wooden floors. Internally, there are high-density memory foam insoles that shape themselves to your feet, with added arch support to protect the most vulnerable part of your foot.
Finally, inside the slipper is a terry lining that helps to wick away fabric. The fabric of the slipper itself is made with Silvadur technology, which releases silver ions when in the presence of bacteria. These combine to cut down on sweat and unfortunate odors, and when they do need cleaning, they're fully machine washable.
UltraIdeas Womens Plush Chenille Slippers
Soft and comfortable, these slippers are the perfect choice to slide on after a busy day and just let your feet luxuriate in their soft, relaxing warmth.
The most obvious thing about them is the chenille fabric outer, which comes in pink or black. Despite being so thick and warm, it's surprisingly light to wear and skin friendly and moisture-wicking, so you won't overheat on hotter days.
They're super comfy too, with a rubber sole that protects your feet and floors, backed up by high-density EVA memory foam insoles that mold to your feet. It's worth pointing out that when you buy them, these slippers will feel a little tight and thick, but after a day or two they will mold themselves to your foot shape, and be ultra-comfortable.
Fully machine washable, they are a great gift, or the perfect way to treat yourself. When you order, make sure to size down by half a size, because they do run a little small.
CIOR Men's Memory Foam Slippers
Light, cool and comfortable, these are the perfect option for anyone who lives for most of the day in their slippers for example, if you work from home, but they're also easy enough to slip on and off in seconds as and when you need to.
Available in an massive range of colors, there's sure to be a style he likes. The waffle cotton blend upper breathes well, keeping them airy and relaxing no matter how long they're on.
The anti-skid soles are incredibly durable, because they are made from TPR rubber, and they're tough enough to use outside without having to worry about ruining them, while still being soft enough, and having all the grip you need, for indoor flooring.
The insoles are also exceptional, made from a double layer of memory foam, a high density impact layer over a softer, more elastic comfort layer. They're also fully machine wash safe,
UGG Scuffette Li
UGG are well known for their great boots, bringing all the lessons learned into these slippers.
First, it's worth pointing out that these are very expensive, especially for slippers, but you're getting both beautifully crafted and incredibly comfortable.
The slipper outer is made from high quality, 100% suede. This does mean that you should be careful around dirt, but it also means that the slipper itself is gorgeous. The fur lining is lambswool, treated and dyed, using at least 10% reclaimed scraps.
The molded rubber sole is flat, so it doesn't offer much in the way of arch support, but it shouldn't need to unless you plan on long-distance walking in your slippers. (Please, don't do this.) Despite having a thinner sole than some on this list, the lightness and comfort of the slipper means that they're still very comfortable, described by some users as like walking on a cloud.
Finally, you can feel good about your purchase, too, because all of the factories the Scuffette Li are made in support HERproject, empowering low income women worldwide with the skills and income needed to support themselves and improve their own lives.
Skechers Bobs Ice Angel
A slipper with one of the thickest soles on the list, the mule style Keepsake's Ice Angels are perfect if you're looking for huge support and absolute comfort, and they're especially good if you suffer from regular foot pain or long term injury.
The flexible rubber sole is massive, thick, and very dense and tough. Despite that, it remains flexible enough to move around in without issues, and the grip and support is superlative.
The upper is thick cable knit wool with faux fur, both of which are very thick and comfortable. It comes in multiple color options, and it's easy to slip on and off with the bootstrap rings.
Plus, with every pair sold, Sketchers make a charitable donation to the Petco Foundation, saving the lives of cats and dogs across America.
Elanze Simple Knit Slipper Socks
The only slipper sock on our list, these simple knit, stylish slippers are perfect for sliding into on lazy days, keeping your feet and legs warm up to the calf.
The simple pull on closure design fits most, ranging from sizes to 10. The outer is an acrylic outer knit that's hard wearing and tough, while the inner is a premium quality polyester to lock in heat and keep your feet warm and snugly.
The non-slip soles are perfect for slippery floors, including tile and hardwood, with gripper pads that add traction without scratching or damaging anything.
They're machine washable on a cold rinse, but hand washing is preferable to keep them looking their best, but another advantage is just how budget-friendly these are.
You could realistically pick up two pairs for the price of most of the slippers on this list, which gives you a second pair as a backup, or as a gift to give to a friend or family member.
UltraIdeas Memory Foam Flip Flop Slippers
Looking almost identical to holiday flip flop thong style slippers, it's immediately obvious why you would want these.
Light and airy because of the open-topped, open-toed design, they're fantastic for slipping on after a bath or shower, walking around your kitchen, or sitting out on the deck on warm summer nights.
Available in 5 colors, the upper is a super soft terry cloth, with an absorbent memory foam insole that offers a huge amount of support. They come in 4 different sizes, from 5 up to 12, and they're incredibly easy to perfectly fit to your feet, as you can adjust the bow and toe thongs in 6 different directions.
The rubber sole is tough enough to take outside, and grippy enough that you can safely use these on slick wet floors. They're also machine washable.
Isotoner Embroidered Ballerina Slippers
Probably the lightest conventional slipper on our list, these ballerina-style pump slippers are incredibly flexible and easy to wear.
The upper material is a blend of 78% cotton, 17% polyester and 5% spandex that's breathable, flexible, and amazingly soft. Because they're flats, they slide on and off easily, so they're a great choice if you see yourself regularly putting them on and off around the home.
The synthetic sole and Isoflex comfort insoles are very durable, and because the slipper is so flexible, it moulds to the shape of your foot, feeling almost like a sock in fit, so these are perfect if you have wider feet. They come up a little small, so we recommend buying a size up.
Snoozies Skinnies Travel Slippers
Sometimes you're not at home and you still need comfort and warmth for your tootsies. That's when you can pop these slippers out of your bag and slip them on.
Designed as a portable slipper, they're very soft, comfortable, and incredibly light. They come in 4 different sizes, and each set of slippers comes with its own carrying case, keeping them protected as you move from place to place.
They're available in dozens of colors, and remain fully machine washable, without running colors or shrinking. They run small, like many slippers, so buy a size up.
We'd also not recommend buying these as your main home slipper. While they're a perfect travel slipper, they're not quite as comfortable or have the same level of grip as a more heavily built conventional slipper. Think of these as your second set, only for out-of-the-house use and travel.
Parlovable Open Toe Fur Slippers
Another open toed design, these slippers from Parlovable distinguish themselves with their incredible levels of comfort, while still looking incredibly cute into the bargain.
Despite being a cutesy fur slipper, the sole is solid and ultra high-density memory foam, built on top of a quality soft sole that's super safe. The whole slipper is waterproof even thought it's fur, and the soles have been designed for extra grip on wet tile and wood, like a spa slipper.
Because of the single-banded design, expect these to feel a little tight at first, but that will quickly fade after a day or two. They're even suitable for outside use. No matter what you need, these adorable little slippers will handle it.
Choosing The Best House Slipper: Our Product Guide
Comfort
Slippers are designed to be warm and comfy, so you're unlikely to find an uncomfortable pair. But you should still focus on three things:
Warmth, to help fight against the chilling effect of cold hardwood
Breathability, so your feet don't sweat during long periods of wear
Fit, as most slippers aren't adjustable. You want your slippers to be tight enough not to slip, but loose enough to stay comfortable.
The sole
If you're buying slippers because you have hardwood floors, the sole is one of the most important parts of the footwear.
You're should look for a slipper sole that has two things:
Good grip, as hardwood floors can be surprisingly slippers, as anyone who has ever tried to walk on them with smooth socks can attest
No hard knobs, protrusions or other things that could catch on your floor and scratch or ruin the finish
Related: Best Insoles For Standing All Day
Price and durability
Most pairs of slippers aren't expensive, but it's always worth knowing just how far your money is going when making a purchase.
Look for slippers that are well made from high quality materials, as they will naturally last longer. It's also worth checking if your slippers can be cleaned in a washing machine. Some slippers also advertise themselves as suitable for outside wear.
FAQs
Why should I not wear shoes on my hardwood floors?
Hardwood floors might seem tough and hard wearing. After all, they are called hard wood floors after all.
But it's surprisingly simple for a boot or shoe to cause damage to hardwood flooring.
Shoes like hiking boots that have abrasive outsoles with excess grip can easily cause damage, dents or other imperfections to the finish of hardwood.
And even shoes with flat, comfortable soles, for example, Converse sneakers, shouldn't be worn on hardwood. This is because a shoe that is regularly worn outside will pick up microscopic particles of sand and grit in the soles which will wear down the finish on your hardwood floors over time, leaving them looking faded and ugly.
Is walking barefoot on hardwood floors bad for you?
For many people, walking on hardwood floors is fine, if a little uncomfortable at times because of the cold temperature and lack of foot support.
But that same lack of support could be causing a percentage of people to have foot problems. According to the research, hardwood flooring has very low shock absorption compared to most other types of flooring, both natural and non-natural.
This means that it offers almost no support to your feet as you walk, and if you're inclined to foot problems anyway, hardwood floors could be contributing to excess pronation, i.e. flattening of your feet and over-stretching your arches.
The best way to counter this is to use a pair of slippers that offer thick foot support with a solid, reinforced foam sole.
Best Slippers for Hardwood floors explained (video)
Related Shoes guides