Best Insoles For Standing All Day in 2022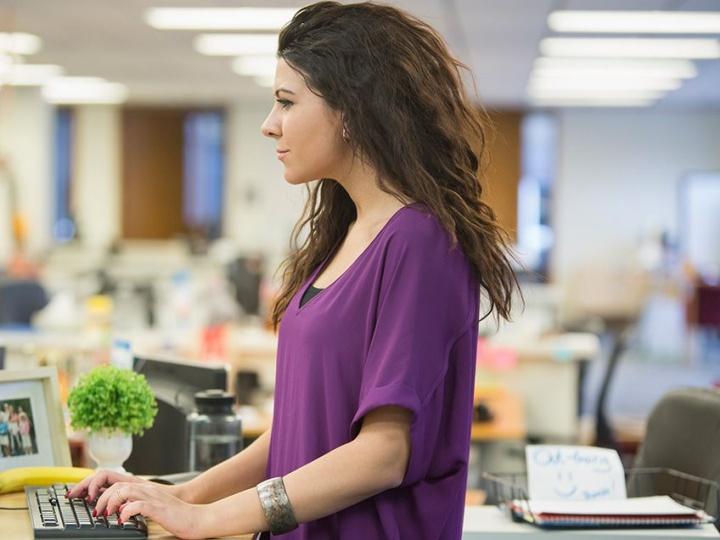 No-one likes achy feet but if you're standing up all day, it's inevitable. Your shoes will play a huge role in that and if they have standard insoles, it can make the situation a lot worse. Getting the best insoles for standing all day will reduce that fatigue and avoid pain.
To help you find the best insoles for standing all day, we've found the top 10 insoles available right now. We've also written a buying guide with some FAQs so you get exactly what you need. Let's find your perfect insoles and get rid of that leg ache!
Best Insoles For Standing All Day

Dr. Scholl's WORK Massaging Gel Advanced Insoles
Dr. Scholl's is a huge name in the world of insoles and for good reason. They have a diverse range of excellent products and these ones are made specifically for those people who are working on hard surfaces all day.
There is plenty of gel included throughout the insole which gives them an exceptionally high level of shock absorption, mainly in the heel. This is supported by their reinforced arch protection to give you stability.
At the front of the insole, you get plenty of forefronts cushioning along with vents that will help to keep your feet cool. These insoles are perfect for those who work in any role that requires you to constantly be on your feet. 

Spenco Polysorb Heavy Duty Maximum All Day Comfort
Spenco is another company that has made insoles that are suitable for standing on hard surfaces. They are supported by a large heel pad that will work to cushion impacts. If you often get pain in your heel, this is perfect.
The top fabric of the insoles has plenty of stretches which is going to reduce the chance of getting blisters. That fabric also has antimicrobial qualities too which is going to reduce the build-up of unpleasant odor.
Foam is used throughout the insole to provide cushioning but while still being rigid enough to give your feet stability. It's a heavy-duty insole that has been built to last and therefore is ideal for those who are on their feet all day, every day.

Timberland PRO Men's Anti-Fatigue Technology Replacement Insole
Timberland is well-known for creating fantastic work shoes and they've also made this brilliant insole to go with it. They offer you the ultimate in durability as they are going to keep on supporting your feet for years to come.
They have been specifically designed to reduce foot fatigue with technology that returns energy back to the feet and makes those steps a little easier. As well as giving you that support, the insoles remain very comfortable.
While you may associate Timberland with work boots, these insoles can be worn in any type of shoes. The arch support and stability make them a great option for those who suffer from foot fatigue after a long day. 

Dr. Scholl's Massaging Gel Advanced Insoles
Here we see another insole from Dr. Scholl but one that is mainly made from gel. Gel isn't used as the main material in a lot of insoles as it doesn't give the user much stability and sometimes doesn't perform well with quick foot movements, such as sports.
If all your feet are doing throughout a day is standing and walking then gel becomes a good option. These insoles have a wave-like cushioning that will help to put a bounce in your step and give you exceptional shock absorption. 
They can be used in any type of shoe and can be trimmed into your perfect size. Muscle fatigue is going to be reduced and the insoles will take the pressure off your joints. They are the perfect option for anyone looking for gel insoles.

Superfeet ORANGE Insoles High Arch Support and Forefoot Cushion
If you need a high level of stability in your insoles then this would be a great option for you. They are made from two types of foam and aim to give you plenty of comfort while still giving your shoes a huge amount of support.
They do this in part due to the stabilizer cap and heel cup at the back of the insole that prevents sideways heel movement. This is supported by the foam forefront that will work to absorb the constant shocks you get from being on your feet all day.
There are many other great features to see here which include the durable construction that is designed to support you for a year of constant wear. They also have a coating on the fabric that will reduce odors.

FIKY Anti-Fatigue Work Massaging Gel Insoles
FIKY has also been able to make a brilliant insole that has a similar style to the Timberland model we looked at earlier. They work perfectly to reduce fatigue for anyone who is on their feet all day.
The insole is able to give you plenty of arch support which is great for those people with low arches. That helps to align the foot correctly and reduce the issues that we've commonly seen. The shape of the insole will also help with stability.
As with many of the insoles in this list, the versatility is impressive as they are great for standing all day but are also great for the likes of hiking and running. Comfort is high with these insoles and you'll see the results immediately.

Dr. Scholl's EXTRA SUPPORT Insoles
The heavier you are, the more pressure is going to be put on your feet. Dr. Scholl has designed these insoles specifically for big and tall men who can suffer foot fatigue more intensely and find that regular insoles aren't up to the job.
The way these insoles do it is with a reinforced heel and arch. They give a robust level of support while distributing the weight evenly throughout the insole. The midsole can also absorb stress which is something you don't see with most insoles.
If you're wondering whether they will fit in your shoe of choice then you'll be happy to know that they are versatile and can easily slot into work boots, sneakers, or any other type of footwear. 

Powerstep Full Length Orthotic Shoe Insoles
Powerstep has been able to make an insole with many admirable qualities. It's specifically good for those who want stability as It has a large heel cradle. That will give you plenty of support while also providing cushioning.
Throughout the insole, you get a dual layer of foam cushioning that will support your arch and protect your feet from painful inflammation. The thin design is also going to be ideal for placing in almost all shoes.
They are suitable for any type of shoes and are perfect for reducing all-day fatigue. With a polyester fabric on top of the insole, they'll also work to keep your feet dry and avoid any odors. Overall, they are another brilliant option.

Rite Aid Memory Plus Work Boot Insoles for Men
Here we see insoles that have been specifically made for men's work boots. Their design makes them perfect for walking around all day on the types of hard surfaces that you'll find on construction sites.
An unfortunate side effect of working in boots all day can be smelly feet. These insoles get around that by having an antimicrobial additive that will protect against odors. If they do start to smell then they can be easily cleaned.
The shock absorption on this shoe is excellent with a high level of cushioning. It will work to prevent fatigue and allow you to go through a whole working week without those usual aches and pains, even when you've been wearing them all day. 

Protalus M100 Max Series– Patented Stress Relief Replacement Premium Shoe Inserts
These uniquely designed insoles are versatile and allow your feet to stay properly aligned. The problem for many people simply comes from poor posture or their arches. These insoles aim to solve both of those issues. 
With these insoles being able to prevent over-supination and over-pronation, you'll find that not only do your feet ache less but it will be easier on your joints and hips too. They help to take pressure away while still being very comfortable.
There are many parts to these insoles that come together perfectly. They have shock-absorbing pads, a shank for stability, a full-length foam layer for cushioning and a top cloth that is going to be comfortable and reduce odors. 

Best Insoles For Standing – Buying Guide
Why do you need insoles?
Is there a reason that you're looking for insoles? Is it heel pain, general fatigue or are specific parts of your feet hurting? If you have a foot issue, such as fallen arches, you want to look for an insole that aims to solve that issue and get one that works most closely with your needs.
If it's general foot fatigue then looking for an insole with good support and a high level of shock absorption is a great idea.

Correct sizing
If you've never bought insoles before you may find the sizing to be a little confusing. The reason that they have broad size options is that you are usually expected to put them down to size, following guidelines on the insoles themselves.
If you have any doubts, then it can be a good idea to cut around the outline of your existing insoles. These types of insoles are very rarely sold to exact sizes. 

Arch support
If you have a problem with your arches then you may need insoles to solve the issue. Most people have a neutral arch but there are many people out there who will have either high or low arches.
If you think that this may be an issue for you then it's a good idea to get it checked out. If you do have an arch issue then there are many insoles out there which will give you extra support in this area.

Material
Most insoles are made from foam, gel or a mixture of both. Foam is mostly used as it is able to give you exceptional support and cushioning while being sturdy enough to give stability.
Gel is often added to foam in the heel and front foot due to its shock-absorbing qualities. Gel has less stability which means it's not ideal for a sports as your feel would move around too much with the fast cuts and stops. 

Insole replacement
It's important to note that the standard insole on many shoes doesn't just slip out as it may be glued in. If this is the case for your insole then you need to decide whether or not to take it out.
You can often heat up the glue with something like a hairdryer instead of simply ripping it out. 


Frequently Asked Questions
What are the best insoles for standing on concrete?
Your feet repeatedly hitting hard surfaces all day can quickly cause fatigue. The ideal insole will give you shock absorption on the heel and able to spread out and absorb the impact on your step throughout the rest of the shoe.
Having pads in the heel and forefoot are usually signs of an insole that copes with concrete very well. 

Do Dr. Scholl's insoles really work?
We included three insoles from Dr. Scholl's in this list and that wasn't just because they are a big name. Their insoles are very good and there is a wide variety available for different circumstances. As with all the insoles on this list, they work very well.

What are the best work insoles?
The best work insoles are going to be the ones that solve the issue that you have. Whether it's sore heels, fallen arches for a painful forefoot, you should get insoles that solve the issue you have. This is also dependent on the type of work you do as everyone is different. 

Do you remove old insoles?
Due to the thickness of the models that we've looked at here, you would need to remove your existing insole. If you placed it over your insoles there simply wouldn't be enough space. Removing your old insole is often fairly easy, even if it's glued in.