Memory foam and latex foam are common materials used in insoles, and each has unique characteristics. While wearing shoes, long hours on our feet can stress our joints and ankles. If such stress is not absorbed properly, it can cause problems like plantar fasciitis and knee pain. I tried both types of insoles in many activities. The choice between Memory foam vs Latex insoles is based on personal preferences.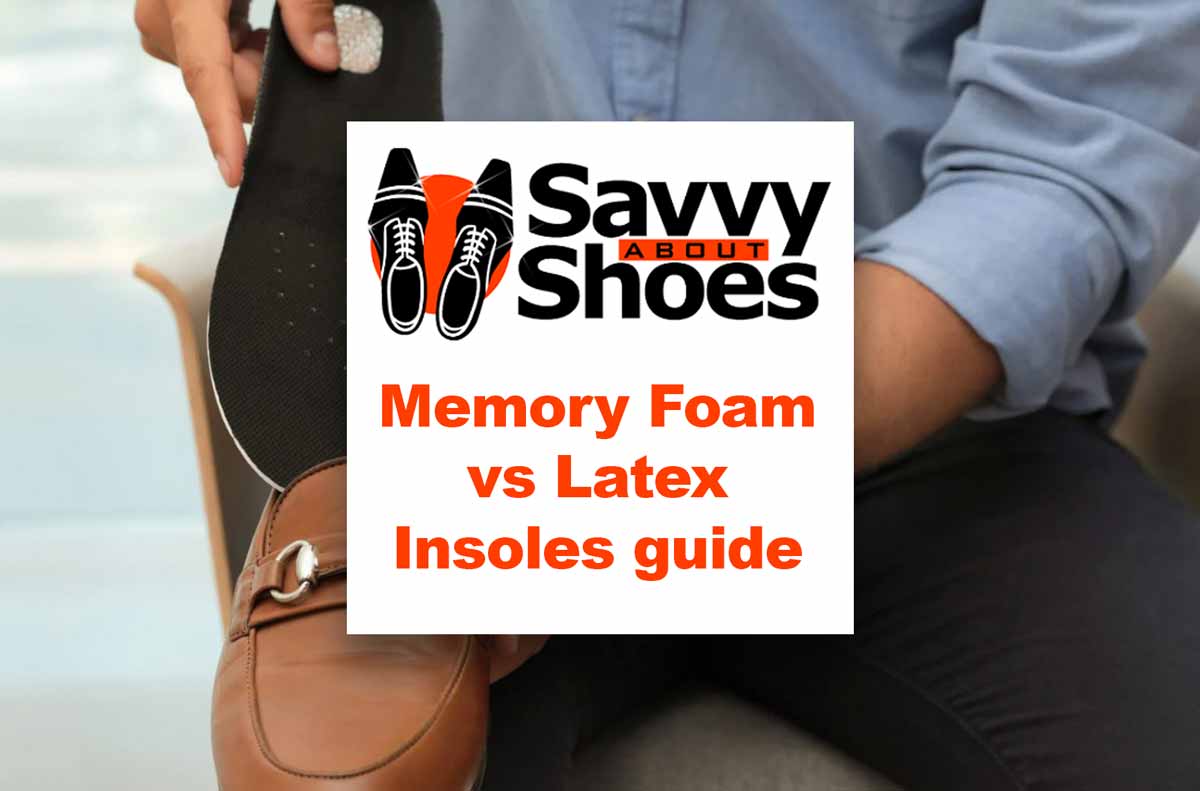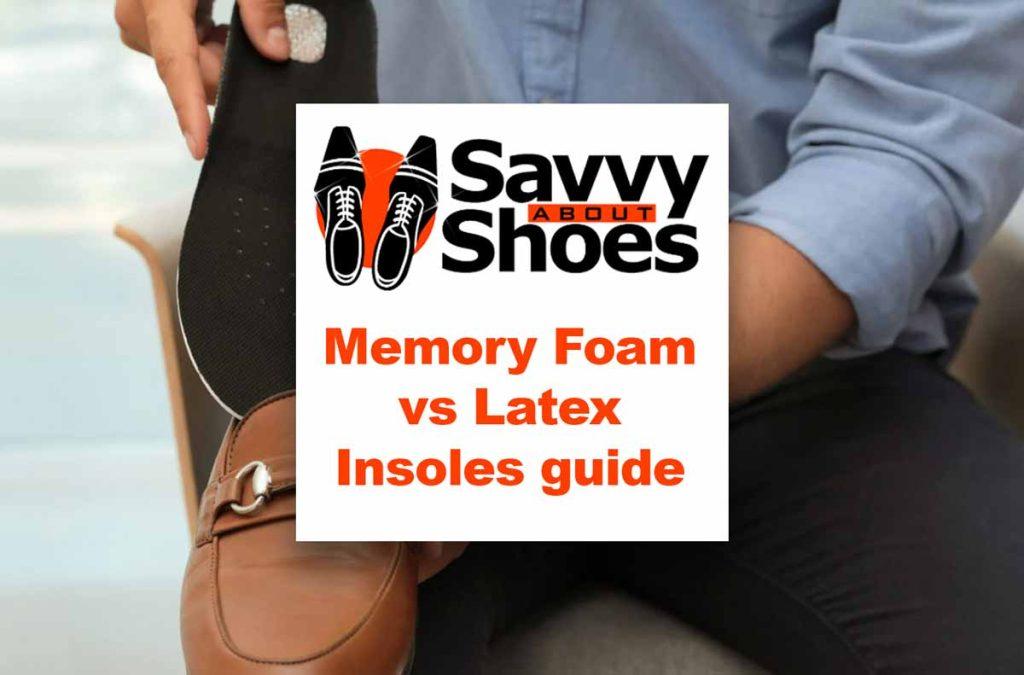 Insoles can help mitigate such issues by providing comfort and shock absorption, evenly distributing pressure from your body weight across your entire foot. They can offer more support to how your feet work, helping correct issues with supination and pronation. You've probably seen adverts where manufacturers boast about their memory form and latex insoles.
But which is better for your feet, memory foam vs latex insoles?
The better choice for your feet between memory foam vs. latex insoles will depend on the material that best suits your preferences and meets your needs. Whether you're looking for more support, comfort, pressure relief, breathability, or pain relief, the insole material can make all the difference.
Choosing between memory foam vs. latex insoles without the proper knowledge can be a daunting, frustrating, and confusing experience. This guide compares memory foam vs. latex insoles to help you make an informed decision and choose the best option for your feet and needs.
Related: Best Insoles for High Arches, Memory Foam Vs Gel Insoles, Most comfortable replacement Insoles for Vans in 2022, Adidas Insole Replacement 2022
Jump right into the Frequently Asked Questions
Table of Contents
Top Recommended Memory Foam Insoles
Related: Best High-Volume Insoles, Best Skechers Memory Foam Shoes in 2022
Airplus Memory Plus Shoe Insoles – Overall Best Memory Foam Insoles
Style: Comfort insole
Arch type: Low
What we like: Pillow-soft, odor-protection, and targeted heel protection
What we don't like: They're not durable
The Airplus Memory Plus shoe insoles are made from premium memory foam for increased comfort and pressure relief. They're unisex and suitable for most adults who stand all day. If you have long work hours or an active lifestyle, these insoles will help relieve foot fatigue or pain.
The pillow-soft memory foam gives you optimal cushioning under your feet, providing an optimal barrier between your feet and the ground to improve the quality of each step. The Airplus Memory Plus provides targeted comfort to support the parts of your feet most impacted by body weight pressure.
The premium memory foam molds to your feet to ensure even pressure distribution over the length of your feet. With the Airplus Memory Plus, you can be sure that pressure and impacts when walking or running will not focus on one specific area of the feet.
The top cover of the Airplus Memory Plus is treated with antimicrobials to protect your feet from odor-causing bacteria. Targeted heel protection also absorbs shocks all day. However, they may not last long with heavy use.
Related: Memory Foam Vs Gel Insoles
Superfeet Memory Foam Copper Insoles – Best for Arch Support
Style: Comfort insole
Arch type: Low
What we like: Deep heel cup, stabilizer cap, comfortable
What we don't like: They can feel tight on narrow shoes
The Superfeet Memory Foam Copper Insoles are suitable for men and women. They feature a pressure-sensitive soft foam that molds to the contours of your feet to provide increased and personalized comfort. Despite the name, they don't have any copper or metal inside, so you don't have to worry about setting off metal detectors at the airport.
They're made of 100% polyurethane foam and feature a fit profile suitable for roomy footwear. The Superfeet Memory Foam Copper Insoles are low profile-high volume insoles. The profile refers to how much shape you'll feel under your feet, while the volume is the amount of space the insoles will take up in your shoes.
The base of the Superfeet Memory Foam Copper insoles has a reinforced stabilizer cap that will help support your rearfoot and give stability and structure to the foam layer. They also feature a deep narrow heel cup to ensure your feet remain supported when walking or running long distances or during high-impact activities.
These memory foam insoles are super-comfortable and can help reduce stress and pressure on your ankles, feet, and knees by supporting and stabilizing your feet. They have durable construction and can maintain their shape for up to 1 year or 500 miles. Built-in odor control also helps keep your feet fresh and dry. However, the Superfeet Memory Foam Copper insoles may feel tight on narrow shoes.
Top Recommended Latex Insoles
Related: Best Insoles for Sweaty Feet in 2022
Sintege Latex Insoles – Overall Best Latex Insoles
Style: Comfort insole
Arch type: Neutral
What we like: Long-lasting comfort, shock absorption, wrinkle-free
What we don't like: They can feel thin
The Sintege Latex Insoles feature double-layer latex foam made from quality rubber to ensure long-lasting comfort, cushioning, pain relief, and shock absorption. These insoles are unisex and suitable for everyday use. They can give you moderate support, comfort, and cushioning in walking or running shoes, hiking shoes, cleats, and work boots.
A soft top layer of the Sintege Latex Insoles molds to the shape of your feet for added comfort that can help you stay on your feet for extended periods. With a 3mm thickness, these insoles are suitable for most uses and can help evenly distribute pressure from your body weight.
The Sintege Latex Insoles feature a full-length cushioning footbed and a shock-absorbing foam that distributes pressure to reduce the impact of each step. The bottom layer also stays in place without shifting or moving in your shoe, bunching, or wrinkling.
The insoles also come with breathable holes allowing air circulation in your shoes. They also feature a trim-to-fit guide so you can easily fit them on any shoe. However, they may feel thin if you're used to highly cushioned insoles.
Daveshoes Unisex Latex Insoles – Best for Arch Support
Style: Comfort insole
Arch type: Medium
What we like: Massage bumps, raised arch, long-lasting
What we don't like: They may feel less robust
The Daveshoes Unisex Latex Insoles are suitable for men and women and are made with the newest latex material used in mattresses and pillows. They feature bumps that massage your feet when walking, standing, or running and have a raised arch for improved support and comfort.
The Daveshoes Unisex Latex Insoles are health-functional and can provide relief from heel, plantar fasciitis, and metatarsalgia pain. The raised arch support ensures enhanced comfort from the heel to the toes, even if you stand or move around all day.
The raised heel on the Daveshoes Unisex Latex Insoles helps with shock absorption, and thanks to suspension decompression, you get long-lasting durability. You can trim the insoles to fit any shoe, and they're suitable for casual, sports, or work shoes and boots.
They're also very breathable, and although they may not feel as robust as other options, they get the job done.
What is Memory Foam?
Related: Best Insoles for Military Boots in 2022
Memory foam is sometimes called Tempur-pedic or Viscoelastic foam and is a synthetic material made from polyurethane foam. Polyurethane foam usually comes from petrochemicals or plant oils. Compounds added to polyurethane foam give it slow-moving properties that create memory foam.
Researchers at NASA invented memory foam while trying to increase seat cushioning and crash protection for passengers and pilots. It can offer protection and padding by absorbing the shock during airplane jolts or crashes. It didn't take long for others to realize its potential in other applications like shoe insoles, mattresses, and pillows.
Memory foam responds to pressure and heat and features excellent contouring properties. When you step on a memory foam insole, it molds to your feet's contours and evenly distributes your body weight. It slowly returns to its original shape after moving.
Temperature and humidity can influence memory foam performance because of its heat sensitivity. The foam can trap heat, and to prevent overheating, manufacturers add cooling features like infusing the foam with gel or adding perforations to memory foam insoles to increase air circulation.
What Is Latex Foam?
Related: Top pressure-relieving pads for shoes: When to use?
Latex foam can come from natural or synthetic rubber. The core of natural latex comes from sap found in rubber trees. Synthetic latex features materials that copy how natural latex feels and are usually plastics like styrene-butadiene rubber (SBR).
Manufacturers produce latex foam in different hardness, densities, and thicknesses. It offers exact pinpointed support and can react instantly to your every move. It won't bottom out or sink in from your body weight, ensuring you get constant support that doesn't get softer with heat changes.
Latex foam is very durable and can easily outlast memory foam. It's still a widely used traditional footbed material, and some brands combine it with fabric and other materials for added properties. In foam form, latex is very breathable and still has elastic properties, making it useful for insoles as it features more bounce and shock absorbency while allowing airflow.
Differences In Memory Foam vs Latex Insoles
Related: Best Insoles for Sweaty Feet in 2022
Comfort
Shoe insoles should provide more cushioning and enhanced comfort to relieve pressure and pain. Memory foam insoles can offer more comfort than latex because they can conform to the mold of your feet. Memory foam can cradle your feet and contour their shape, feeling like a hug. It slowly adapts to your feet's movement and helps provide pressure relief.
Latex insoles provide a firmer feel and generally compress beneath your weight instead of responding specifically to your foot shape. Latex is also more responsive than memory foam and will quickly adapt to change and spring back to its original shape.
Support
Human feet haven't adapted to walking on hard, flat surfaces, and most shoes only provide superficial support. The best insoles support the arch and ball of your foot to help relieve the pressure of your body weight. While memory foam and latex are good choices for pressure point support and relief, memory foam provides more arch support by contouring to the natural shape of your feet.
The latex insoles are better if you prefer supportive insoles with more firmness where your feet don't feel like they're sinking into the insert. Latex insoles usually feature elastic properties and will not decrease or fall in when exposed to prolonged pressure.
Cooling
If your feet tend to overheat or get too sweaty, you want shoe insoles that make it easy for your feet to cool down or breathe. Memory foam and latex have different heat-retaining and releasing properties. Memory foam features a dense structure that easily traps heat and prevents airflow.
Latex form features an open-cell structure, giving it better cooling properties. It allows air to circulate the insoles and shoes, keeping your feet dry and ventilated. Unless the memory form incorporates cooling properties like cooling gel or ventilation features, latex insoles are a better choice if you want your feet to remain cool and odor free.
Eco-friendliness
Latex is a better choice than memory foam if you're eco-conscious and want an environmentally friendly, sustainable insole. Harvesting natural latex involves tapping it from live rubber trees, which is possible without cutting down the tree. Rubber sap collection is sustainable, and the trees don't require chemical pesticides or fertilizers to thrive.
Unlike memory foam, natural latex is a plant-based material and will create 100% biodegradable insoles. Since latex insoles will generally last longer, it also means less landfill waste.
Affordability
Latex foam products, including insoles, will cost more than memory foam products, primarily if they use natural latex. However, the cost is worth it thanks to the longer lifespan. Most low-density memory foams are inexpensive, but they'll only work well for a few months and degrade rapidly.
Comparing Memory foam vs Latex insoles, you will likely pay a higher price for 100% natural latex. Some companies try to pass off synthetic latex and natural, so ensure you research, especially if the price sounds too good.
Check out this video to learn more about how to choose the right insoles
Frequently Asked Questions
Which are suitable between memory foam vs latex insoles for people with allergies?
If you have latex allergies, memory foam insoles are a better choice. You can also consider synthetic latex insoles, which are usually hypoallergenic.
Which Are Longer Lasting Between Memory Foam vs Latex Insoles?
Latex insoles should generally last longer than memory foam insoles.
Which Have More Air Flow Between Memory Foam vs Latex Insoles?
Memory foam is usually dense, while latex has an open-cell structure that makes it more breathable.
Can I Wash Memory Foam and Latex Insoles?
Yes. You can wash your insoles with gentle soap and water, but you must ensure they dry out. Discover related info on How to Clean Non-Removable Insoles
Which is Better, Memory Foam vs Latex Insoles?
Your preferences and needs will determine the best choice for you. If you want insoles that will hug your feet and enhance comfort, memory foam insoles are an excellent choice. Latex insoles are suitable if you want firmer insoles with faster response times.
Conclusion
The material used to make insoles can make all the difference regarding comfort, pain relief, support, and shock absorbency. Comparing memory foam vs latex insoles reveals a few differences, including comfort, support, eco-friendliness, affordability, and breathability. Ensure you consider such factors when choosing the best insoles for you.
Feel free to ask any questions you may have in the comments.
Picture in this post is from kidsole.com
Related to Memory Foam vs Latex Insoles