Pleaser heels are one of the most widely accepted and popular brands for girls who love to dance and those who want to have the best kicks in the club. It's best to buy one size bigger than your regular shoe size, as pleasers tend to run small. Pleasers shoes feature high-quality stiletto heels designed for pole dancing, performance, photoshoots, and making you look as sexy as ever.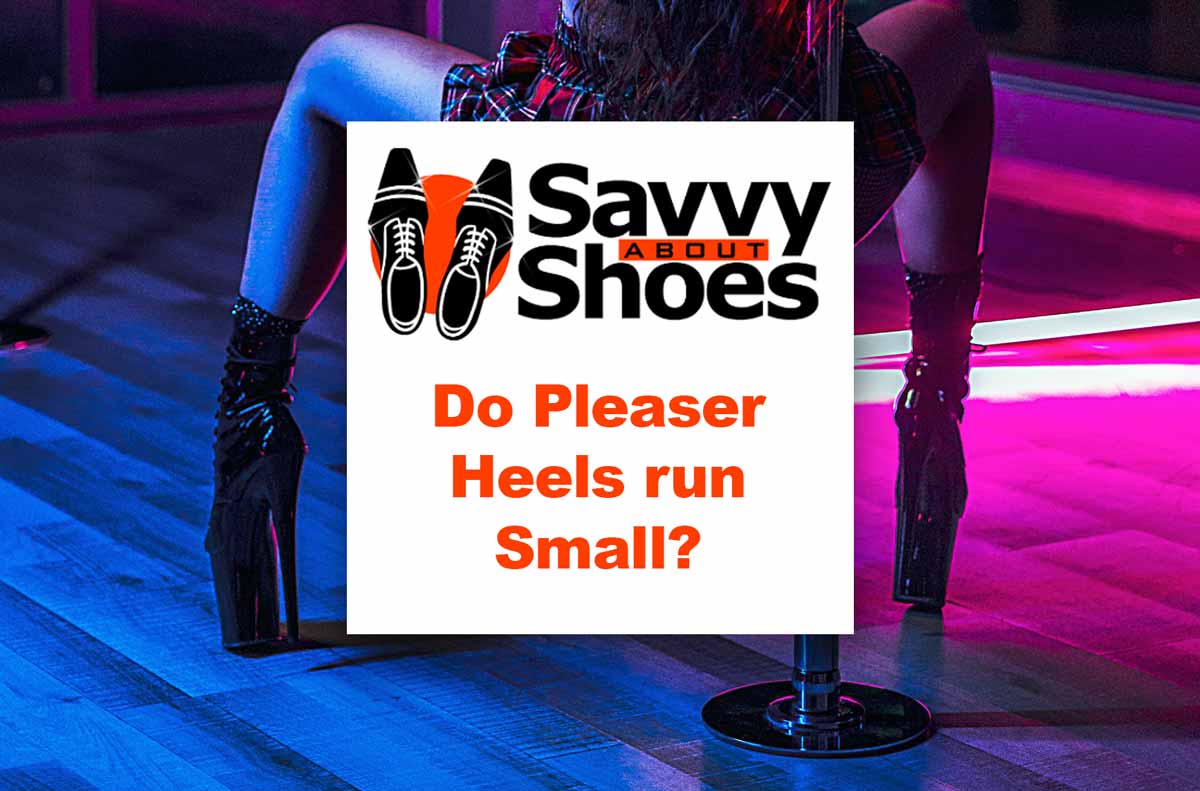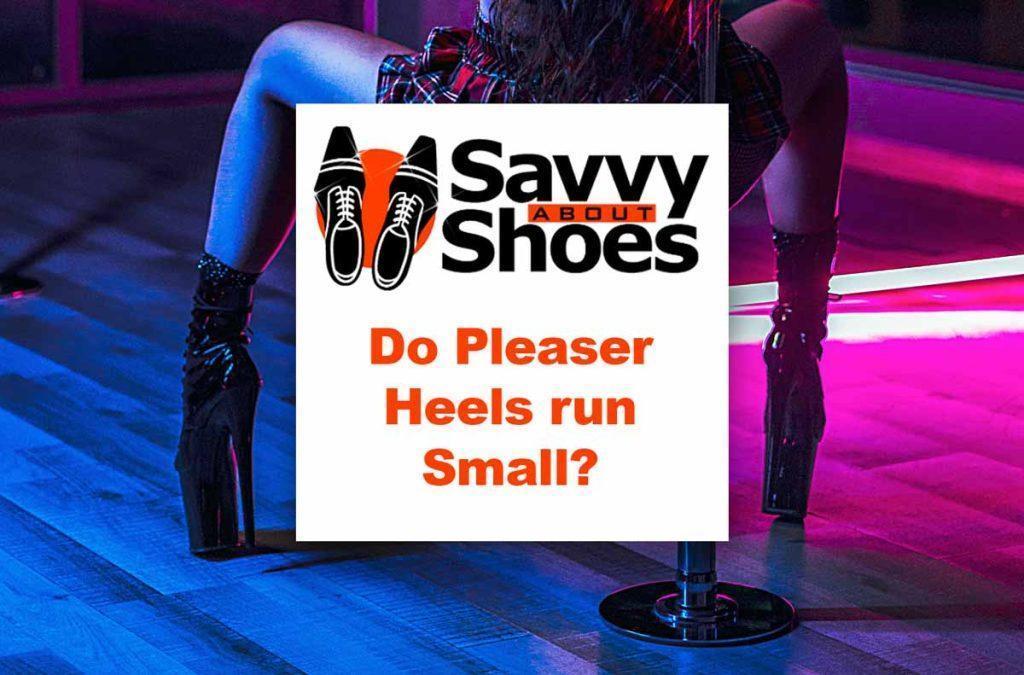 Photo by Timur Garifov on Unsplash
Pleaser high heels come in different sizes to ensure everyone can feel their best sexy self, and you can get a comfy fit, provided you buy the correct size. However, the sizing can be confusing when purchasing pleaser high heels, as sizes may differ from collection to collection and style.
Some important things to consider include do pleaser heels run small, or how do I buy the correctly sized pleaser heels near me?
All Pleaser shoes are sold in US women's sizing and often run small. It's usually best to size up from your usual US size, whether you're looking for clear pleaser heels, rhinestone pleaser heels, light-up pleaser heels, pleaser heels for beginners, or pleaser platform heels.
This guide presents expert tips so you can choose the perfect size.
Jump right into the Frequently Asked Questions
Related: How To Prevent Heel Slippage in Pumps, What Socks To Wear With White Sneakers, Do Timberland Boots Make You Taller? Yes, 1 to 2 inches
Table of Contents
Should Pleasers fit Big, Small, or True to Size?
Related: How To Prevent Heel Slippage in Pumps, Bobs Shoes vs Toms Shoes: Which is best to buy?
Shoes can run small, big, or true to size, affecting whether or not you get the most comfortable fit. It usually refers to how the shoes are manufactured, where similar sizes can differ between brands or manufacturers.
If the shoes are true to size, the shoe's length, width, and arch measurements are directly proportional to the measurements on the Brannock device foot measuring tool. You'll get a perfect fit if you buy heels in sizes proportional to the measurement of your foot.
If the shoes run small, they are slightly smaller than what it's said to be, meaning you must go for a size bigger than your standard measurement to get a shoe that fits comfortably. The opposite is true when they run big, and you must choose a smaller size for a perfect fit.
Tips To Help You Choose The Correct Pleasers Shoe Size
Related: Do Shoe Stretchers Work for Bunions?
According to the American Academy of Orthopedic Surgeons, many adults, especially women, wear shoes that are inappropriate for their foot shape and size. The temptation to purchase, wear and keep shoes that look fashionable but are too small or may not fit properly has increased with growth in online shopping, and it can put you at risk of bunions, foot pain, and other foot problems.
However, with the correct guidance, you can buy pleaser heels in-store or online without worrying about choosing the wrong size. Consider things like:
Knowing the length of your foot makes ordering the correct size of pleaser high heels easier by using the manufacturer's size chart. Ensure you measure your foot length before ordering women's pleaser shoes online.
The shape of your foot can determine the correct pleaser pumps for you and help you choose the correct footwear model. For high insteps, choose pleaser heels with zippers on the front, the side, or part of the heel.
Always wear a larger size if you're choosing pointed heels because such models are usually smaller. Avoid pointed heels if your feet are wide or shoes with a seam at the widest part of your foot.
Avoid tight or loose heels
Your pleaser high heels should have enough space for your toes. You may experience pain or cramps if your heels are not wide enough, and you have increased chances of developing bunions, corns, hammer toes, or arthritis if you wear high heels without enough space for your toes.
Loose heels can also affect your balance as your feet constantly slide up and down. High heels should hold your feet firmly in place and fit nicely.
Shop at the end of the day
The best time to shop and fit your pleaser high heels is at the end of the day. Your feet will likely be tired and swollen from daily activities and work, which gives you a good idea of how the pleaser shoes will fit throughout the day. Avoid wearing heels in the morning, as they'll likely feel tight after your feet have swollen.
Choose leather or suede material
Pleaser high heels made of leather or suede material will quickly adjust to the shape of your feet. Good quality pleaser heels will be comfortable for your feet in the long run, and materials like suede and leather can help prevent your feet from chaffing while lasting you a long time.
Related: How To Stretch Patent Leather Shoes
Check heel thickness and placement
Check where the heel is placed when choosing pleaser high heels. The ideal position is directly under the heel of your feet. Additionally, the thicker the heel, the more support it provides for your body weight.
Go for pleaser platform heels that evenly distribute your weight across the entire foot instead of concentrating it on the heel or ball of your foot. More comprehensive, thicker heels also help decrease the chances of spraining your ankles.
Related: How To Prevent Heel Slippage in Pumps
Take a walk test if possible
Browsing high heels in-store is always wise as it ensures you walk in them first before buying. Wear the pleaser heels boots and walk up and down the store for at least 5 minutes, turning and gauging how balanced you feel in them.
If there's a hint of wobble or imbalance, think twice about buying that particular size. Go for options that help you maintain your balance and posture, and consider heels with proper cushioning and thick insoles.
The height of the pleaser heels
The height of the heels can affect both fit and comfort, especially when walking, dancing, or standing. Heels with excessive height can put pressure on your lower back, ankles, and knees without offering enough support for balancing.
Pleaser heels for beginners should be around 6-inches as it's low enough to ensure stability while remaining high enough for benefits.
Only move to 7 or 8-inch pleasers and even 10-inch platform boots once you're comfortable and confident in six-inch pleasers. Most dancers consider 8-inch pleaser heels as the sweet spot for heel height.
How to Measure Your Foot Size
Related: Best Shoe Stretcher in 2022, What Is the Average Shoe Size for a Woman?
Your foot changes over time due to various changes like weight, age, and pregnancy, and it's always important to measure your feet before buying a new pair of shoes. A Brannock device can give accurate measurements of your foot, but if you don't have access to one, don't worry.
You'll only need an A4 paper, pen, and measuring tape or string.
Step 1: Trace Your Foot
Place the piece of paper on a level ground surface and one foot on top. If your foot is larger than a single piece of paper, tape two overlapping pieces together.
Ensure you're wearing the sock you intend to wear with the pleaser high heels and place your full weight on the foot. Slowly trace around the foot, ensuring the pen is at a 90-degree angle.
Step 2: Measure the Length
Measure the outline from the heel to the tip of the big toe using the measuring tape. A ruler can also work. You may need to trace your foot a few times to get more accurate results.
Step 3: Measure the Width
Wrap the string or tape measure around the widest part of the bunion joint to measure the width. Place your full weight on the foot for more accurate measurement. Most pleasure high heels are for normal foot width, but you can also find models with an expanded size suitable if your foot is wider than average. These include:
Extended calf: Denoted with a WC letter at the end of the shoe name for 'wider calf.'
Extended foot: Denoted with an X at the end of the shoe name
Step 4: Find Your Perfect Fit
Once you've measured your feet, use the number to find your size on the manufacturer's chart. Pleaser high heels have the following size chart:
Learn how to walk in pleaser heels (video)
Frequently Asked Questions (FAQ)
What Should I Do If My Feet Have Different Sizes?
Sometimes your feet can have slightly different lengths. In such cases, choose the pleaser high heels size according to the larger foot. For example, if your right foot size is 38 and your left foot is 37.5, go with the larger size. You can make adjustments, like adding an insole to help fit the smaller foot.
Are Pleasers Shoes In Men's or Women's Sizes?
All pleasure high heels are in US women's sizes unless stated otherwise. You can convert them to UK or Australian sizes using the size chart.
Do Pleasure Heels Have Half Sizes?
No. Pleasure heels are not available in half sizes. It's better to size up if you're between sizes.
Are Thick or Thin Heels Better?
Most times, thick heels are better, especially for pleaser heels for beginners. A thicker heel can give you more stability and is easier to move around. You can move to a thinner heel as you get used to pleaser heels and become more confident walking or dancing in them.
Can The Pleaser Heels Toe Area Affect Sizing?
Yes. The toe box or front part of the heel can affect how your toes fit and influence sizing and comfort. Always select pleasure heels that have a similar shape to the shape of your toes. Choose one size if the pleaser heel boots have a narrow toe area.
Conclusion
So, do pleaser heels run small? Yes, pleaser heels often run small, meaning they're slightly smaller than what it's said to be. It's best to size up from your usual size when buying pleasure high heels. To ensure you choose the correct size, always measure your feet's length and width, walk around in the heel before purchasing, avoid loose or tight heels and shop at the end of the day when your feet are swollen.
Choose quality material like suede or leather that can adjust to your feet's shape. Feel free to ask any questions you may have in the comments.
Picture in this post is from metmuseum.org
Related to Do Pleaser Heels Run Small