The Super Birki vs Profi Birki debate is essential when you choose the right clog for professional use. Even though they are from the same manufacturer (Birkenstocks), the two types have marked differences that go beyond. In the same light, the two shoe types have similarities that make them the best footwear for everyone, regardless of activity, age, and gender.
So we have put together this comprehensive review to give you in-depth knowledge of these shoes from Birkenstock.
Related: How to Break in Birkenstocks
Jump immediately to the FAQ section of this page
Table of content
Super Birki vs Profi Birki Key takeaways
The Birkenstock firm produces both the Super Birki and Profi Birki clogs. The clogs are mainly used in professional environments.
Super Birki is made of Birko-Flor material, which is thin, waterproof, and intended for usage in soiled or wet conditions. For increased comfort and support, it also has a removable insole.
The Profi Birki is built of Birkolon, a rigid, oil-resistant polymer for industrial or healthcare settings. Additionally, the sole is non-slip for enhanced safety.
Both the Profi Birki and the Super Birki have the renowned Birkenstock footbed, which is intended to support the arch and encourage healthy foot alignment. However, Profi Birki might provide additional support and protection for individuals who operate under challenging conditions.
What is the difference between Super Birki and Profi Birki (comparison table)
Choose a Profi Birki when you require a sturdy, oil-resistant shoe that can be worn in industrial or medical situations and has a non-slip sole for enhanced safety.
Go for the Super Birki when you require a lightweight, waterproof shoe that can be worn in muddy or rainy conditions and has a detachable insole for more comfort and support.
| Difference | Profi Birki | Super Birki |
| --- | --- | --- |
| Material | Birkolon (oil-resistant) | Birko-Flor (waterproof) |
| Sole | Non-slip | Non-Slip |
| Use | Industrial or medical settings | Wet or dirty environments |
| Fitting | Half a size bigger than the regular size | Half a size bigger than the regular size |
| Removable insole | No | Yes |
| Price | $79.95 – $89.95 | $74.95 – $84.95 |
Please note that the prices listed above are estimates and may vary depending on the retailer and location. It is always a good idea to check the current prices before purchasing.
Super Birki Clog Review
Super Birki is one of the best unisex on the market, going by its premium design and the ability to give maximum support to your feet. For that reason, it is excellent footwear for individuals looking for shoes that can withstand high-risk work environments. If your workplaces have lots of spills or you need to move fast often, there are no better shoes than the Super Birki Clogs.
The shoes are completely waterproof, warding off any spills that could make your feet uncomfortable. If you work in a hospital setting when hazardous wastes are common, you need these shoes to provide maximum protection. Besides, the shoes are made from synthetic material, making it durable for longer than you would expect.
Another thing you would like about the Super Birki clogs is that they provide maximum arch support and feature non-slip materials. With arch support, the shoes create a mold around your foot, protecting it from impact.
On the other hand, the non-slip sole gives you traction as you move about your workplace. In addition to traction and stability, the Super Birki shoes are comfortable to wear for longer. It is like the makers of these shoes knew you would need the natural comfort it offers.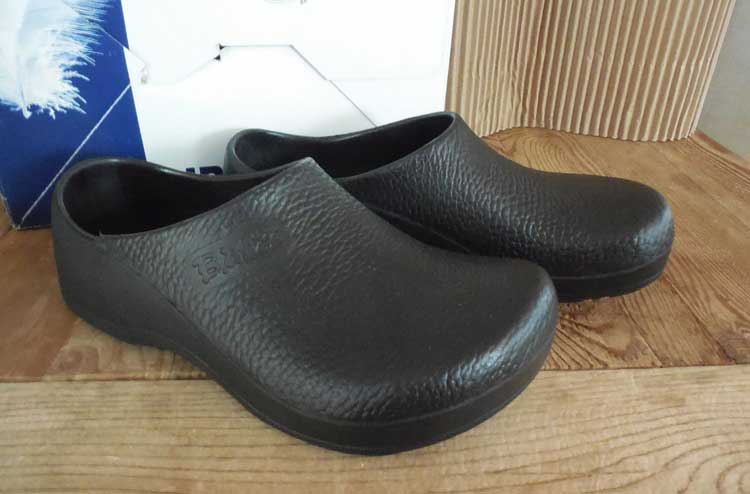 When it comes to the toe box, the shoes give your feet a lot of wiggle room, regardless of your feet' size. For that reason, your feet and toes can freely and easily move around, preventing blisters and corns. Besides, there is no way you will suffer from pain and sores for wearing these shoes.
Now, let's talk about the advantages provided by the bigger toe room. When it comes to the spacious toe room by Super Birki clogs, your feet are aligned correctly, and your body is well balanced. Therefore, your feet stay comfortable for longer, enabling you to go through your entire working day. The shoes also come with a latex and cork footbed (insole) that perfectly mirrors your feet' natural shape. That's why you should expect to walk naturally after wearing these great shoes.
Thanks to its contoured nature, the shoes evenly distribute your weight, promoting proper body posture. Besides, the shoes have raised toe bars that help you fit to naturally grip onto the inner surface. Notably, the shoes also have deep-heel toe caps that cradle the heels to cushion it from impact. The heel cup is also designed to keep your feet comfortable for longer.
So far, we have focused on all the positive attributes of the Super Birki clogs. However, the shoes also have several downsides, including the fact that the sizes tend to be too large for some users. If you don't consider that before buying, you will end up with a pair of shoes you can hardly walk in. You may have to try the shoes on to get the right size.
Super Birki explained (video)

Profi Birki Clogs Review
Besides Super Birki, Birkenstocks also produces the Profi Birki clog, a pair of shoes with high-quality construction. In the short time, it has existed, Profi Birki has gained a reputation as an industry standard by all means. It is recommended for people who work in kitchens, hotels, restaurants, and hospitals.
It comes in the form of a single-piece molded polyurethane material, giving you a highly comfortable and protective shoe. There is no doubt that these shoes and lightweight and highly flexible. If you work in a hospital or an environment with lots of movements, you need these shoes to protect your feet.
Polyurethane is also waterproof, protecting your feet from the harm that comes from spills in different environments. The durable shoes are also extremely comfortable for everyone without regard to how small or big your feet are.
Now, a polyurethane outsole is non-abrasive, oil resistant, grease resistant, and waterproof. That's why the shoes are great in protecting you in kitchens and hospitals. The shoes also have felt-lined, contoured footbeds that protect you against injury. Besides, the footbeds are fully removable and replaceable, giving you the power to maintain high comfort levels for longer.
Apart from molding to the shape of your feet, the replaceable insole gives the shoes greater durability. It cradles your feet and offers support to your feet when you need it the most – walking, running, or moving around. It is a unisex pair of clogs that protect water, oil, and grease spills. Thus you can walk confidently knowing that the non-slip outsole has covered you.
The Profi Birki also provides deep access via half-height heels. It comes in a characteristic clog style that's convenient to wear and easy to clean. All you need water and soap to clear any smudges that might have accumulated on the surface. However, like everything else, the shoes may produce noise as you move along hard floors. If you wear the shoes properly, you will be able to minimize the noise.
Profi Birki Explained (video)
Super Birki vs Profi Birki: How Do They Compare?
The Super Birki is a clog like the Profi Birki, albeit with several differences. First, the Super Birki clogs have a minimalist profile compared to the Profi Birki. There are also major differences in the sole material, with Super Birki having cork material and the Profi Birki polyurethane. However, both of these shoes work exceptionally well.
Frequently Asked Questions (faq)
Are Super Birki anti-slip?
Yes, In terms of sole design, Birkenstocks' Super Birki takes safety very seriously. The directly foamed, flexible PU sole has a non-slip profile, which provides a firm grip on slick surfaces (certified under EN ISO 20347:2012 OB E [category SRC])
Can you wash Super Birki?
You can wash the Super Birki up to 60 degrees Celsius without the footbed. Protection against oil and grease resistance is provided by Birko-Flor, the polyurethane material's resistance to water and dirt. This incredibly durable material is washable at 60° Celsius and is sterilizable. It's essential to wash the clogs without the footbed.
Are Profi Birkis non-slip?
The Profi-Birki is slip-resistant on dry, greasy, and wet surfaces, including ceramic tile, and is ISO standard-approved.
Conclusion
As you can see, the Super Birki vs Profi Birki debate shows us that both shoes are similar in many ways. However, the differences will inform you which of the two shoes you should buy. It is essential to be clear about the location you intend to use the shoes.
Related Shoe reviews