The right size of pleaser heels can make you sexier than ever and help you feel more confident and empowered. Pleaser platform heels have a long history from the time of the French court, and significant advances have made them more comfortable and well-balanced (skip straight to Tips on how to wear pleaser heels).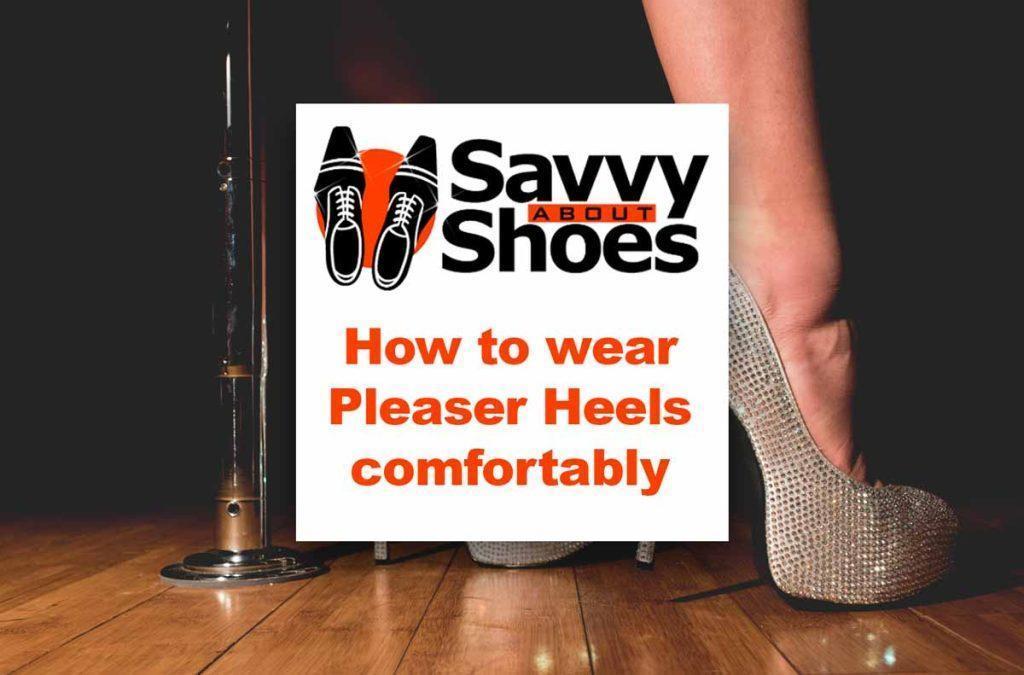 Photo by Eric Nopanen on Unsplash
Although designed to meet the specific needs of pole hobbyists and professional dancers, pleaser heels are poised to break into the mainstream as social mores around them loosen. Pleaser shoes are popular and widely accepted by fitness models, exotic dancers, and celebrities, and they'll help you push the boundaries of fashion while remaining hard-wearing and practical.
Pleaser high heels can do wonders for your style and confidence by helping elongate your legs, extend your lines, and improve your posture while adding flair to your routine. They're a clear cut above other high heels and platform shoes and can suit you well whether you're looking for something for pole dancing or some sexy heels for an extra special occasion.
But do you know how to wear pleaser heels?
To ensure your pleaser platform heels serve you well, you must know how to wear them, walk with them and dance with them. This beginner's guide on how to wear pleaser heels presents some tips to help you learn how to wear pleaser heels to ensure you stay comfortable and stunning no matter the occasion, and our editor's top picks of the best pleaser heels near me.
Jump right into the Frequently Asked Questions
Related: Do Pleaser Heels Run Small, Do Timberland Boots Make You Taller? Yes, 1 to 2 inches
Table of Content: How to Wear Pleaser Heels?
Expert Tips on How to Wear Pleaser Heels
Related: How To Prevent Heel Slippage in Pumps, What Socks To Wear With White Sneakers, How To Prevent Heel Slippage in Pumps
The first step to learning how to wear pleaser heels is getting to know your heels, how the different parts work and using them to your advantage. Some important things to consider are the type of women's pleaser shoes that are right for you, the size, heel height, style, and comfort.
How to Wear Pleaser Heels: Go For The Right Type of Pleasers Shoes
You can choose different types of pleaser heels, from thigh-high pleaser heels boots, and pleaser pumps to pleaser platform heels. Some popular choices include:
Thigh-high pleaser heel boots
If you want to level up your shoe game, the thigh-high pleaser heel boots are an excellent choice. These long boots partly or wholly cover the knees and are a surefire way to spice up any of your outfits. Thigh-high-pleaser heel boots are popular in high fashion runways and magazines, and although they can seem daunting and only meant for models with long legs, they're suitable for everyone.
Thanks to their versatility, you can rock the thigh-high and rhinestone pleaser heels as a model, exotic dancer, actress, or everyday girl. They work well with skirts, jeans, and dresses and can play a double role in making you stylish and adding coziness. All that matters is you pick a pair that compliments your style and match them with a good outfit.
Ankle pleaser boots cover the whole foot and reach up to the ankles. They vary in length from shoe boots or booties and are suitable for men or women. Ankle boots are generally more boot-like than booties and end a few inches higher than the ankle.
Ankle-pleaser boots can be adorable when styled with pants where the cuff meets at the top of the shoe. Ankle-length or cropped skinny trousers or skinny jeans that you can tuck inside your boots can also look fabulous and help minimize any unintentional cuff wackiness.
If you're looking for an uplifting experience, the pleaser platform heels are your best bet. Historically used worldwide to protect the hems and body from dirt, this footwear can help you stand apart from the crowd or get above it all. Pleaser platform heels usually have heels raised higher than the ball of your foot.
They can range from 8-inch platform boots to 10-inch platform boots or more. The platform lifts the ball off your foot and lowers the distance between the foot front and ankles. The shorter arch increases comfort by ensuring you don't bend your foot's arch too much when wearing without compromising the heel's height.
Pleaser platform heels are not just for exotic dancers and party girls. They're wearable and can work with almost anything in your closet, from little black dresses to knitted twin sets. The secret is to focus on the shoe's specific style and let them take your height and outfit to the next level.
How to Wear Pleaser Heels: Choose Pleaser High Heels with the Correct Size for You
Size is an important factor in pleaser high heels and can determine whether you're comfortable. Finding the best size for you may take trial and error, but it guarantees your shoes don't crush your toes as you dance or fly off during a spin.
Order your regular shoe size if you choose open-toed pleaser heel styles, and order a size up for close-toed pleaser heel styles.
How to Wear Pleaser Heels: Choose the Correct Height of Pleaser High Heels
You should start with around 6-inch heels if it's your first time wearing pleaser heels. It's an ideal height for pleaser heels for beginners because it's low enough to ensure stability while remaining high enough for benefits. Not only will your legs look long and sexy, but they will make dancing easier.
Pleaser high heels have angled fronts for optimal balance and direct support that make it easy and comfortable to perform moves focused on flexibility. The heels give you several more inches to work with and helps alleviate cramps or fatigue you might experience with other heel types.
A typical pleaser shoe adds 8 inches to your height. It's important to practice how to wear pleaser heels to avoid injuries.
Once comfortable with six-inch heels, you can move to 7 or 8-inch pleasers and even 10-inch platform boots. Most dancers consider 8-inch pleaser heels as the sweet spot for heel height.
How to Wear Pleaser Heels: Choose a Suitable Style and Color for Pleaser High Heels
Pleaser shoes are available in various styles and colors you can choose to match your outfit or look dazzling. Think about your routine and the kind of dancing you do. If there are plenty of twists and spins, ensure you get pleaser high heels with straps to keep them on your feet and prevent them from flying away.
Consider clear-pleaser heels if you want the illusion of being barefoot while still wearing heels. White pleaser boots will help you stand out, and if you don't want to worry about scratches, you can go for black pleaser boots. You can also glam it up with light-up pleaser heels if you want something bright and flashy.
How to Wear Pleaser Heels: Walk Properly and Practice Often
One of the best tips for wearing pleaser heels is walking from heel to toe. It would be best to practice a proper walk and remember to walk normally by putting your heel on the ground first, then smoothly following with your toes. If you don't walk normally, you're likely to experience backaches, ankle pain, and other issues that come from inappropriate posture.
Visualize yourself walking in a straight line for a more graceful walk with pleaser high heels. Practice wearing them at home and walking around while doing household tasks, so you get used to them.
How to Wear Pleaser Heels: Cushioned Inserts and Exercise
Insoles or inserts can help relieve the pressure placed on the ball of your foot from your body weight to increase comfort and stability. The heels may not have enough padding, so adding an insole or insert can make them more comfortable to wear.
Pleaser platform heels can also feel heavy, so you'll need to build up your ankle and leg strength. Specific exercises can help train your ankles and calves to make it easier to lift the heels and balance your weight.
Top Recommended Pleaser Heels
Related: Bobs Shoes vs Toms Shoes: Which is best to buy?
Pleaser Women's Flam1020 – Best Overall Pleasure Heel Boots
Pleaser Women's Kiss-209 – Best Pleaser Heels for Beginners
Pleaser Fabulicious Cocktail 508 – Best Clear Pleaser Heel
Pleaser Bordello Pump – Best Rhinestone Pleaser Heels
1. Pleaser Women's Flam 1020 – Best Overall Pleasure Heel Boots
Height: 8 inches
Sole: Rubber
What we like: High-quality material, stable, stain-resistant
What we don't like: Can't wear it for long periods
The Pleaser Women's Flam 1020 boots tick all the right boxes for everything you need in a good pair of exotic heels. At 8 inches, they feature the ideal height for the perfect look and balance, have a sexy and stylish design, and can go well with any outfit.
The synthetic material promotes air circulation and breathability, and the boots come with a zipper closure that makes them easy to move in securely while performing, walking, or practicing. They're one of the best black pleaser boots and are waterproof and stain-resistant.
The Pleaser Women's Flam 1020 guarantee a sexier and more appealing look whether you use them as everyday wear, for dancing and performing, or for extremely fun events. However, their weight makes them challenging to wear for long periods.
2. Pleaser Women's Kiss-209 – Best Pleaser Heels for Beginners
Height: 6 inches
Sole: Rubber
What we like: Ideal height for beginners, adjustable ankle strap, durable
What we don't like: They're not very attractive
Finding the most suitable pleaser heels for beginners is essential to enhance your experience, comfort, and confidence if it's your first time wearing dancing high heels. The Pleaser Women's Kiss-209 are 6 inches high with a 2-inch platform, making them suitable for beginners.
They feature an extra comfortable design with 100% synthetic material to keep your feet clean and dry. The simple and classic design makes the Pleasure Women's Kiss-209 suitable for everyday use, performance and practice.
Thanks to the rubber soles, you'll have a strong and stable base, and they feature a wide toe area to ensure you don't hurt your feet when walking or dancing. They also feature enhanced convenience with the adjustable strap that makes it easy to slide them in, no matter your ankle size. While they don't look as attractive as other options, they're an excellent place to start if you're not used to high pole dancing shoes.
3. Pleaser Fabulicious Cocktail 508 – Best Clear Pleaser Heel
Height: 5 inches
Sole: Rubber
What we like: Clear heels and platform, adjustable ankle strap, durable
What we don't like: Not suited for dancing
The Pleaser Fabulicious Cocktail 508 is an excellent choice if you're looking for heels that will make you feel and look like you're walking on air. They feature a clear one-inch heel and platform, making them perfect for finishing your look without drawing excessive attention from your outfit.
You can tailor the Cocktail 508 to match any outfit thanks to the clear upper and ankle straps. The clear design gives these pleaser heels a unique appeal, while the adjustable closure ensures you can fit the heels comfortably according to your preferences.
The Cocktail 508 is reasonably priced and guarantees excellent value for money with quality materials that promise unrivaled elegance no matter the occasion. However, they may not be suitable for dancing or complex movements.
4. Pleaser Bordello Pump – Best Rhinestone Pleaser Heels
Height: 5.5 inches
Sole: Rubber
What we like: Strapped platform, double-seamed toe, sparkly
What we don't like: The rhinestones may fall off after prolonged use
If you're looking for platform heels with an eye-catching rhinestone decoration, you can't go wrong with the Pleaser Bordello T-Shirtze Pump. It features a concealed platform, a beautiful accent bow on the strap, and a double-seamed toe.
The Bordello T-Shirtze Pump is guaranteed to grab people's attention as you walk by or dance away, and the rhinestones will add the sparkle you need for any outfit or routine. They're available in large sizes and are very comfortable for a long, glitzy night out.
You can choose the Bordello T-Shirtze Pumps in different colors, including red, gold, or iridescent rhinestones. Best of all, they're also suitable for crossdressers and may be just what you need for that boost of confidence. However, the rhinestones may fall off with heavy use.
Check out this review on how to wear pleaser heels (video)
Frequently Asked Questions
What Material is Used to Make Pleaser Pumps?
The material in pleasure high heels can be Acrylonitrile Butadiene Styrene (ABS) or polycarbonate (PC). They provide good stability and resistance, and the materials only differ in color.
Should you size up or down in pleaser heels?
It is best to order one size larger than your normal size, when you buy pleaser heels. You may even need to go up two sizes if you have particularly wide feet.
Should I Order My Normal Size?
It's wise to order one size up from your standard size or two sizes up if you have wide feet to ensure the pleaser high heels fit you perfectly.
Do Pleasure High Heels Last Long?
Yes. Pleasure heels guarantee durability and only feature high-peel strength material that doesn't rip or peel, no matter your routine. They don't wear down quickly and can easily outlast the competition.
Do Pleaser Heels Come With Insoles?
Yes. Pleaser high heels feature a premium padded insole 4 millimeters thick and are made from high-density latex. They retain bounciness and elasticity over time, so you don't have to worry about hurting your feet while dancing or walking.
Can Any Foot Shape Wear Pleaser High Heels?
Different pleasure high heels can cater to different foot shapes, so ensure you find the perfect shoes that match your foot shape. If yours are square, go for shoes with a round toe, and if you have slender and long feet, choose short heels to avoid a sliding feeling.
Conclusion
If you're wondering how to wear pleaser heels, follow a few tips, and you'll look fabulous. These include choosing the right shoe type, correct size, heel height, style, and color, practicing, walking correctly from heel to toe, exercising, and using cushioned inserts for extra comfort.
Some of the best women's pleaser shoes include the Pleaser Women's Flam 1020 and the Pleasure Women's Kiss-209, so be sure to try them on.
Don't hesitate to ask any questions you may have in the comments.
Picture in this post is from StepShoes.com
Related to How to Wear Pleaser Heels