It took me a while to realize that my choice of insoles as a big guy was important. Before I did, shoes were a recurring expense in my monthly budget, and my visit to the orthopedic doctor, when the massage parlor couldn't suffice, was constant. The most common concern associated with obesity is foot discomfort brought on by choosing the wrong shoes and insoles. I'm quite sure you already bought the footwear you thought an overweight person wears best. The shoe you got isn't as comfortable as you anticipated, so you quickly realize that you also need to get the finest insoles for overweight people.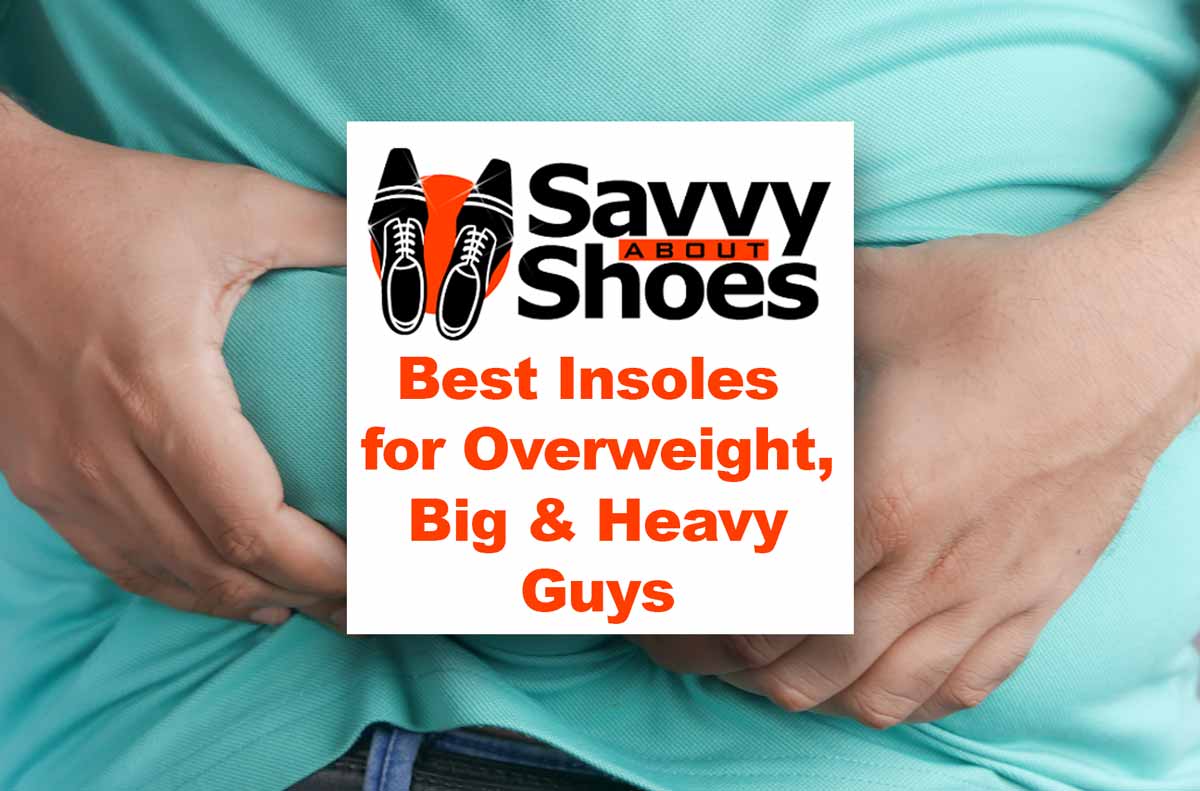 Let me tell you a little about biomechanics: The weight of your body is born by your feet during motion and even while you are just standing. This weight should be cushioned by your insoles when you wear a shoe. Not every insole is designed for everybody's mass.
You'll almost certainly need to consider orthotics for overweight people as a solution. The good news is that insoles for big and heacy guys (and women) are not difficult to find because foot sizes are conventional.

My Physical MD John
What are the Best Insoles for Big and Heavy Guys?
Detailed insoles reviews for each of the products in the table are found below:
What to Look for in an Insole If You Are a Big and Heavy Guy
Insoles are the inside sole of a shoe or any footwear. Because shoes are mass-produced, the insoles of the shoe you buy may not be suitable for your feet. Therefore, you need to change them. Below are factors to consider when purchasing new insoles for big and heavy guys.
Health: before choosing an insole, its advisable to visit a podiatrist to ensure the discomfort you feel in your feet, ankle, knee, and sometimes your lower back is not a symptom of a disorder in need of correction. I kept changing insoles and shoes, not knowing I had flat feet. My eventual visit to the podiatrist revealed this to me, and an orthotic was prescribed. I only reverted to using insoles when my flat feet corrected
Flexibility: choose insoles that increase exponentially under your weight
Shoe type: are your shoes flat or medium? You may need different insoles for different shoe types
Heel cup: you want to be sure the heel cup of the insoles can provide rest for your heel
Arch: with every movement, your arch collapses and springs back up. You need to ensure your insoles can handle such biomechanics. Arches are classified into three- low, neutral and high. The same applies to insoles. You'll need to know your foot arch type before purchasing an insole. As a big or heavy guy, you may be weary of insoles that claim to fit all arch types because the wrong insole arch won't provide the necessary cushion for your feet.
The two most important parts of your feet in terms of support are your heel and arch. Get an insole with an excellent heel cut. The midsole and shape of your shoe will help in choosing this. This is why shoe type is a factor to consider while buying insoles when you're obese.
Related: Most comfortable replacement Insoles for Vans in 2022
What is the Difference between an Insole and Orthotics?
Insoles and orthotics are often interchanged and sometimes thought of as the same. While both are shoe inserts and serve therapeutic functions, they differ in the following ways.
Correctional use
Orthotics: address specific issues and are used to correct particular biomechanical foot and leg disorders while reducing the risks for further injuries. For this reason, they are sometimes called orthopedic inserts. They also ease foot pain associated with diabetes, arthritis, plantar fasciitis etc.
Insoles: do not correct foot disorders. They only cushion the discomfort which they cause.
Effect
Orthotics: offer long-term, and in most cases permanent relief from the foot/ ankle disorder
Insoles: offer temporary relief over the discomfort.
Custom
Orthotics: are customized to meet the user's health needs and demands
Insoles: aren't customized. They are generically produced.
Recommender
Orthotics: should be recommended by a podiatrist. A podiatrist is a medical practitioner specializing in the diagnosis and treatment of foot, ankle and related problems
Insoles: can be recommended by any knowledgeable cobbler or shoemaker.
Durability
Orthotics: can be worn for 5 years and more
Insoles: are advised to be changed at least every 6 months
Cost
Orthotics: cost more because of the quality and durability of the materials used in manufacturing them.
Insoles: cost less compared to orthotics
Orthotics are insoles, but insoles are not orthotics.
It is advisable to consult with a podiatrist before getting an insole because certain foot and ankle discomforts are symptoms of a disorder. Using insoles will cause more problems for the foot or ankle in such cases, although it will temporarily ease the discomfort.
From experience, these are the…
Best Orthotics insoles for Big and Heavy Guys
1. Powerstep Pinnacle Maxx Full Length Orthotic Shoe Insoles for overweight
Termed 'full length' because it cushions the feet from toes to heel while offering the following benefits:
Comfort: its top is made of 100% anti-microbial polyester fabric which prevents friction while keeping the feet dry and comfortable all day long
Durability: made of long-lasting materials. This benefit ensures you don't have to regularly replace the orthotic
Arch types: it is great for low arches, neutral arches and high arches
Multi-purpose: it is suitable for every shoe ranging from work shoes to casual shoes and sports shoes
Total contact support: every contact your feet make with the ground is totally supported by this orthotic
Maximum cushioning: its EVA foam base and VCT (variable cushioning technology) keeps the feet properly cushioned in the shoe
Recommendation: recommended by podiatrist for foot and ankle injuries and disorders
Features:
Double layer: for better pressure absorption
Deep/ hollow heel cup: provides rest for your heels
100% anti-microbial polyester: which provides comfort
Full length: covers the full length of the feet from the toes to the heel
Arch: this orthotic is designed to imitate the anatomy of the human feet. It has an arch which is suitable for every arch type
Angled exterior heel platform: notice how your shoes start wearing out from its heels. This is because the heels receive the most pressure while you are in motion or at rest. The heel platform of this orthotic helps to absorb the pressure. Its heel platform is also designed to fit into the shoe perfectly without leaving room for it to shift while you are in motion.
2. Walkhero Orthotics Inserts for fat people
The Walk-Hero comfort and support orthotics present the following benefits in addition to those it sells in its name:
Long-lasting freshness: it controls feet odor
Durable: lasts up to two years and more because it is made of lasting materials
Anti-bacteria: its fabric is equipped to kill 99.9% of bacteria and prevent blisters
Arch support: suitable for all arch size and reduces stress on the knees, ankle and feet
Easy to maintain: a simple wash with warm water is all these orthotic needs to stay clean
Health care: helps to eliminate the need for a correctional surgery on overpronation or flat feet
Size: they come in different sizes, therefore there is no need for trimming. All you need do is buy your correct size
Shock absorption: the heel cup is infused with silicon to absorb shock, relieve soreness and reduce foot pressure
Multi-purpose: designed for wider, high volume shoes, such as basketball shoes, running shoes, work boots as well as casual and dress shoes
Features:
Antimicrobial fabric treatment
It has a density foam layer which cushions the feet and is great for high impact sports
Deep heel cup to help distribute your weight evenly and maintain correct foot positioning while walking
Make: different high–quality materials suchas EVA (ethel vinyl acetate) and silicon whose individual functions contribute to the overall effectiveness of the orthotic.
3. Powerstep ¾ Length Orthopedic Insoles for big men and women
With a 4.5-star rating, this orthopedic insole has the following benefits:
Multiuse: suitable for use in different shoe types
Unisex: suitable for use in both male and female footwears
Flexibility: with constant use, it softens and conforms to the contours of the feet
Freedom: its ¾ length leaves room at the toes. This makes it suitable for open toe shoes
It provides support for different body mass which makes it perfect for big and heavy guys
Comfort: eases pain connected to plantar fasciitis, eases heel and arch discomfort and corrects overpronation, in some cases. It also provides moderate cushioning for the feet
Low heat and friction: which leaves the feet protected, cool and fights against smelly feet
Recommendation: highly recommended by podiatrists for plantar fasciitis, Morton's neuroma and related foot disorders
Features
Non-slip pad: on the heel which prevents the insole from shifting around in the shoe while you are in motion
Anti-microbial top fabric: which fights against bacteria. The fabric also prevents blisters by reducing friction
Semi–flexible arch: provides support for the arch which springs up and relaxes during movement
Provides cushioning using VCT– variable cushioning technology
Length: covers ¾ of the feet from the heel, hence its name
Heel cup: to cradle or support the heel
Care tips:
It is not advisable to insert this orthotic in water while cleaning, instead focus on dirty spots while cleaning.
When not in use or after a long time of use, mostly if worn all day, air it to keep it from developing a foul smell.
4. Dr. Scholl's Heavy Duty Support Orthotics
Benefits:
Clinically proven to:
reduce lower back pain
relief foot and leg fatigue
relief and prevent arch pain
relief heel pain from plantar fasciitis
relief osteoarthritis pain in the knees, hips and feet
Provides extra sturdy support
Distributes body weight evenly across the feet and lightens the weight of each step
Specially designed for heavy and big guys, as well as people who spend most of their day standing, hence its name
It can be resized by trimming. To do this, follow the instructions on the pack carefully
Absorbs pain-causing shock from the heel using shock guard technology
For use in casual shoes, sneakers, work boots and work shoes
Provides support for the arch using arch guard technology
Its deep heel cup controls motion
Designed not to crowd the toes
They are durable
Features:
It has deep heel cup
Uses shock guard technology to absorb heel pain
Uses arch guard technology to provide support for the arch
It provides support for the full length of the foot- from the toes to the heel
Recommended for:
Big and heavy guys weighing over 200 pounds
People who work on their feet for long
People suffering from:
Foot and leg fatigue
Lower back pain
Muscle fatigue
Tall guys
Guideline for use:
If necessary, trim the orthotic to your shoe size. A guideline on how to correctly achieve this comes with the pack
Insert into your footwear with the fabric facing up.
5. ProFoot Orthotic Insoles
Plantar fasciitis is an inflammation of a thick band of tissues that runs across the bottom of your foot and connects your heel bone to your toes. This is caused by tension and stress. ProFoot's plantar fasciitis orthotics is specifically designed to treat this disorder. It is also important to note that plantar fasciitis can be caused by:
age
body mass
working on your feet for long hours
flat-footedness and cavus foot (high arch)
exercises which place a lot of stress on your heel and attached tissue
Benefits of ProFoot Plantar Fasciitis Orthotics
Its ¾ length leaves enough room for the toes to flex in the shoes
It supports the width of the plantar fascia to reduce stress and pain
They do not shift around in the shoes during motion because of its rubber-like backing
Absorbs tension or shock placed on the heels during motion or after long hours of standing
Apart from plantar fasciitis related pains, they also provide relief from pains caused by unsupported or flat arches, bunions, hammertoes and blisters
They can last up to 6 months before needing a replacement
While a lot of users praised this product, a number complained about not getting the desired result. This could be for several reasons, but top on the list is self-prescription. Not every foot, ankle, leg or back pain is a symptom of plantar fasciitis. Therefore, using these orthotics for the wrong foot disorder could lead to more harm.
It is advisable to always visit a podiatrist before using an orthotic.
Best Insoles for Big Guys and Heavy Guys
Below are some insoles for Obese people recommended because of the weight and pressure they bear.
1. Dr. Scholl's Massaging Gel Advanced Insoles
This insole is designed for persons who work on hard surfaces and experience discomfort and fatigue in their legs and feet. Its massaging gel advanced technology aids by massaging the ball of the foot and the heels while providing the arch with the needed support.
Additional benefits:
Cooling vents: keeps the feet cool and dry while you work. This prevents foot and shoe odour
Reduces muscle fatigue: in feet and legs so you can be more productive
Extra forefoot cushioning: protects the sensitive ball of the foot
Arch support: supports the arch of your feet as you move
Suitable for: work boots/shoes, casual shoes, sneakers etc
Absorbs shock from the heels
Features:
Massaging gel advanced technology
Extra forefoot cushioning
Reinforced arch support
Cooling vents
Guideline for use:
Remove the insoles your shoes came with
Place the new insoles into your shoe to check for size match
If need be, the new insole can be resized by trimming along the outline (on bottom of insole near the toes) that matches your shoe size. You can also use the insole you removed from the shoes as cutting guide
With the gel part of the insole facing down, insert the insole into your shoe.
It is advisable to change the insoles every 6 months or at the first sign of wear.
2. Sof Sole Gel Shoe Insert
The Sof Sole AIRR insole is a fusion of different technologies which work together to provide the comfort your feet deserve.
It offers the following benefits:
Perfect for athletic shoes
100% cushioning for the feet
Ideal for: running, cross training, walking
Maintenance: Easy to clean and keep clean
Suitable for: different foot types courtesy of its neutral contour design
It keeps the feet cool and dry to prevent stains, wear, foot and shoe odor
Anti-microbial fabric: defends the feet against bacteria, fungi, mould and yeast
The gel in the forefoot enhances shock absorption in the ball of the foot and provides maximum cushioning for the forefoot
Absorbs shock in the heel and arch: using Skydex technology, the air capsule is located in the heel and arch. It also converts impact into kinetic energy to add spring to your steps
Comfort and flexibility: It is made of polyurethane, a flexible material. This provides comfort for the full foot
Features:
Full-length insole
Skydex technology
Anti-microbial fabric
Neutral contour design
Polymer Gel in the forefoot
Coolmax moisture-wicking top-cover
The footbed is made of polyurethane
Encapsulated air chamber in the heel and arch
Makes use of Cool max technology to regulate body temperature
3. Footfeet Memore Insoles with Arch Support
Recommended especially for sports shoes but can be used on other shoes. It has the following
Pros:
Reduces foot pain
Gives full arch support
Reduces friction and heat
Provides a soft bed for the heels
Cushions the stress of the body's weight placed on the feet
Keeps the feet and shoe smelling fresh by sucking up sweat
Durable: the materials used in making it promises durability
Reduces impact on the joints and muscles during sports, while in motion or while standing
Stabilizes the feet to relieve pains caused to plantar fasciitis, heel spurs, overpronation and related challenges
Adjustable: it can be trimmed to your foot size, should you buy one that's bigger than your feet
Features:
Arch support
Full-length insole
Qualitative memory foam
Trim guide for a custom fit
Made of relatively soft materials
Embedded with breathable holes
High-quality polyester top fabric
4. HappyStep Memore Foam Insoles
This insole wants you filled with happy memories after you remove your footwear. It offers the following benefits:
It provides support and cushioning that makes you feel like you are "standing in the clouds," as a user puts it
Value for your money through durability. You will not need to replace this insole, for at least 6- 12 months. Users who reviewed this product testified to the durability of this product
Light weight: its weight is negligible. It doesn't add to the weight of the shoes
Recommendable for persons with wide feet
They do not give in under heavy weight
Reliefs pains from plantar fasciitis
Reliefs burning and aching heels
It can be resized to fit your feet
Reliefs back ache
Very affordable
Quite flexible
Features:
Made of high-density memory foam
Breathable holes to prevent the shoes and feet from smelling
Before insertion, remove the insole your shoe came with if it's a removable one. Most shoes come with removable insoles.
N.B: feedback from users suggests this insole is not good for all arch types. Before trying out this insole, it will be worth taking advice from the podiatrist to avoid complicating any feet issues you already have or creating new ones.
5. SuperFeet Coper Comfort Pluse Replacement Insoles
The Superfeet copper-colored insole is a pain-relieving insole that offers the following additional benefits:
It retains its shape while delivering reliable support and comfort guaranteed for 12 months or 500 miles- whichever comes first for the user
Its organic anti-microbial coating eliminates odor-causing bacteria to keep the feet smelling fresh all day long
Its memory foam captures the shape and pressure of your foot while you are standing or in motion
Its flexible accommodating shape provides biomechanical support for all foot types
Provides support for the foot during high-impact activities and long distances
Offers flexible accommodating shape and personalized comfort to your feet
It supports the rear foot, providing structure and stability to it
Reportedly provides relief to the back and spine
For use in athletic, casual and dress footwear
Reduces stress on the feet, ankles and knees
Stabilizes and cushions the foot
Features:
Synthetic sole
Low profile shape
High volume insole
100% memory foam
Biomechanical shape
Durable construction
Durable bottom layer
Deep, narrow heel cup
Reinforced stabilizer cap
Organic, odor-control coating
In conclusion,the best insole for big and heavy guys is relative. What this means is that what will work for you, may not work for another because all feet are not the same.
Although this article has recommended several insoles and orthotics, it doesn't mean you could randomly select from any of them and get perfect results. Choice of insoles and orthotics profiled in this article were influenced by users review and recommendations.
It is vital to reiterate that a podiatrist is best equipped to recommend insoles and orthotics for you as some foot discomforts are symptoms of foot disorder.
Insoles for Big and Heavy Guys explained (video)
Related insoles guides