Converse are great shoes for all sorts of occasions, but they can be uncomfortable because of the flat sole construction. The shoes were originally produced with a flat foam insole and can be replaced by more comfortable insoles for converse, which is reviewed below. Converse classics (like all-stars or chuck Taylors) are sneakers to wear all day. You can look for the best insoles for converse if you need to increase their comfort. Brands like Dr. Foot, Easyfeet, Physix Gear, HappyStep, and Envelop Gel may be a few of them.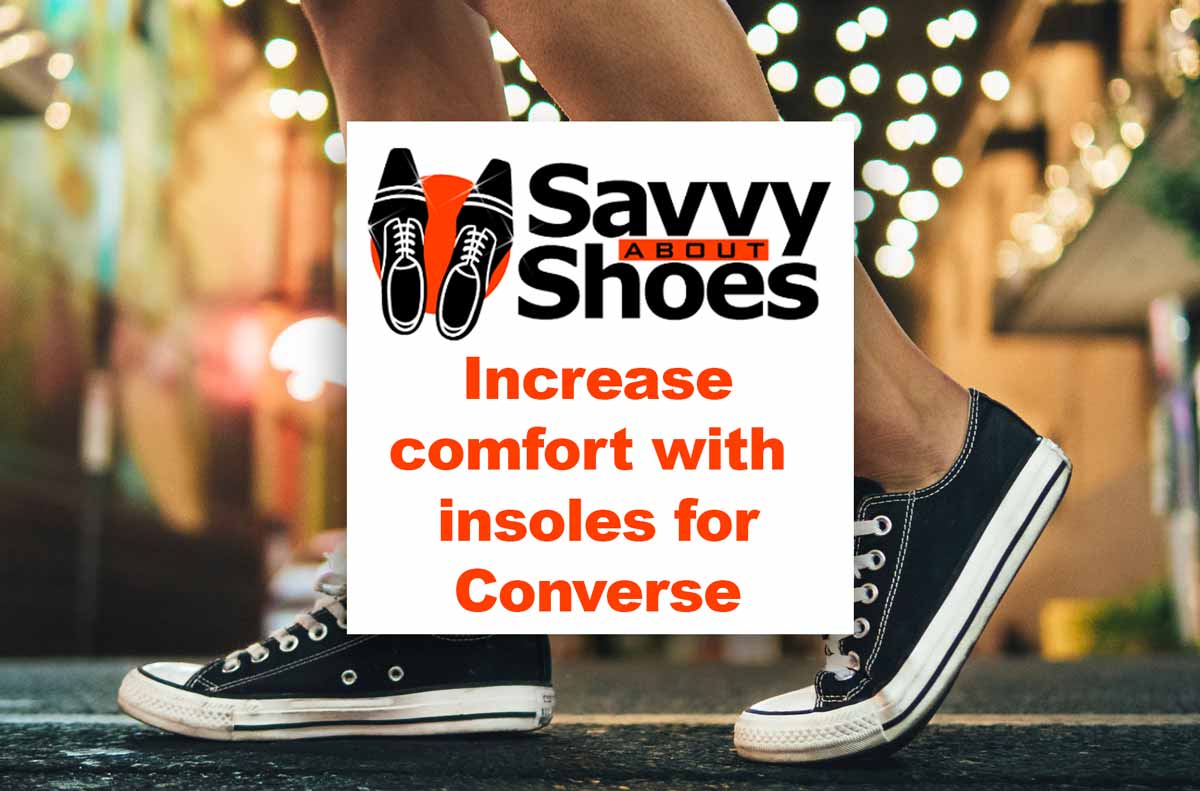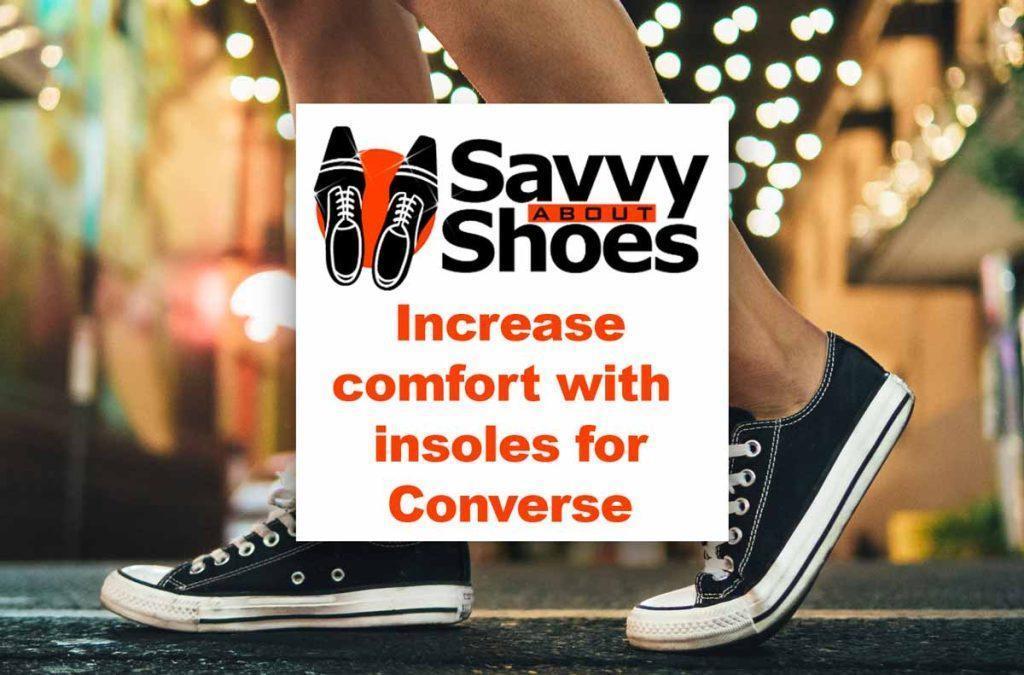 Photo by Marcus Wallis on Unsplash
It's best to wear iconic Converse like All-Stars, chucks, etc… with proper insoles for foot and arch support. After Testing many replacement insoles for Converse, we bundled our research and shared tips on how to change old Converse inserts without ruining Converse Chuck Taylors.
The standard insole in a chuck taylor is a flat sheet of foam. Thousands of people wear them and experience discomfort. The best insoles for converse are ergonomic, offer support from heel to toes, are made from gel or foam and have a slip-resistant baselayer.
Related: Most comfortable replacement Insoles for Vans in 2022, Best Nike Insole Replacement, Best Insoles for Doc Martens in 2022, Adidas Insole Replacement 2022
Jump immediately to the Frequently Asked Questions (FAQ) section of this page
Table of Content
Top Recommended Insoles for Converse Chuck Taylors
Envelop Full Length Massaging Gel Insoles are highly recommended for Converse All-Stars.
Envelop Massaging Gel Insoles have the following features:
Full length: Which would you prefer? Feeling comfortable all through your feet or just from your arches to heels? All through your feet, right? We thought as much. The Envelop Converse insole provides comfort for your feet' full length and width, unlike ¾ length insoles.
Extra gel layer from the arch to the heel of this insole. ¾ length insoles don't have this feature.
Non-slip textured base is slip-resistant. You don't want the insoles in your Converse runners to move about while you're walking or running (or dancing!). That would be so annoying!
Design: ergonomic so that the foot can easily adapt to this insert.
Made of lightweight silicone. They are so light that you won't feel their weight in your hand!
What We Like About the Envelop Massaging Gel Insole
Dual layer of gel cushioning: Know what's better than one layer of gel cushioning? Two layers! Double cushioning provides more comfort than other insoles.
Supports all arch types: Whatever arch type you have, this insole will give your arches the support they need.
Shock absorption and massage: The forefoot and heels parts of the Envelop Massaging Gel have honeycomb inserts that absorb shock. Honeycomb inserts also help massage your feet.
Orthopedic benefit: The Envelop Massaging Gel insole relieves heel and arch pain, and plantar fasciitis-induced pain, and reduce foot fatigue.
Versatile: The Envelop insole can be used with Converse shoes and other casual shoes.
Durable: Retains its shape and does not flatten out with time.
Trim-able: You can trim your Envelop insoles to size using your original Converse insoles as a guide.
What We Don't Like
They are not suitable for all sports shoes.
Best High Arch Insoles for Converse All-Stars
Physix Gear Sport Full Length Orthotic Insoles
Physix Gear Sports says they are committed to your well-being by providing premium, affordable sports products that will offer you recovery, relief, and rejuvenation, resulting in a happier, healthier you. OK, sounds good. We'll see what my wife says about that.
Features
Semi-rigid arch support: Physix Gear Sports provides needed arch support while you flex in your Converse runners. Its high arch support is designed to balance the force structure of the foot.
Deep heel cradle provides additional cushioning for your heels. Also provides more stability as you move about by keeping the heel in place.
Materials: Made of dual base layered EVA foam and polyurethane material. Both materials are really skin friendly and comfortable on the feet.
Design: Low-profile, relatively thin design. Curves at the arch for support and also curves at the heels to cradle them. Designed to shape just like the human foot.
What We Like about the Physix Gear Sport Insole
Unisex: Suitable for both men's and women's shoes.
Perfect for people in jobs with high impacts on the foot, like people who stand for long times.
Pain-relief: Reduces stress and strain by helping to maintain correct posture.
For use in sports shoes, such as mountain climbing shoes, rock climbing shoes, running shoes, and your Converse Chuck Taylors.
Minimizes foot injuries like foot and heel pain, plantar fasciitis, ball of the foot pain and other injuries that are caused by wrong foot-positioning
What more? This is an orthotic. Orthotics eases and often correct foot-related problems.
Best Neutral Arch Insoles for Converse All-Stars
Dr Scholl's Comfort & Energy Massaging Gel Ultra-thin Insoles
Dr. Scholl's is one of the most trusted brands on the market when it comes to insoles for Cons and any other shoe.
Features
Ultra-thin forefoot: Thinner in the forefoot because that's usually the tightest part of the shoe. The thin forefoot makes it easy for Dr. Scholl's Comfort insoles to fit into dress shoes without feeling tight. Very suitable for Converses if your Cons fit tight.
Arch guard technology provides heel and arch support. Special implants under the heel and arch provide comfort and reduce shock on impact.
Massaging gel waves in most parts of this insole to massage your feet.
What We Like about the Dr. Scholl's Comfort Gel Insole
Massage Gel: Want the relief you get when you come home, take off your shoes and massage your feet after a long day at work? That's the relief you'll get all day long. With its massage gel, its like you've signed up for a massage. This keeps you comfortable all day and adds spring to your step.
Recommended for people who work on their feet all day and for bigger guys.
Dual wave design provides energizing support and cushioning.
Suitable for dress shoes, sneakers, casual shoes, and your Converse All Stars!
Reduces muscle fatigue in feet.
What We Don't Like
Can move about your Cons, even after trimming to size.
Could provide more cushioning in the toe or ball of the foot area.
Sof Sole Men's Athlete Performance Full Length Gel Shoe Inserts
Features
Gel pads in heel and forefoot provide extra cushioning.
Arch Design: Neutral arch design makes the Sof Sole suitable for all arch types.
Microban: Anti-bacterial embedded in the foam inhibits bacteria that causes smelly feet.
What We Like about the Sof Sole Athlete Performance Gel Insert
Hydrologix: A moisture wicking technology to keep the feet fresh and dry all day.
Shock absorption: Cushions and absorbs shock and pressure from the heel to the forefoot.
Versatile: Fits in most shoes and is recommended especially for running, walking, cross training, hiking and casual shoes like Cons.
Full-length Insole to provide comfort for the entire foot.
Trimmable: Can be trimmed to size.
These insoles can prevent pain blisters, sore feet, feet and back ache.
Durable: Sof Sole Athlete Performance insoles can last over two years.
Non-slip: Sof Sole Insoles come with an adhesive-like backing so they stay put in your Cons.
Powerstep Arch Support Shoe Orthotic Inserts
Features
Dual layer cushion: Targeted cushioning protects your feet while standing, walking, and engaging in athletics.
Ultra-thin design: Low-profile design. Easily fits in most shoes.
Premium heel cradle cushions your heels and increases stability.
Top fabric is made of polyester, which keeps the feet cosy.
Arch Support: Built-in. Provides comfort for all arch types.
What We Like About Powerstep Arch Support Orthotic Inserts
They give great arch support!
They are perfect for bigger guys.
If you have foot pain/plantar fasciitis, you will love these insoles!
What We Don't Like
Initially, they may hurt as they require a break-in period. But break-in lasts for only a few hours or a few days at most.
Spenco PolySorb Cross Trainer Athletic Insoles
Features
Spencore heel plug cushions impact on the heels.
Forefoot crash pad has the same function as the heel pad, only that its located at the forefoot. Reduces pressure on the forefoot.
PolySorb polyurethane foam supports the arch and heels.
Full foot cushioning and support absorbs shock, which it returns as energy.
Arch Design: Designed neutrally to support all arch types.
What We Like about the Spenco PolySorb Insole
Suitable for both men's and women's shoes.
Improves athletic performance.
They are durable.
It returns the shock it absorbs as energy making it an excellent insole for athletic shoes.
Its anti-microbial surface helps prevent blisters and inhibits odor-causing bacteria.
Recommended for people with plantar fasciitis, shin splits, feet pain and feet related injuries to relieve the pain.
What We Don't Like
They take up space. Not recommended for flat shoes such as ballet shoes.
Sof Sole Insoles AIRR Performance Gel Shoe Insert
Features
Gel in forefoot: Provides maximum cushioning for the forefoot.
Skydex in Heel and Arch: Air capsules that absorb impact and converts it to kinetic energy for shock absorption.
Top cover treatment: Treated with anti-bacterial materials. Prevents odours from developing in the shoes.
Coolmax technology: Wicks away moisture from the foot through the insoles.
Material: Made of polyurethane.
What We Like about the Sof Sole AIRR
They are perfect for athletic shoes and engaging in high impact activities. The Cool Max Technology dissipates heat from the feet and keeps you comfortable.
They are non-slip. They have a good grip and do not move around.
They are durable.
Suitable for people with medium arches.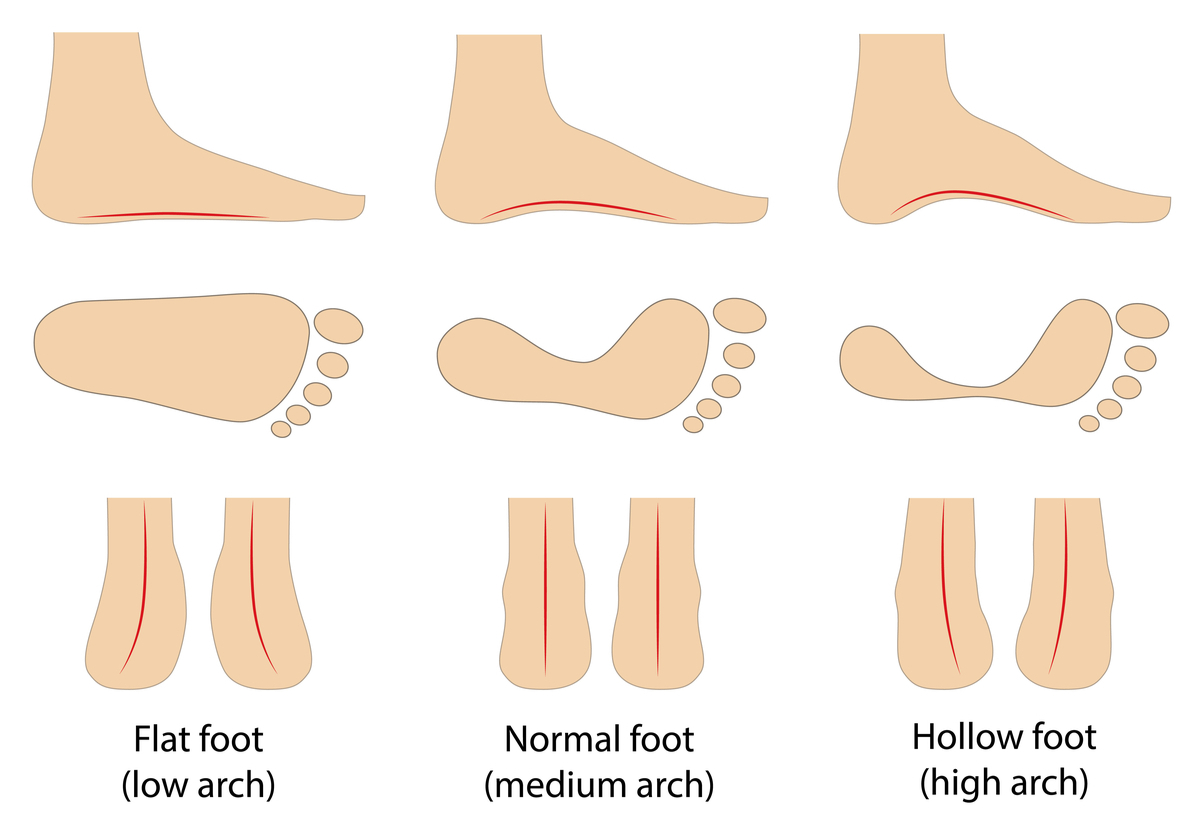 Low Arch Insoles for Converse All-Stars
Related: 6 Best Insoles for Flat Feet – Review And Buyers Guide
Spenco Rx Comfort Thin Cushioning Shoe Insoles
Features
Made of Nylon: Nylon is why Spenco Rx's are so light weight.
SpenCore Layer: Cushions impact and reduces pressure.
Design: Ergonomically constructed for people with low arches.
Technical Top-cloth Weave: Prevents odours and blisters.
Silpure: Anti-microbial surface to prevent the growth of odour-causing bacteria.
What We Like about the Spenco Rx Thin Insole
Easy to wash and maintain.
Perfect for flat shoes.
Provides extra cushioning and fits well under custom-made half-sole orthotics.
Won't change the contour of the footbed of your shoe or adversely effect your how you walk.
Quite durable.
What We Don't Like
Not suitable for all arch types.
There are no cutting guides. You'll have to use your old Cons insoles as guide to trim them to size.
How to select your size
If your footwear size has .5, order the next size down. For example, if you wear 9.5, order size 9
Dr. Scholl's Clear Cushioning Insoles for Flats
The Dr. Scholl's Clear Cushioning Insole is designed specifically for women who experience discomfort while wearing flats. They might be a good choice for my wife!
Features
Targeted Cushioning: the heel of the insole and ball of foot have clear gel to provide additional support and cushioning.
Slim design that won't crowd your toes or make your shoes feel tight.
What We Like about the Dr. Scholl's Clear Cushioning Insoles
Absorbs shock and provides cushioning for the feet.
Recommended for flats, boots, casual shoes, and shoes with heels 2 inches or less.
Relieves and prevents ball of the foot pain by shifting pressure away from the ball.
What We Don't Like
Not non-slip. They move around the footbed and need to be tapped or lightly glued to the floor bed of your shoes.
They do not reach the toe box.
Dr. Scholl's Memory Fit Massaging Gel Advanced Insoles
With a great customer rating, Dr. Scholl's Massaging Gel Insoles must be doing something right. But my wife's personal rating for these insoles is the one that will matter the most to me!
Features
Ultra-soft memory foam: The Massaging Gel Advanced Insole has memory foam, a pillow-like foam that provides soft cushioning while taking your foot's shape.
Massaging gel: You walk differently when your feet feel good. Massaging gel advanced waves add more bounce to your step.
Heel and arch support: Includes a firmer gel around the heel and arch for extra support. Provides comfort in 4 key areas of your foot: forefoot, mid-sole, arch, and heel. Basically, the entire foot.
Cooling vents dissipate moisture to keep feet cool and dry.
What We Like about Dr. Scholl's Massaging Gel Insoles
They help relieve tired, achy feet, and ease muscle fatigue.
They are perfect for casual shoes, sneakers, and Converse Chuck Taylors.
They absorb shock and cushion your foot all day, especially on hard surfaces.
Can be trimmed to size.
Prevents smelly feet and smelly shoes by keeping your feet dry with cooling vents to promote air flow. Feet easily get hot inside a pair of Converses.
What We Don't like
They could provide more arch support for people with medium and high arches.
They can move about the shoes.
They are not quite as durable as other brands.
Insoles for converse explained (video)
FAQ about insoles for Converse
Can you put an insole in Converse?
Yes. You need to remove the original insole first. The original insole is glued into the shoes, so be careful removing it. Once removed, you can easily slide the insole of your choice in your sneakers.
How can I make my Converse more comfortable to walk in?
Wear socks
Throw the in the washing machine: remove the insole or wash them at low temperature.
Replace the original insole with comfortable replacement insoles for Converse models
Does Converse offer removable insoles?
Converse offers the Converse React insole: A multi-structured Converse original cup insert with improved lightweight, cushioning, fit, and breathability.
How often should I replace insoles for Converse?
This depends on the intensity you use your Cons. The insoles might last about three to four months if these are your daily shoes. It's best to change your shoes every other day, which will make this period longer before you need to change the insoles.
How do I stop my Converse from hurting my feet?
You can stop painful feet in new Converse shoes by stretching them and replacing the insole. Wearing thick socks while properly breaking in your Converse is the first step. Put on specially designed blister-proof socks to reduce friction further. When storing your Converse, stretch them out with a shoe stretcher to help soften the canvas upper and prevent heel blisters. Second, remove and replace the current insole with a more comfortable one.
Can I clean my Converse Insoles and how to do it?
The original insoles for Converse are glued in the shoes, so they're not meant to be washed. Many insoles are machine washable, but most must be cleaned by hand wash only. Check out our full guide to cleaning your insoles for Converse to find out more.
How To Remove Insoles from Converse Shoes?
You'll have a tough time removing Converse insoles because they are glued to the footbed. You can try this first, but please be gentle!
Gently Pull back the toe end and carefully pull out the insole. If damage to the footbed happens at any point, stop! You'll need to apply some heat to the insole to loosen its adhesive.
If that doesn't work, apply heat using these techniques:
You can turn your hairdryer to high heat and direct heat to the insole to loosen the glue, or
Put the shoes in an oven for a short period to soften the glue.
Caution: Do not be exposed to heat for too long, as you want to avoid melting the glue binding on other shoe parts.
Why and how do I need to replace the insoles in my CHUCK TAYLORS?
Converse Chuck Taylor sneakers are cozy and informal, but they don't provide much support for your feet. The flexible shank that supports the foot is flat and has a flat sole. So even though they may be attractive, wearing them for an extended period may result in foot pain. Gently remove the current inserts of your chucks and replace them with one of the reviewed insoles above.
Converse Running Shoes with Removable Insoles
Converse Lunarlon is also known as the Converse Chuck Taylor II.
The new Converse Chuck Taylors come about 100 years after the debut of their predecessor (Converse started making Chuck Taylors in the early 1920s!) and has new features to make them more comfortable than the early Cons. They mostly retain their former look.
Converse Lunarlon Features
Lunarlon: One major feature of the new Converse are removable insoles known as Nike Lunarlon (Converse is a subsidiary of Nike). The feel of the Lunarlon on the feet is just so comfortable!
Tencil Canvas: If you have used or use the old Converse, you'll observe that the new Converse uses tougher Tencel canvas which makes the shoe feel firm and provides ankle support.
We've covered the best insoles for other brands as well. Here are links to useful insole info for Adidas, Vans, and Doc Martens.
Related Insoles reviews and buying guides