A brand like Toms is known across the world for good reason. They're pretty comfortable, trendy, and are usually made out of the finest materials in the market. That being said, these things don't often come cheap. Many footwear aficionados, though wanting for a solid pair of Toms, often find the price far too prohibitive for their means. Heck, we've seen pairs go for upwards of 200 bucks!
The good news is, when it comes to the market where there's demand, there's always supply to be found. What we're trying to say is that if you want all the features of a pair of Toms but don't want to fork out nearly as much money, there are alternatives out there for you that'll be just as every bit as solid as the real thing.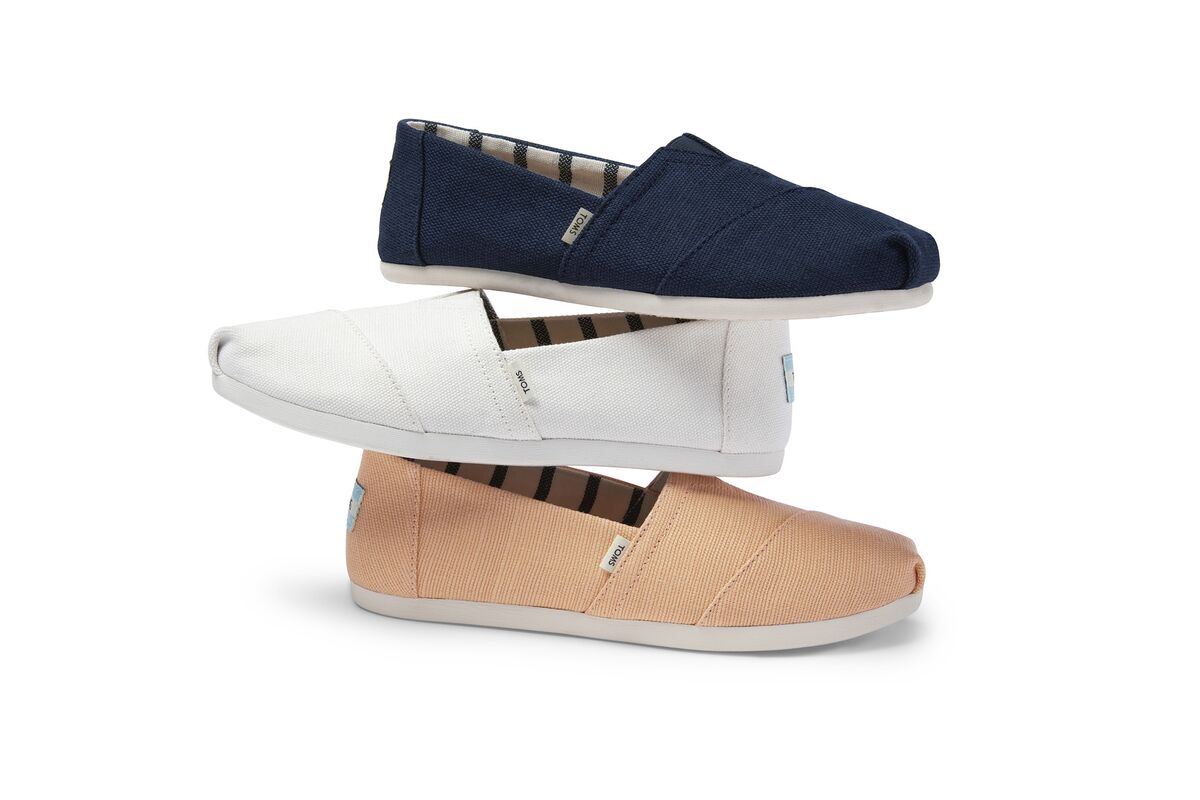 Just read on and right below you'll find our hot take on the best shoes like Toms in the market right now!
Related: Bobs Shoes vs Toms Shoes: Which is best and which one should you buy?
Best Toms Shoes Alternative

Dr. Scholl's Shoes Women's Luna Sneaker
Sitting comfortably on the top of our list is a pair of shoes crafted carefully by one of the most recognizable brands in the market: Dr. Scholl's. Their Luna Sneakers embody what truly sets them apart from the rest of the pack.
They make shoes that are not only stylish but shoes that are extremely comfortable to wear even over long periods. Closer inspection will reveal a 100% pure fabric build that ensures things stay light and breathable while promoting as much of comfort as possible thanks to the pillow-soft material.
Speaking of comfort, a look within will also reveal their unique insole technology that not only provides even more comfort, but podiatric cushioning and support. These little features go a long way in promoting good foot health in the long run!
Before we forget, the insoles are made out of memory foam. This means, the longer you wear it, the better the shoe will adapt to the unique contours of your foot. Talk about customer service, right? Now on its outside, you'll also find numerous perforations.
These of course serve to add a little aesthetic detail, but they'll also promote breathability, warding away any incidence of sweaty, stinky feet!

BOBS from Skechers Women's Plush Fashion Slip-On Flat
BOBS through their Skechers offers an interesting alternative to Toms that combines fantastic affordability, comfort, and customizability.
Don't believe us on this? Just take a look at the vast amount of different color schemes you'll be able to pick with the Skechers – from Navy to Taupe, there truly is a color for everyone out there. The Skechers aren't just a pair of pretty lookers though. A deeper look within will reveal a whole host of features we'd expect to find in the finest shoes.
Made out of 100% textile, despite not being as fancy as say, the original thing, you'll still get just as every bit a comfortable wearing experience here.
Now down below, you'll find a textured rubber sole that'll both provide shock-absorbent properties that'll take out the strain in your feet and will also work to ensure that those nasty slips don't ever take you by surprise.
On its exterior, you'll find very visible seaming as well as a little logo tag which we think adds a nice little aesthetic finish. Now in terms of use, while the Skechers will be great for casual strolls down the park or for use in an office-environment, we can't suggest going off the beaten path with shoes like this!
Why? Well simply because they just aren't designed for that sort of purpose.

EasySteps Women's Canvas Slip-On Shoes
Another great alternative to Toms that provides any would-be wearer with a solid pair of shoes minus the high price tag is EasyStep's Canvas Shoes.
With over 12 unique colors to pick from along with sizes that'll meet the needs of practically any foot, these canvas-based shoes will pleasantly surprise anyone looking for something durable and comfortable.
With an included padded insole that'll provide all the support any foot may need along with its elastic goring band which makes removal/wearing a breeze, a pair like this will be optimal for those constantly on the move.
It doesn't just stop there though – thanks to its canvas material, the EasySteps shoes also promises to deliver one of the lightest and uncumbersome wearing experiences out there. So even during hour-long walks, you can expect your feet to feel unfatigued and as fresh as a daisy. Just one thing to note though.
These shoes may feel a little tighter than usual upon first wear but don't panic! These shoes are designed to slowly stretch out overtime so as to better adapt to your feet.

Soludos Women's Dali Espadrilles
Probably sitting as our list's closest lookalike to the actual thing, Soludos's Dali Espadrilles manages to take Toms iconic design while morphing it into something unique.
Crafted carefully out of some of the highest-grade canvas fabric out there, these shoes are ideal for outdoor use especially during those summery months. Highly stylish – coming in both a wide variety of colors – so as to attract the gaze of any passerby while remaining extremely light and breathable, a shoe like the Dali Espadrilles will feel like a second skin.
Down below you'll also notice a sturdy rubber sole that's designed to promote stability and minimizing any nasty slips from wet surfaces.
Despite all this, this pair manages to remain light and easy to slip on at the drop of a beat so even if you intend on walking for miles on end, the Dali Espadrilles will be able to keep up. And let's not forget about its durability!
With proper maintenance and care, we've seen shoes like this last for several years. 

fereshte Espadrilles Loafers Breathable Shoes
Providing that unique, rustic look that truly separates it from virtually any other alternative on our list, freshete's take on Toms alternatives is surely one not to be missed on any occasion.
Masterfully crafted out of a unique blend between high-grade canvas and flax, what is produced is a shoe that is not just unique in appearance but in terms of comfort. Seriously, finding a shoe that's as breathable and comfortable as the fereshete Espadrilles is something even we've not achieved as of yet.
With some of the most interesting color combinations we've come across that include block striped red and even plaid gray green, if you're intending on standing out, you've met your match.
Now looking within, you'll find a flax insole that massages the foot while walking. This goes a long way in ensuring any nasty foot injury is kept far beyond reach. Further, its rubber outsole also provides a fantastic element of flexibility on all surfaces that'll add to the element of comfort and helps keep bolster up the shoes durability.
Beyond this is also a TPR outsole that has been installed specifically to prevent slipping and to provide a further layer of wear-resistance. Wearing the feshetes will also be an easygoing experience thanks to its conveniently placed closures as well as its elastic belt that'll prevent any accidental removals while on the go.

Circus by Sam Edelman Women's Cora Espadrille Ballet Flat
Promising to provide some of the best fitting and comfortable Toms alternatives in the market right now, Circus's Cora Espadrille Ballet Flats will bless any would-be wearer with a flattering experience that'll support them for the long months to come.
With a thick, synthetic sole that'll add inches to your actual height, this pair of shoes will make for a fantastic compliment for just about any rustic, summery outfit.
Of course, as it comes in a diverse range of colors, you can easily adapt the shoes to match with almost any other outfit with effort. Of course, this is restricted to mainly summer-appropriate outfits!
With its soft and slightly elastic edges, insertion and removal will be as easy as putting on a pair of slippers. And just like slippers (with its breathability), because of the light and porous material used with the Cora Espadrilles, foot odor should be kept to a bare minimum, if any. Finally, we invite you to check out its underside.
There, you'll find a fantastic sole that is built from the ground-up to provide, thanks to its coating, all the support your feet might need in terms of anti-slippage and durability!

A Buyer's Guide to Shoes like Toms
Affordability
If you're opting for a pair of shoes that're like Toms but not quite Toms, chances are you're looking for a shoe that's a little kinder on the wallet than the actual thing. Of course, while all alternatives on our list will fit the bill on this end (no pun intended), look to your own budget first and stick with it strictly.
After all, there's no point in going for an alternative if you're going to spend as much as you would on the real thing!
Comfort
If a pair of shoes doesn't feel comfortable, we highly suggest returning it immediately. Comfort goes a long way in ensuring that your feet stay as healthy as possible. Just think about it this way: you're probably going to spend hours on end walking with your selected pair of shoes and the last thing you'd want is an ill-fitting, uncomfortable shoe that can even cause long-term injury in the future if left unaddressed.
Style
Fashion is the name of the game these days when it comes to footwear. And chances are, if you're reading out article, you probably care about your look! What we mean is this: it doesn't matter how well your shoes may fit or how affordable they may seem.
If they don't match your overall aesthetic then well, you're just not going to bring out the best in your outfit! Just do some outfit matching while online window shopping and you should be all set.
Best Shoes like toms that don't look weird (video)
Frequently Asked Questions (FAQs)
How do I properly maintain my Toms alternatives?
Shoe-care really couldn't be a simpler affair. Every now and then (we suggest once a month), simply soak your shoes in a bucket of warm water and add in some soap.
Give it a good rinse and leave it to dry out in the sun or use a blow-dryer if it's cold where you live. Once done, spray your shoes with waterproof protectors, and you should be all set! 
How long can my pair of shoes last me?
This depends highly on how often you use them. We've seen some shoes last for up to 5 years with minimal usage while others started falling apart after just shy of a year with daily usage.
Are there any optimal times to use my Toms alternative shoes?
Yes – shoes like this are designed mainly for warmer climates and seasons. We're talking about Summer and Spring. This is mainly because of how breathable the shoes are and the fact that they are designed to be worn without socks.
While you could get away with wearing them during the colder seasons with socks, we don't suggest you do this as they simply weren't built to withstand snow and the cold!