Can You Super Glue the Sole of a Shoe?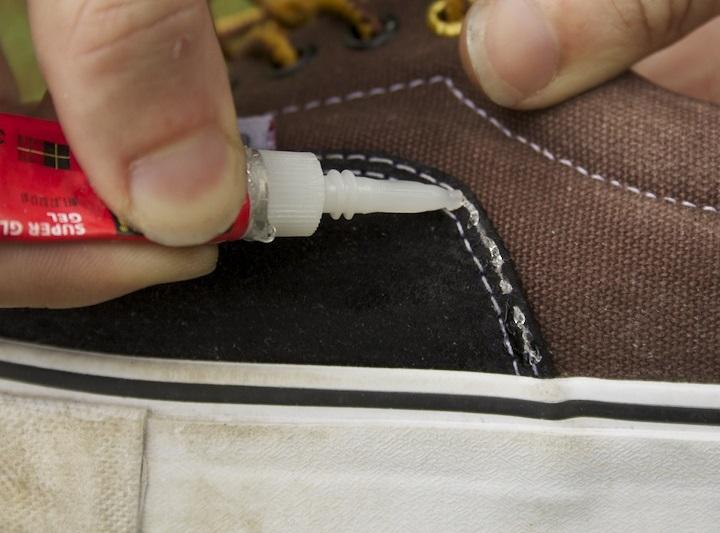 Every couple of years or so there is some "innovator" or other that makes a tutorial or a video about using super glue to fix the sole of a shoe. I even tried it myself back when I was in college and a bit too cocky to talk to a cobbler or do basic internet research. So what do you think?
Can You Super Glue the Sole of a Shoe?
No, you cannot, and you should not! Super glue will get the two sides to stay together but only until you actually put on the shoe and start walking. Super glue dries hard, while every piece of a shoe is elastic and designed to fold and bend, which the sole will come undone in a matter of hours and will leave you with a whole new bunch of problems.
So, let's tackle those problems before we move on to discussing what you really should be using.
How Do You Remove Super Glue from Shoes?
The first problem you will come across, having using super glue to fix your shoes, is that once the shoe comes undone, you will have a bunch of little pieces of the glue stuck to either side of the tear. Further down in the article we will discuss what you should have used, but, no matter the solution, they will all require you to clean the areas that you are going to glue.
Frustratingly enough, as difficult as it can be to remove super glue off the sole of a shoe when you want to, it will not actually make a good bonding surface when you come to use the right type of glue. First of all, it does have a strong tendency to further break into pieces, the more you wear your shoes, and those little pieces will come off the side that they are stuck to, ultimately helping the sole to come undone again.
Secondly, while there are a lot of different chemical formulas for shoe glue, you can never know when the stuff you are using decides to interact with the traces of super glue. They can even melt and mix together creating a new type of glue that is not ideal for shoes.
In order to remove said super glue from the unfortunate pair of shoes you may have used it on, you will first want to check if the manufacturer also makes a specific cleaner. Loctite, for example, has their own original   Loctite Glue Remover, which should actually work on other types of super glue. Alternatively, you could use acetone-based nail polish.
If the nice solution does not work, you always have the nuclear option: 800 grit sandpaper and an hour's worth of elbow grease. Try to resist to use a grittier sand paper, because you don't want to polish away too much of the actual shoe.
What Glue Should You Use for Shoes?
The challenge when you are trying to fix or glue shoes is that they are designed to be incredibly flexible. Glue on the other hand, in almost all of its forms, is designed to be rigid. Therefore, you need to find a type of glue that dries flexible. I have written an entire article on what the best glue for shoes is, but, if you don't feel like reading that article, your main choices are between Gorilla Glue and Shoe Goo .
There is a third alternative, which is called contact cement, and that is my favorite, but I would really encourage you to read the article on the best glues first. There I have provided you not only with links to each individual product, but I also have discussed the advantages and disadvantages of each one and imparted some of my own hands-on experience.
However, it would seem that despite may constant advocacy for contact cement, most people land on using either Gorilla Glue or Shoe Goo, and there are constant debates on which is the best. So, before I let you get back to actually fixing your shoes, here is my two cents worth on that debate.
Gorilla Glue vs Shoe Goo
Shoe Goo is one of the oldest glues on the market designed specifically to be used on shoes. If applied correctly it will protect the shoe, meaning it will not dissolve or start eating into the fabric of the shoe, and it will give you a bonding strength similar to the one you would have had when the shoe was coming off the assembly line.
The problem with Shoe Goo is that it needs to be applied in a very specific way. You need to have the sides that are to be glued perfectly clean and free from debris. You need to clamp down the shoe really tightly and keep it clamped down for 24 hours. Because you need to clamp the shoes down, you may need to glue the shoes in two sessions.
The first time you are going to glue the bottom of the shoe, let it cure, and then you are going to attempt gluing the tip of the shoe. Even then, good luck trying to find a clamping position that will help with those type of shoes where the tip of the sole comes up and over the tip of the shoe.
Gorilla Glue, on the other hand has none of those problems. It represents a nice balance between super glue and Shoe Glue. It cures in about an hour, but it also stays flexible once it is done.
If you do not have a clamping system I would suggest just turning on a TV show, applying the glue and just relax while you keep the two sides being glued together. After about 20 minutes you should check because the curing should be well underway, and you may not need to keep holding on.
The problem with Gorilla Glue is that it is too much like super glue for some people. It does cure flexible, but it is not quite as flexible as specifically designed shoe glue. It also permeates part of the shoe and the sole and makes them ever so slightly more rigid. Some people even complain of being able to sense a difference in their step.
Personally, I have tried Gorilla Glue and I was completely satisfied with the results. It also dries faster so it is definitely my favorite over the Shoe Goo. Still, I think I should note that most of my shoes have a fairly rigid sole themselves. If I were to fix some running shoes, I would use Shoe Goo just to be safe in the knowledge that the glue I am using is just as flexible as any type of shoe.