Best Boot Scraper in 2022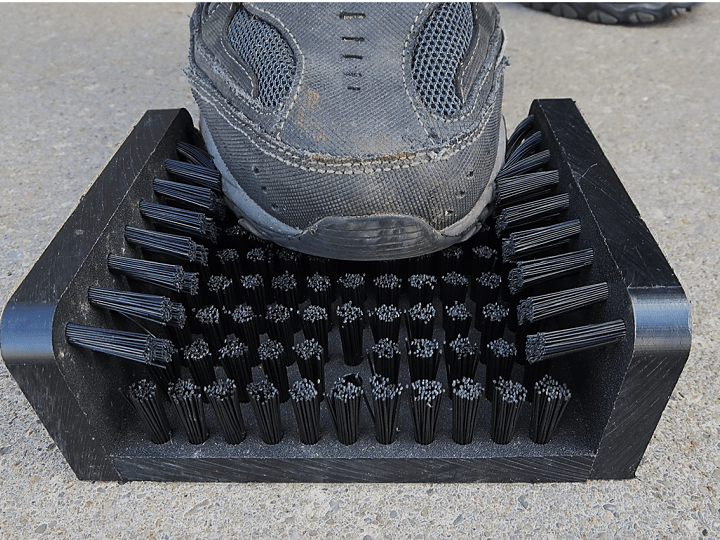 Last Updated on January 11, 2022 by Nicholas
For the tenth time in the space of 3 days, I shouted at my five-year-old son, "Don't come into the house with your boots on". Alright, let me start from the beginning!
We have a small farm at the back of the house and whenever I have time, myself and the kids go over to plant a few things as part of my attempt to have fresh vegetables to eat and also teach them a few things. The issue now is, there is always mud in the house when we are done and my wife goes nuts each time that happens. It was in this dilemma that I knew I needed a solution.  I needed a boot scraper!
Best Boot Scrappers
What Type of Boot Scrapers Are There?
Because I was looking specifically for boot scrapers for farms I was very surprised to find that I had to dig through a sea of other types of scrapers before I could get to what I wanted. In actuality there seem to be a lot of these weird scrapers for tractors that Amazon kept pushing on me.
The other type of boot scraper was what I can only call a fancy pasta ladle looking thing-a-majig that golfers, soccer players, and other such players seem to carry around. I was actually intrigued with the concept and for a while I played with the notion that it might actually be more elegant to have a little scraper like that just hanging by the back door.
Our farm is not that big so it would not be difficult at all to imagine that you could use that scraper instead of having a gigantic piece of metal stuck in the ground just outside our door. But then I remembered that the kids don't even remember to take off their shoes before coming in. Can I really imagine that they would stop by the door, rake the mud off of their shoes, and then come in? Not really!
For me, it is a lot more likely that a funny metal scraper with metal birds would engage their attention and they may make a fun game out of it. However, if you do not have kids or your kids are mature enough that they can have the discipline to use a golfers boot scraper, you might want to check the other 2 products I have reviewed below.
Let's look at some of these boot scrapers.
Best Boot Scraper for Farms
1. Esschert Design USA BR07 Bird Silhouette Boot Scraper
This boot scraper is one of the best you will find in the market today for farmers. Made from cast iron and weighing only 2.25 pounds, it is an item that you will able to use for many years. It is designed to incorporate the silhouette of 2 birds.
The Esschert Design USA BR07 Bird Silhouette Boot Scraper is sturdy for the toughest dirt and measures 10.9 x 0.6 x 13.8 inches. It does a great job on the mud left on the boots.
A tough ground is needed to help keep the boot scraper in place and its construction allows room for minimal destructibility arising from the use. It has a decorative design featuring a bird and a leaf.
Pros
Cons
– Durable
– Affordable
– Can be self-cleaned by the rain
– Does not wobble
– Wide opening
– Decorative
– Extremely thick and heavy
– Does not remove mud completely
– Customers have complained of broken parts
– Heavy and solid
– Liable to rust
2. Esschert Design Boot Scraper Ellipse
The Esschert Design Boot Scraper Ellipse is the perfect accessory for the patio or the front porch. It is made of cast iron and has elegant scrollwork. Its dimensions are 10 x 8.1 x 8.4 inches and it weighs 5.03 pounds.
It is a great addition to your back door, especially if you don't want to have a permanent solution drilled into the ground just outside your door. It is sturdy and heavy so it can be placed anywhere a temporary mud scraper might be needed. It can be a little wobbly but it is arguably the best size of a boot scraper you will find. It is rigid and does its job well.
Pros
Cons
– Affordable
– Durable
– Has a wide opening to take all kinds of boots
– Liable to rust
– Customers have complained of broken parts
– Heavy
Best Boot Scraper for Golf and Football Players
1. Bootclaw Pocket Mud Scraper
The Bootclaw Pocket Mud Scraper is one of the best boot scrapers for golf and football players. It is also ideal for hiking boots, rugby cleats, baseball spikes and can also tighten studs. Football players no longer have to worry about dragging mud around as they play, as the Bootclaw mud scraper keeps the mud on the field where it belongs.
It is particularly useful if you need to switch shoes when you are done, and you may need to store your muddy shoes in the same bag as your gym clothes. The Bootclaw is small and light enough to be carried around anywhere and, yet, it is sturdy enough to break through hardened mud and clay.
Bootclaw Pocket Mud Scraper weighs only 0.48 ounces and has a dimension of 4.7 x 1.2 x 1.4 inches. It also comes with an additional hexagonal stud key tool that can be used to tighten cleats and spikes.
Pros
Cons
– Reliable
– Affordable
– Durable
– Lightweight
Customers have complained about broken parts upon delivery
2. Mudslinger 5-in-1 Outdoor Footwear Cleaning Tool Brush
Mudslinger 5-in-1 Outdoor Footwear Cleaning Tool Brush is a multi-purpose dirt remover. It comes with five tools, the cleat cleaner, spikes, digger, scraper, and bristles, that help to remove dirt and mud.
To be honest, the Mudslinger looks a lot like some medieval torture device but it is definitely one that I will need in the future. As a dad, I have actually relaxed into my "dad bod" and I no longer need to pretend to be cool.
That means, soon enough, as my son starts soccer practice, I will be there to cheer him on and get him cleaned up afterward. And you can bet I won't be using any fancy Bootclaw. I will have my dark ages relic of a Mudslinger, cleaning the shoes, taking out pebbles from between the cleats and using the brush head to put the finishing touches.
Cleaning the tool is also easy; rinse clean in seconds to remove leftover dirt. It weighs 4 ounces and has a dimension of 8.2 x 2.5 x 2 inches.
Pros
Cons
– Durable
– Lightweight
– Affordable
– Multi-function tool

Customers have complained about its small size
In the end, you will agree that a boot scraper is a great addition in your tools bag. And it doesn't matter if you are involved in commercial farming, or you have just a small piece of land at the back of your bungalow, or your kids play soccer every Saturday night.