Boot scrapers are essential for keeping running shoes, outdoor shoes, boots, and wellies in good condition. A Boot scraper brush is handy in wet weather for removing mud from footwear before entering your home. The best place to put them is close to your front or back door. This article reviews 7 of the best boot scrapers and brushes for outdoor shoes, including options in a range of styles and materials to suit all budgets and tastes. (from antique to heavy duty boot scrapers)
Jump immediately to the FAQ section of this page
Boot Scrapers Table of content
Best Boot cleaning scrapers key takeaways
The number one of all tests is the Jobsite Original Boot scrubber. Its compact design, qualitative materials and good pricing make it an allrounder for heavy or light use. This scraper can be used as standalone boot brush, or attached to the ground.
What is a Boot scraper and what is it used for?
A boot scraper is a tool used to remove mud and other debris from wellies, boots, outdoor shoes, running shoes and gardening shoes worn outside. It is located outside a front or rear entrance and enables you to thoroughly clean your boots before your next outing or to remove heavy filth from your shoes before entering a residence. The majority of boot scrapers are constructed of metal (often cast iron), and some come with a boot brush that works well to remove dried-on grime.
Related: Best Boot Scraper Brush in 2022, Best Suede Shoe Brush in 2022, What Is a Shoe Mitt and How to Use It
What Is the Difference Between A Boot Scraper and A Boot Scraper Brush?
If you love working in the garden, you need a solution to clean your boots. You need a boot scraper brush handy to remove soil, scab, debris and leaves hanging on to your boots and shoes, especially in the fall and autumn season. For that reason, you will find a boot scraper brushes outside the front doors of many country homes but simple boot scrapers in the back of the house.
A traditional boot scraper is more or less just a sturdy piece of metal that can help you clean your boots and leave the dirt and muck outside where it belongs. Although these scrapers look great, they cannot clean your boots thoroughly.
You are forced to bend over for scrapping your boots, and you might twist your feet when removing mud from the sides. Even though these scrapers are durable, they fail to clean your shoes thoroughly.
On the other hand, a boot scraper brush does a great job of removing traces of mud or dirt from your boots and shoes. These products come in all types of styles, sizes, and specs so you can buy one according to your needs. This boot scraper brusher is constructed out of stiff bristles and coir fiber to deliver long-lasting performance.
A sophisticated brush system removes all gravel, leaves, debris, sand, mud, and snow but is best used with a boot scraper regarding honest farm work dirt.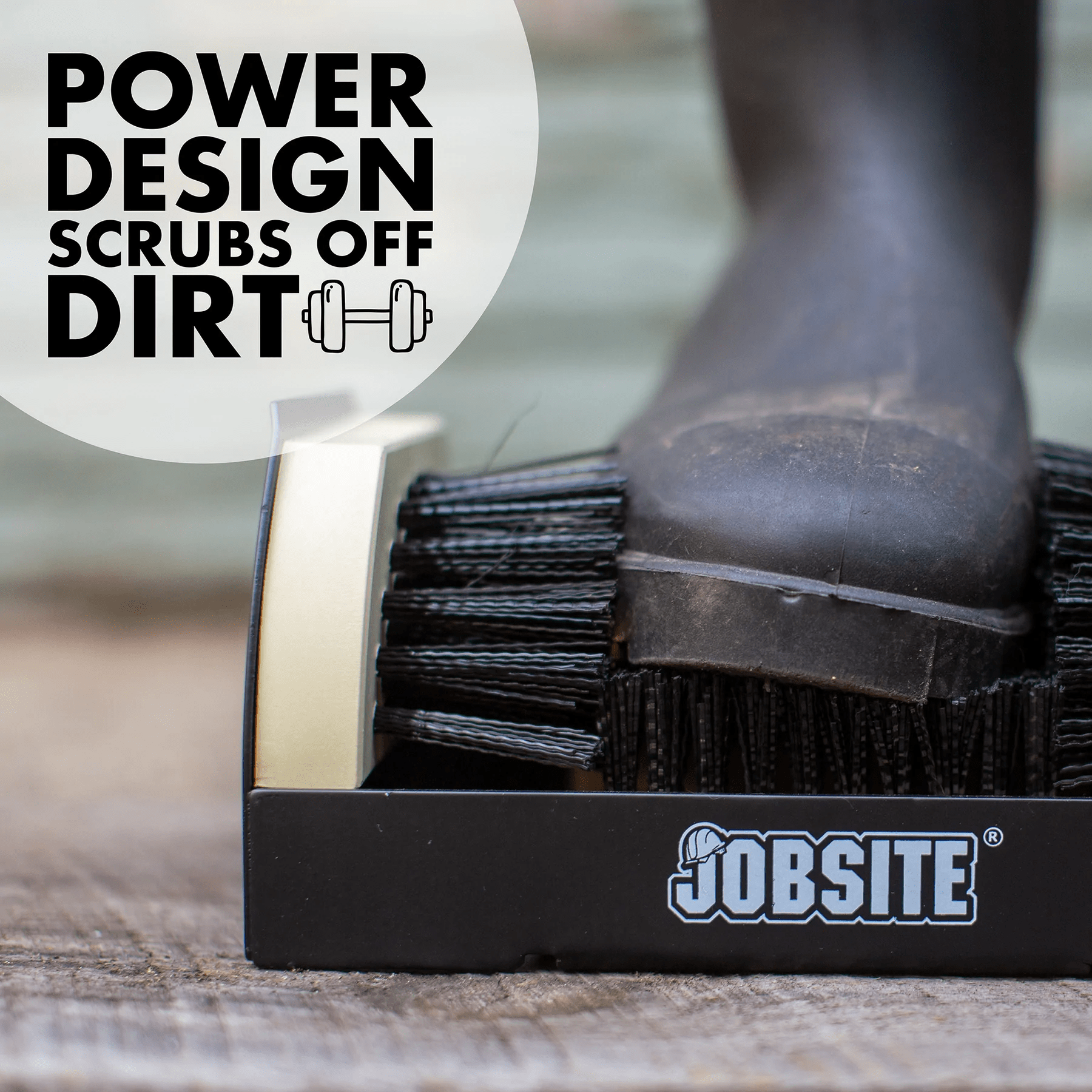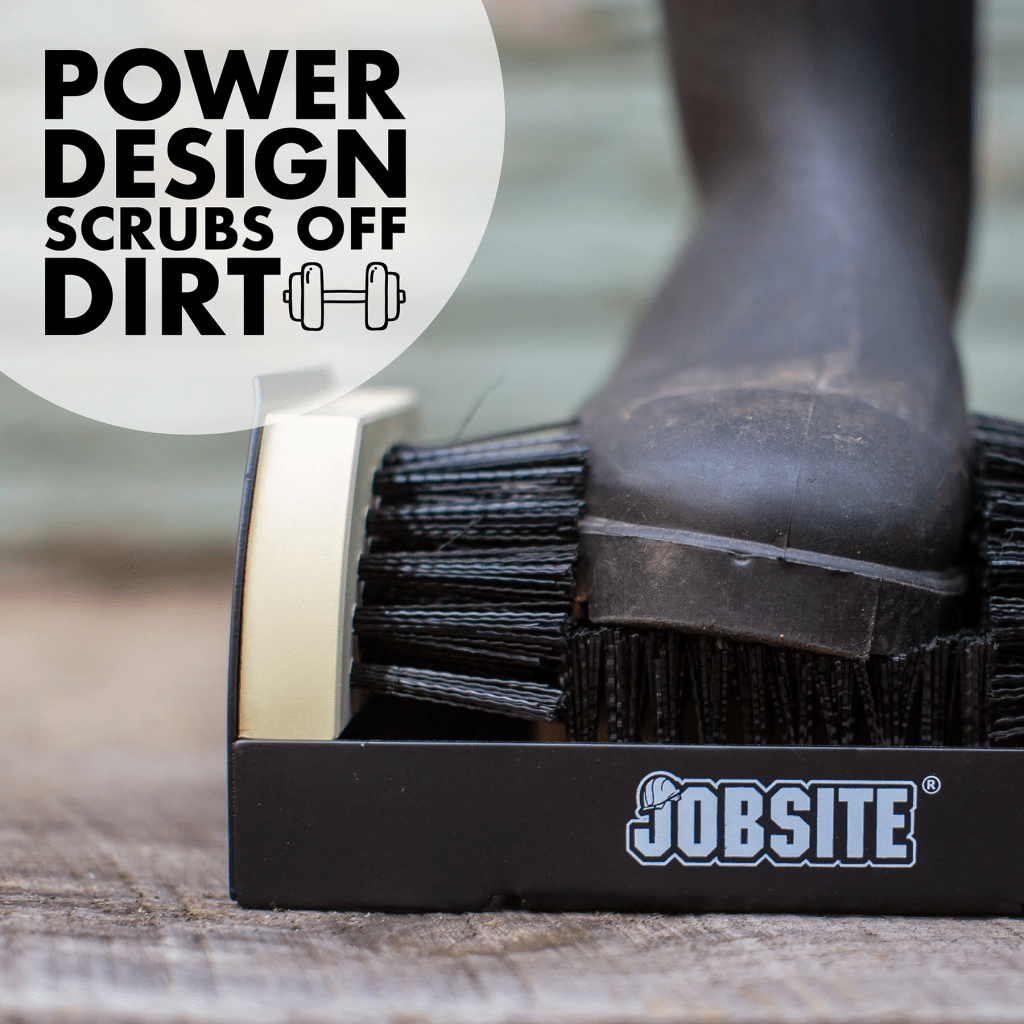 How should a boot scraper be used?
Put your foot on the boot scraper and use the bristles or prongs to clean and scrape off any mud or grime from your shoes. Look for bootscrapers with room to put your other foot on. This ensures the scraper stays in place when cleaning your dirty shoes. Some boot scrapers contain a heel jack that makes it simple to take off your boots or wellington boots.
Best Boot Scraper Brushes
Modern boot scrapers are portable and feature a lightweight design. You can buy an all-in-one scrubber, scraper, and cleaner. Here are some of the best and most popular boot scrapers with brushes. To complete the list our review team added 2 more stylish cast iron boot scrapers which do the job as well and score extra points for their design.
Related: How to Clean the Bottom of the Shoes to Return Them, How to Clean All White Huaraches? Explained in 5 methods!
1. The Original Boot Scrubber – Jobsite
If you are looking for a durable and all-purpose boot scraper, JobSite offers some of the most popular products to keep your boots clean.
One of the best shoe scrapers with brushes on the market is The Original Boot Scrubber by JobSite. With its money 30 –day money-back guarantee, the product offers 100% satisfaction. With its featured three-point base, you can keep it upright for easy handling. Thanks to its compact construction, you can easily carry it around. It doesn't offer zones to put your feet on for better stability but you can easy fix the brush on any hard surface. The ideal cleaning device to keep by every entrance.
The scraper's unique design is perfect for both outdoor and indoor use. The product will remove sawdust, grass, snow, mud, leaves, or anything that sticks to the edges of your boots because of its versatility. The welded metal frame and tough high-density composite molded plastic sides allow the scraper to withstand years of use.
The scraper is powder-coated to offer strong protection against rust. This product is perfect for your garage, home, barn, ranch, or office buildings. Being an all-weather plastic edged scrubber, it will stay in perfect shape throughout its lifespan. It will not rust or rot like other scrapers available on the market.
2. The Boot Scrubber Flat Mat Scraper Brush – Jobsite
You will love this Flat Mat Scraper Brush from JobSite as it is the ideal cleaning system for keeping your boots and shoes clean. The boot scrubber offers an effortless cleaning system. You can place it by your door to clean your boots within seconds. You need only a few scrapes to get rid of all mud, sand, snow, and gravel to keep your house clean and leave all the dirt outside.
Thanks to its contemporary designs, it doesn't look anything like your traditional foot scraper with a brush attachment. Since it is made out of high-density plastic, this product features low profile brushes. All brushes are perfectly positioned to clean the sides and edges of your boots.
Your shoes remain scratch-free as the product offers a gentle but thorough cleaning solution. The mat is big enough to cater to shoes up to size 13. It is designed to withstand weights up to 250 pounds because of the high-density molded plastic.
This product will neither bend nor break and is a perfect accessory for your barn, home, ranch, RV, or beach. Its coarse brush takes care of sawdust, snow, mud, grass, and other hard materials.
3. Brush Cleaner Floor Mount Scraper – Mr. Boot Cleaner
The Brush Cleaner from Mr. Boot Cleaner is a durable and functional boot scraper designed to last many years to come. With its unique style, the scraper impresses with its tough construction. It is designed to deliver 100% satisfaction. Its functional and beautiful design will easily blend with any décor.
Mr. Boot Cleaner offers an efficient boot cleaning product at an affordable price. The simple design of this boot scraper brush makes it suitable for both indoor and outdoor us. Its sleek and compact dimensions let you mount the bracket at any spot of your choice. Its metal reinforced sides and premium bristles thoroughly clean your boots and shoes.
The Brush Cleaner Floor Mount Scraper is perfect for outdoor and indoor use, and everyone loves it for its compact construction. As the scraper is treated with a maple finish for maximum durability, you will enjoy using this scraper for years to come.
If you are unsatisfied with the product, you can return it to claim a refund. This item will be a perfect addition to your patio, garage, and any job site where you need to clean your shoes frequently. The rigid and tough bristles clean the toughest dirt without damaging your shoes.
4. Boot Scraper Brush – Umien
The Outdoor Boot Scraper Brush impresses with its three-point built which allows users to fix it on an upright position. Its functional design makes it easy for you to clean your shoes within a few swipes.
Its powder-coated finish prevents it from deteriorating and rusting. This product is one of the most popular and durable boot scrapers, which are perfect for everyday use.
The scraper efficiently cleans your muddy shoes and boots and ranks as one of the top-selling boot scrapers online. Whether you own a ranch, work in the fields, or like to explore the outdoors; keep your shoes and your house clean with this amazing shoe scraper.
The highlight of the product is its top-class design which features two-stepping pads to hold the scraper in place as you clean your shoes one after another. It removes both small and large clumps and blends with any décor.
The convenient mounting options provide easy handling. Also, its robust design and build make it a perfect accessory for both outdoor and indoor use. If you are looking for an elegant and stylish scraper, invest in the Outdoor Boot Scraper from Umien. It will make sure no dirt, straw, snow, or contaminants enter your home. There aren't too many booth scrapers with brushes available on the market like this one from Umien.
5. The Herringbone Coir Boot Scraper Brush – Rubber-Cal
The elegant design of the Herringbone Coir Boot Scraper Brush will be a great addition to every mudroom or entryway. Its impressive dimension makes it an ideal accessory for keeping your shoes and boots in good shape.
The quality coir fiber construction makes it one of the market's most popular boot scraper brushes. The tough wire bending makes sure you get rid of every speck of dirt. Furthermore, its open design guarantees no water accumulates underneath.
The product is highly resistant to moisture and UV rays, offering strong protection against mold. The boot scraper is manufactured out of 100% natural coco coir fiber.
Since Coir is considered an all-weather material, the boot scraper does not disappoint in terms of durability. It is also incredibly easy to clean as you can vacuum, brush or shake it for removing all dirt and debris. The scraper does a fine job of cleaning the bottoms and sides of your shoes.
You can rinse it with a hose as it drains off easily. One of the best things about the cleaner is that it can clean the scraper without damaging it as it does not become soggy. Its well-made design, premium material, and durable construction make it one of the toughest scrapers available on the market.
6. Esschert Design Hedge Hog Boot Brush
This little shoe brush is a softer option for shining up gardening boots and makes a wonderful gardening gift idea. The bristles of the boot brush, which tackle dried-on filth to form the creature's spines, are formed like a hedgehog.
What we like about it:
Boot Brush 10.335 in. x 5.5 in. x 4.212 in.
Black Polystone And Coconut Fibers Hedgehog Shaped
No Assembly Required
Perfect For Positioning On The Patio Or Front Porch
What we don't like
It's more an aesthetic brush than a functional boot cleaner
The product breaks easily but again, a great piece to put on your porch
7. Fallen Fruits LH219 Boot Brush & Scraper
This boot brush and scraper set has eco-friendly coco fibre bristles that are powerful enough to remove even the most tenacious grime from the smallest crevices and crevices. It adds beauty to your doorstep thanks to the classic fleur de lys motif.
What we like about it:
This brush has a 2-in-1 function
Very qualitative forge metal base And Coconut Fibers
Due to its weight, cleaning boots is simple and stable.
No Assembly Required
Great for muddy, dusty shoes, boots, wellies
What we don't like
The scraper is solid, but it must be fastened to a surface for it to remain still.
It is a bit on the small side
after long periods outside it might get rusty
Video explaining top boot scrapers
One of the shoe and boots brush men didn't make it into this top 7 but is worth to mention: The Ninamar Mud Scrubber Rubber Brush Mat – Scrub & Scrape Muddy Shoes.
This heavy-duty rubber construction which is virtually unbreakable in hot, cold, rainy, and snowy conditions. Keep your home tidy and the mess outside. Built-in shoe soles and edge rubber bristles remove caked-on mud and manure from your boots and shoes in those hard-to-reach locations.
There is a lot I can tell about a person by his boots. But when I meet someone whose boots are tarnished and dusty because he works outdoors, there's just one thing I want to gift him: a boot scraper brush. Farm work can be incredibly exhausting, so there is very little energy left to deal with the dirty boots one has been wearing all day.
Frequently asked questions (FAQ)
Are boot scrapers useful for cleaning muddy boots?
Boot scrapers work well to remove heavy mud and debris from outdoor boots, however they might not work as well to get rid of tiny sand or dirt particles. You might need to use a boot brush or scrub your boots with a cleaning solution for a more thorough clean.
What materials are boot scrapers composed of?
Metals like cast iron, steel, or aluminum are frequently used to make boot scrapers. Some are also composed of strong materials like plastic.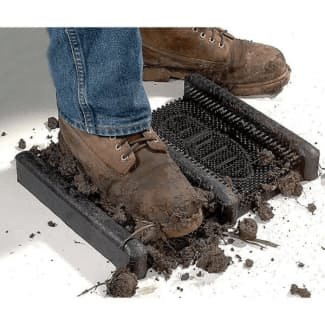 Can I use a boot scraper indoors?
A boot scraper should not be used indoors since it could scratch or harm your flooring. Muddy shoes will leave a lot of soil, dirt and orher debris into your home. Instead, you can clean and dry your outdoor shoes before bringing them inside using a boot tray or a doormat.
Conclusion:
Bootscrapers are usefule tools to put at your doorstep or in the garage, for keeping outdoor shoes, boots, and wellies clean and in good condition. Our favorite is the Jobsite Original Boot Scrubber because of the solid design, qualitative brushes and robust materials at a very good price. Many boot scrapers work for all kind of shoes like boots, soccer cleats, running shoes….Whether you're looking for an antique style or a contemporary design, there are a range of options available to suit all budgets and tastes.
Related Shoe care guides