Let's be clear about one thing before everything else: a suede shoe cleaner is a fluid used during the process of cleaning suede shoes. We need to spell that out because many respectable professionals use "suede shoe cleaner" when referring to an entire range of products from suede shoe brushes, to suede shoe cleaning kits that sometimes do not even contain the cleaner spray, and even suede shoe protector sprays.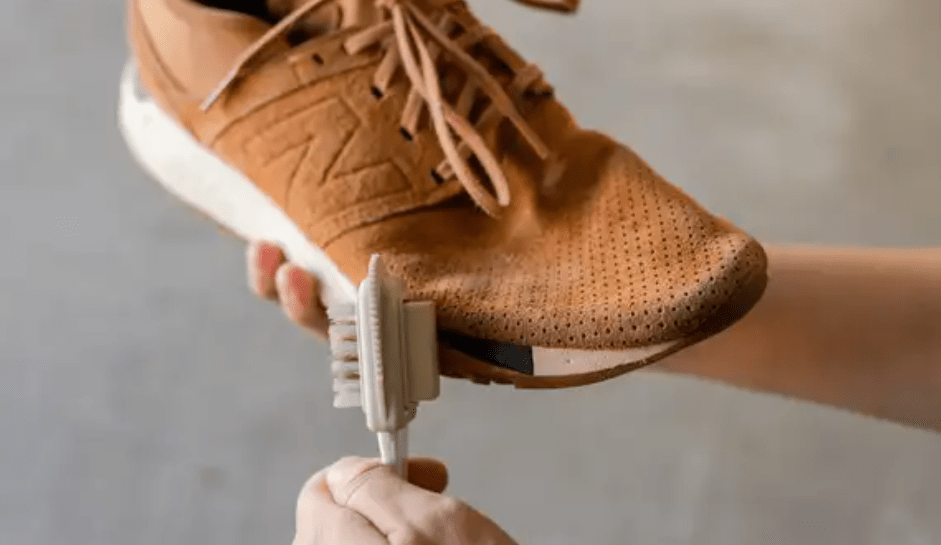 Good to know Cleaning suede shoes
Always start to Brush your shoes with a suede brush to remove dust, then you can apply a suede shoe cleaner
Use an eraser on stubborn marks to remove them, before you use a suede shoe cleaner kit
Water stains are treated with water damp. Use a cloth or a sponge to absorb water. Finally air-dry your shoes.
Protect your shoes before using them with a suede shoe protector
What follows is a list of the best suede shoe cleaner sprays on the market today. The one concession we will make to the vagary of concepts under this particular umbrella is that we will also include suede shoe cleaner kits with a strong cleaner component. Scrolling past the list you will find my in-depth reviews for each product and when I would choose one over the other.
Best Suede Shoe Cleaner
Now, being through with all that pre-emptive throat, here are my favorite suede shoe cleaners.
What is a Suede Shoe Cleaner?
If you have read my suede shoe cleaning guide, you will note that you are supposed to dry off completely suede shoes before attempting to clean them. Therefore, it may seem counterintuitive that you would get the shoes wet after you have gone to all that trouble to get them dry.
Most of the times it is actually a good idea to dry clean suede shoes. particularly if they are just covered in dry dust or have gotten completely wet in a rain.
There are two reasons why you would use a suede shoe cleaner. One is when just a part of the shoe has gotten wet, like if a few drops of mud have landed on the suede leather. Most of the time the combination of water and dirt will be too much for a simple brush or even a stain eraser. You will need to come in with a suede shoe cleaner.
The second case where you will need to use a dedicated cleaner is if the shoes come in contact with some oil-infused dirt. As you know oil does not evaporate like water and tends to go fairly deep into the shoe's fabric. In those situations, a suede shoe cleaner becomes invaluable because just by dry brushing the dirt away, you will only be removing color off the shoe.
Should You Use a Suede Shoe Protector instead of a Cleaner?
Before using your shoes spray them with a suede shoe protector, and afterward treat them with a suede cleaner. The point here is that, by using a protector, you risk trapping the dirt in the shoe rather than cleaning it away. However, the protector does get the shoe wet, so it will help you remove mud stains.
A suede shoe cleaner is formulated in such a way that it will break down heavy oils allowing you to clean them away. A suede shoe protector has no formula, so I would avoid using it on anything but "clean" mud stains. It is important to note here that dirt roads sometime are infused with oil from all types of off-road vehicles, so be sure to check if the stain is oily or looks greasy.
Top 10 Best Suede Shoe Cleaners
I hope I got you intrigued enough to start using a suede shoe cleaner because here are the reviews for the best suede shoe cleaners on the market.
1. Simple Shine Premium Suede Cleaner
If you read my post about the best suede shoe brush, you will know just how much of a fan I am of the Simple Shine family of products. They are one of the few companies still developing their products following the classic lines.
Their brushes have individual roles and are not attached to a handle, their suede cleaner is made of the very best ingredients and it really works every bit as well as you would expect it too.
The other thing I like about the Simple Shine suede cleaner is the fact that it is made with locally sourced ingredients and animal cruelty-free. I promise this is the hippiest thing I will write in the entire article, but I just had to put it out there. Although I appreciate them for that, these are not the reasons why they are on the number one spot of my list.
The fact is that I have tried several different cleaners. I ride my bike almost everywhere I go so I get inevitable drops of oil on my suede shoes. I know that you are not supposed to use suede when riding a bike, but sometimes I just do, and I now have the perfect product to clean up afterwards.
2. Otter Wax Suede & Nubuck Cleaner
I love the fact that Otter Wax treats suede like a living thing. Judging by the ingredients, aloe vera and vitamin C, you could probably use this stuff as a hand cream. And that is actually the point. Suede reacts positively to being hydrated and nourished, which is why it is important to have a cleaning product that is as less invasive as possible.
The producers, Otter Wax, have a strong tradition of quality behind them and you can tell that even just by looking at the bottle. This is the coolest product on the list in terms of pure design. It also helps that it is another example of those products made entirely in he USA, thus providing an extra quality guarantee.
3. Timberland Renewbuck Suede and Nubuck Cleaner
It may sound strange but the first shoes I have ever really appreciated were a pair of suede Timberlands that my dad bought for me back in college. I loved them from the first moment I saw them and I ruined them 2 days later by wearing them through very heavy rain.
I was sure they would never be the same until my dad thought me how to dry them, clean them and waterproof them.
Luckily, he had bought a Timberland cleaner and water proofer at the same time he bought the shoes. I was so taken by how quickly and easily the shoes reacted to the treatment, turning back from the dull sheen that the rain had created, to the soft, weavy aspect that they had had when we had bought them.
Since then I always buy Timberland cleaners and waterproofers when I buy the shoes and I am always happy with the results. It may be a little bit of wishful thinking, but I really believe Timberland knows the exact chemical formula they use in the dye they use on their shoes, and they create the cleaners so as not to dilute the dye.
As I've said, it may be just a self-fulfilling prophecy, but I think I can really see a difference when using Timberland products on Timberland shoes.
4. Ecco Suede Conditioner
Ecco is another great name in quality shoes, and, if I were to apply the Timberland logic I should have an Ecco conditioner for my Ecco shoes. The truth is that I am certain this product is every bit as good as the Timberland one, but I just never felt the need to buy it.
I have the Simple Shine cleaner and brushes and they handle everything else in the house except the Timberlands.
Getting back to the Ecco suede conditioner, I should remark that the one I have linked here is for black shoes. You may have noticed that the color on suede tends to fade faster than on anything else, so the fact that they added a small amount of dye to the conditioner, means your black suede shoes will stay black for as long as you clean them with the Ecco cleaner.
It also means that your white or red suede shoes will turn grayer and grayer if used with this product.
5. Bickmore Suede and Nubuck Cleaner
The Bickmore suede and nubuck cleaner is a classic cleaning product, which you might also find at your local shoe store. They have a fairly strong formula, so I tend not to use it on brand new shoes. However, because it is so strong, it is one of the best things you could use on oily and beer-soaked shoes.
Some buyers have had one problem with this product: they mistook it for the Bickmore water proofer. With any cleaner, you need to apply it and then use a brush to clean away the product and remove the dirt. It is not meant to dry on the shoes for long periods as that may affect the colors. Especially with such a strong formula as the Bickmore uses!
6. Angelus Easy Cleaner Kit
As I've mentioned at the beginning of the article, I decided to dedicate the first half of the list to actual suede cleaners. However, it is only natural for people who are not very familiar with these concepts to assume that a cleaner will have everything you need to clean suede. Therefore the next half of the list will feature excellent suede shoe cleaners that also come with their own brush.
The Angelus suede cleaner is special not only because it comes with its own brush, but because it has one of the most aggressive formulas on the market. The reason for that is that Angelus is actually in the business of selling dyes for suede shoes, so they make a formula for cleaning the shoes.
The formula needs to be stronger than other similar products because it needs to remove any oily residue that would prevent the dye from working properly. So you if you are planning so paint new life into your suede shoes, or if you have a really dirty pair of suede shoes, than this is the solution for you.
However, precisely because the Angelus uses such a strong formula, you should ensure not to have this as your regular cleaning product. It will not attack the suede itself, but it will greatly contribute to stripping the paint off the suede.
7. Gear Aid Revivex Suede Cleaner Set
If you have just bought a pair of suede shoes but forgot about their maintenance and cleaning, then this is the set you should go for. First off, you should do whatever you have to in order to keep from wearing them until you get to spray them with a water repellant product.
Secondly, you could check my articles on the best suede shoe brushes, and proofers, and choose from there, or you could just get the Gear Aid Revivex set.
While you may be able to find better individual products, the Gear Aid cleaner set has the best collection of all you would need for your suede shoes in a single package.
The cleaner itself is very though on oily residues, and it was designed to work well with the waterproofing agent and not to strip it away completely every time you clean. There is also something to be said about having a series of products that were designed to work together and to perform well.
8. Pedag Suede Shoe Cleaner
The Pedag Suede Shoe Cleaner is made in Germany or France depending on the lot you get, but they are both great. Europeans have been into suede products for a lot longer than the US and have a lot of experience dealing with them. Also Germany has a very wet climate, both with heavy winters and a lot of fog, so they really need to develop good products.
However, I can still see the touch of the European design, or lack thereof, and I would go with almost any other product. And yet, with over 120 customers happy enough with the product to come back to Amazon and leave a 5-star rating and review, there is really no doubt in my mind of just how good the Pedag suede shoe cleaner is.
9. Crep Cure Suede Protect Bundle Pack
It may be that I was just looking at the Pedag, but I feel like the Crep Cure is one of the better designed shoe cleaners on this list. It does not go for the nostalgia that the Otter Wax instils, but you can still feel that you are holding a high quality product. It is a bit on the pricy side, which might explain why there aren't a lot of people buying and leaving reviews.
On the other hand, it looks like this is the only products on the list where I could find no trustworthy negative reviews. The one negative review also posted photos of textile shoes, and the reviewer complained that the product did not work. Considering that this is as suede shoe cleaning kit, I can't say that I am surprised or that I would consider this review.
10. InstaNew Shoe Cleaner Kit
It can be quite difficult to get a product that will clean everything from suede to textile and to regular leather, and yet the InstaNew shoe cleaner kit proposes to do just that. Most reviewers seem to be happy with it, and, if you have one of those awful shoes where the manufacturer blended leather with textile and with suede this may be your only choice.
However, as far as the concept of a complete suede cleaning kit goes, I would be amiss if I did not point out that the brush that comes with it, will not really comb life back into suede.
It will also not scratch the regular leather on a composite shoe, so be sure to use a brass brush with great care. The microfiber towel, however, is a nice touch and, if you read my article on how to use shoe mitts, you will know just what a versatile tool a microfiber cloth really is.
How to clean suede shoes explained (video)
Concusion
In conclusion, I would like to point out that creating your own set of suede cleaning tools is always better. The Gear Aid set does a decent job of it, but you can definitely do better by using the Simple Shine or the Timberland suede shoe cleaners.
You will need to buy the brushes separately, but I have already put links to the different articles reviewing those other products. I really hope you spent a few more minutes and create your own set of favorite cleaning tools and, if you do, be sure to leave me a comment below.
Related shoe care guides