If you've suffered from a calcaneal fracture or are healing from one undergoing recovery, the most common thing you'll often hear is how painful the ordeal is. You need to walk and step by step must be supported by a good shoe after calcaneal fracture. You will to take 6-8 weeks recovery into account, so let's find a good solution for it.
A fracture of the Calcaneus or heelbone has serious impact one your mobility, stability and muscles. A good shoe after calcaneal fracture (or a post-op boot) must be lightweight, square-toed for stability, cushioning and adjustable with straps. The sole must have a rolling effect which makes walking easier.

Shoe MD specialis
A calcaneal fracture is an exception, but it can happen when falling from a ladder. Since the pain is present in almost all patients with this type of injury, having the right footwear post-op is essential to promote faster and healthier recovery.
Since rest, immobilization, compression, and elevation are important parts of a patient's treatment, choosing the best shoes to help achieve this is essential.(like recovery after jones fracture)
In this list, we've handpicked 10 of the best shoes you can order right now to help you recover from a calcaneal fracture and start the healing process. It also features a handy buying guide and answers to a couple of frequently asked questions to help you finally decide on that pair.
Best Shoes After Calcaneal Fracture

United Ortho Fracture Boot Short Air Cam Walker
The Short Air Cam Walker Fracture Boot by United Ortho provides patients with maximum stability and support following an injury or for post-operative procedures.
This fracture boot is universal and fits both the left and right feet. Its plastic is molded with steel reinforcement to provide increased durability. The insole is naturally shock-absorbing to reduce impact further when walking. This boot can withstand up to 300 pounds of weight and fits both men and women.
This fracture boot also works well for ankle sprains, soft tissue injuries, or for stabilizing your lower extremities. There are modifiable straps to keep your leg intact.
The pair also gives support from the toe all the way to the knees. The rocker sole promotes natural walking and shouldn't hamper your day-to-day activities when worn.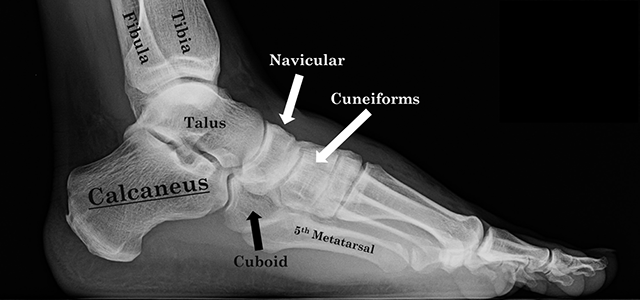 BraceAbility Short Fracture Recovery Boot
The BraceAbility short fracture recovery boot is specially designed to provide patients with mobility, protection, and support while recovering from a calcaneal fracture or other types of toe, foot, or ankle injuries. It is lightweight and has a minimalist design for hassle-free use.
This recovery boot utilizes a 3-strap system made from medical-grade Velcro for a more comfortable and secure fit.
The rocker sole has treads on the bottom of the boot for a more natural step and a safer walking experience, especially outdoors. The polymer shell has soft pads in them for shock absorption.
Lastly, the footbed is designed wide on purpose to accommodate swelling and bandaging as needed. It also has an open-toe design for breathability and to make sure it's roomy enough to not cause unwanted pain and discomfort.

Aircast AirSelect Walker
The AirCast AirSelect uses a durable, semi-rigid shell that shields your toes, feet, and ankles. It also supports the limb for full-shell protection. The 'SoftStrike' technology absorbs shock as you walk while the rocker sole is lightweight to promote a more natural gait when you move.
The overall boot is designed with an open frame to provide ventilation. The rubber treads are skid-resistant for longer wear and better traction on any kind of surface.
The AirSelect has a universal fit and can be worn on either the left or right foot. It's available in 3 styles such as short, standard, and elite. The short style has 2 nylon straps while the standard and the elite version have 3. All three walking braces are also pre-inflated and have overlapping cells to provide contact fit.

MB Medical Braces Low Top Non-Air Fracture Boot
The MB Medical Braces low-top non-air fracture boot is perfect for people with soft tissue injuries, ankle sprains, or for patients in need of post-operative stabilization due to fracture.
This footwear helps reduce pain, swelling, and edema of the foot and ankle. It fits both the left or right foot and uses 3 secure straps to maintain gait when walking.
There is padding all throughout the boot for maximum comfort. The insoles also have natural shock-absorbing capabilities to reduce pain and promote healing.
The soles of this fracture boot are skid-resistant to keep you grounded, especially outdoors. There are many size options to choose from and the price is surprisingly affordable compared to other shoes for post-operative procedures, making it a great buy if you're recovering from calcaneal fractures and the like.

ExoArmor Ultralight Orthopedic Medical Boot
The Ultralight orthopedic medical boot by ExoArmor is an advanced medical brace featuring protection on all sides of the foot and leg. Unlike other walking boots that use heavy materials like steel and nylon, ExoArmor utilizes lightweight polypropylene polymer to ensure comfort while you are nursing a broken foot.
It's ideal for post-operative procedures like calcaneal or stress fractures, ankle sprain, Achilles tendonitis, and more.
This medical boot also utilizes 'air cushion technology' where pressurized air is sealed in a flexible and durable membrane located in the heel of the boot. The cushion absorbs shock and provides spring reducing stress on the foot.
The outsole is slip-resistant due to the boot having two different tread patterns. It's also curved to allow a natural walking motion so you shouldn't feel forced to walk.

GREUS Open Toe Cast Shoes
This open to cast shoes by GREUS is a cheap alternative to fracture boots if you're on a budget. These affordable cast shoes provide pain relief for patients after post-op surgeries or other types of foot injury like ankle sprains, hammer toes, plantar fasciitis, or to assist in walking while having a plaster cast.
The material is primarily made from eco-canvas and has an adjustable strap with a hook and loop closure. This allows you to easily fit it depending on your foot size.
The insoles are also cushioned for comfort while the outsole is synthetic with non-skid capabilities for safety. The open toe design and heel cutout give proper air circulation on the foot to keep it from getting hot.
It's great for patients as it is cheap, and it helps with day-to-day activities like getting out of bed.

Brace Direct Post Op Recovery Shoe
The Brace Direct Post Op recovery shoe is a great assistant during the recovery process of patients that suffer from foot injuries like calcaneal fracture, bunions, hammer toes, or the like. It's lightweight and has a low profile.
It has an innovative 3-strap design to ensure a secure and safe fit that you can easily adjust to accommodate bandaging or swelling.
The insole is made from shock-absorbing EVA, ideal for maximum airflow and cushioning. The material produces no skin irritation and is ideal for a faster recovery.
The square open toe prevents bumping as well as provides adequate protection on the toe area. The Rocker bottom sole meanwhile is non-skid due to its unique tread patterns. These provide patients with stability and proper arch support for a more natural motion when walking.
This post-op recovery shoe is completely versatile and works for both men and women. It also fits either the left or right foot, whichever part needs it.

Vive Medical Post Op Shoe
The Vive medical post-op shoe provides patients with protection after post-op procedures from calcaneal fracture, ankle sprain, or other types of foot trauma. It's lightweight, durable, and is highly versatile with 2 adjustable straps.
The straps allow the accommodation of casts or bandages as well as swelling. The square toe design makes it possible to be worn by either the left or right foot and also keeps casts or bandages dry and dirt-free.
Like other post-op recovery shoes on the list, this shoe uses a non-skid rocker sole to help with stability while walking following surgery. The rigid design supports the arch of the foot to relieve pain and pressure while standing or walking.
What makes this a great buy is the fact that it is cheap and it works well for both men and women. It also has a 60-day guarantee making it a worry-free purchase ensuring you have the right post-op shoe as you need it.

Orthothonix Cam Walker Boot
The Cam Walker Boot by Orthothonix is medically designed to protect a patient's foot and ankle and provide superior support. Wearing this walker boot post-op helps for a faster recovery time because it perfectly immobilizes the foot while still maintaining the ability for patients to continue their daily activities.
The open-toe design provides breathability on the foot and makes for a more comfortable fit. The quick-release straps are also easy to manage and adjust without outside assistance.
This walker boot is best used after calcaneal fracture surgery, grade 2 and 3 sprains, and other post-op stabilization. It greatly helps to reduce pain, swelling, and edema of the foot and ankle.
There are a lot of sizes to choose from, and the footwear works for either the left or right foot. It's also compatible for both men and women making this an essential item for friends and loved ones who are recovering from foot injuries.

ProCare XcelTrax Air Walking Boot
The XcelTrax Air walking boot by ProCare is last on our list of the best shoes to buy after recovering from a calcaneal fracture. It's lightweight and has a unique pre-shaped ergonomic frame that controls the level of pressure on the injury to provide comfort and support for post-op procedures. ProCare utilizes soft nylon and foam liners to provide additional cushioning and shock absorption for patients as they stand and walk.
The XcelTrax also features an integrated pump design allowing the pneumatic liner to inflate and adjust easily as needed. Lastly, this walking boot has a universal fit so it can be worn by either the left or right foot and works well for men and women.
Best Shoe After Calcaneal Fracture Buying Guide
Expert Recommendation
If you or a loved one recently suffered a calcaneal fracture, it's better to consult with a health care professional before buying a post-op shoe. A physician can recommend the best footwear for you depending on the type of fracture you or your loved one has so you don't waste your hard-earned money buying the wrong product.
Design
After suffering from a calcaneal fracture, your foot probably won't be able to handle too much weight. Wearing a lightweight boot or shoe is recommended to ease pressure on the foot. It should also be able to keep you stable when standing or walking.
Rocker soles with unique tread patterns are essential to maintain your stability as you continue your daily activities. Lastly, recovery will be easier if your boot or shoe is soft and comfortable, so padding and cushioning is important when looking for shoes online.
Size
Aside from the overall design, a post-op shoe should be able to accommodate bandages, casts, or the occasional swelling. Most post-op shoes are universal which means they are compatible with the left or right foot.
They must have enough room for additional width to manage maintenance while keeping you safe and stable. A boot/shoe with adjustable or modifiable straps that you can loosen or tighten as needed is a great choice. It's also recommended to have an open-toe design to keep your foot cool and dry for breathability and comfort.
Price
You'll notice on the list that there are a lot of varying designs for post-op shoes that it's easy to get confused as to which product you should buy. Always consider your price point before getting a post-op shoe and research the ones that fit your budget.
Make sure to read reviews if you're shopping online and product reviews if there are any. This will help you decide which shoe will help you best during recovery.
How to put on a shoe after calcaneal fracture?
Make sure your foot is in the bandage or socks
Open all velcro closures and place your for in the liner. Make sure your heel slides to the back of the boot
Close the liner from toe to heel up to your leg
Fasten the extra velcro straps
optionally, add the extra foam pads
Frequently Asked Questions
How long does calcaneus fracture pain last?
The period where it's not allowed to bear weight normally lasts 8-12 weeks. A calcaneal fracture is a serious injury. Depending on the degree, pain, stiffness, and swelling can last for months or even years. Sufficient rest, therapy and good shoes after calcaneal fracture will make the period of discomfort shorters
Should I be wearing post-op boots/shoes while in bed?
It's recommended to wear post-op shoes at all times after a calcaneal fracture. If it causes discomfort, simply loosen the straps if they're adjustable. This ensures your foot will be completely immobile during recovery to prevent healing deformities.
How can wearing a shoe help in calcaneal fracture recovery?
Suffering from a calcaneal fracture is dangerous and should be treated with utmost care. A proper shoe will protect your foot from the improper alignment that usually results in chronic pain, swelling, infection, or even failure of the wound to heal. If you want to recover quickly, getting a post-op boot/shoe is highly recommended.
Related Feet care and shoes guides