Uniformed law enforcement officials are likely to be on their feet all the time. It's not an easy task as they must be alert and ready for action all day. Let's walk you through the best correctional officer boots in this expert review.
Key takeaways when buying correctional officer boots
The boots must have a height of at least 8 inches
Choose a pair of correctional officer boots with a lightweight outsole
Preferably a zipper on the inside for easy in-and-out
Nylon or full leather shaft
Waterproof
Due to this, it's a guarantee that they will most likely suffer from foot fatigue and pain. High-quality boots solve this issue by providing comfort, stability, and traction on the ground. When choosing the right boots for you, it's best to get one that can accompany you on longer shifts.
If you're a correctional officer or military personnel, check out these 10 boots available on Amazon to improve your performance wherever your assignment takes you.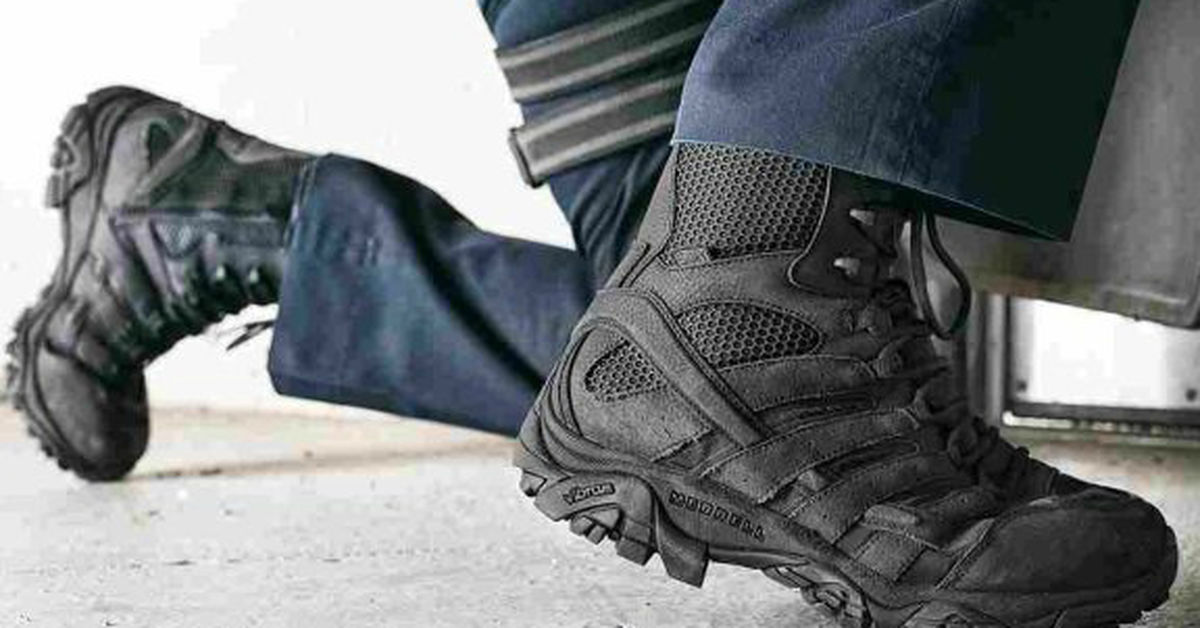 Best Correctional Officer Boots

5.11 Tactical Men's A.T.A.C 2.0 8" Shield Boot
These boots by 5.11 give correctional officers superior performance and comfort during their day-to-day activities.
The boots are primarily constructed with waterproof leather and nylon upper materials providing extreme durability during any situation. The mid and outsole of the A.T.A.C 2.0 also utilizes a 'shock mitigation system' to protect you and your balance even in the most unforgiving environments.
The system does this without compromising support and stability. It's slip and oil resistant so you won't have to worry about losing your balance when patrolling the facility.
The insole of the A.T.A.C 2.0 is equipped with an ortholite full-length dual-density insole and a bottom layer of ortholite foam for a comfy cushioning feel. The lace-up closure further secures your footing making this a great everyday wear while you're on duty.

Under Armour Men and Women's Stellar Military and Tactical Boot
The Stellar Military and Tactical Boots by Under Armour feel great and are a perfect fit for correctional officers looking for everyday wear during their shifts.
The upper is made from DWR-treated leather and 900D nylon textile upper. It has a quick-dry and minimalist design. The boots aren't too flashy compared to other footwear you'll find online, making it ideal for officers who like to keep it low profile.
This footwear uses Under Armour's famous anti-odor technology that greatly prevents unwanted smells. It has a polishable toe and is reinforced with a TPU shank for overall protection and support in any situation.
What makes this a great buy for correctional officers is that it's available for both men and women so you can partner it up with your colleagues if you're up for it.

Bates Men's 8" Ultralite Tactical Sport Side Military Boot
Bates has been the go-to uniform footwear of branches of the military and civilian police forces for decades so you won't go wrong with one if you're a correctional officer.
The Bates Ultralite Tactical Sport Side Military Boot utilizes the DRYguard waterproofing technology to keep your feet cool and comfortable all day. There are also non-waterproof styles to fit your preference.
The boots are designed with a side zipper for an easy on/off experience. Again, these are optional as non-zip styles are also available.
Lastly, the outsole is made from high-quality rubber and is both slip and oil-resistant. The deep lugs on the outsole produce great grip and traction so you'll always stay upright even in the roughest of conditions.

WWOODTOMLINSON Men's LD Lightweight Combat Boots
The WWOODTOMLINSON Men's lightweight combat boots are the ideal footwear for correctional officers because there are strategically placed breathable meshes to keep your feet cool at all times.
The microfiber material used in the construction of the boots also makes them durable and comfortable even during long shifts at the facility. The heel is approximately 1.77" and is made of high-quality rubber. This ensures maximum mobility on any terrain to keep your feet grounded.
The WWOODTOMLINSON boots are not only great for everyday wear at the facility; it also functions as multi-purpose footwear if you have an active lifestyle.
There are a lot of colors to choose from so you can select which style works best for you and your personality.

NORTIV 8 Men's Military Tactical Work Boots
The Military and Tactical Work Boots by NORTIV 8 is a recommended footwear for correctional officers because of its style, substance, and affordable price.
These work boots use ankle-high protection that supports the ankles. It also utilizes a YKK side zipper with a hook-loop strap making it easy to take on/off whenever and wherever. The leather upper is abrasion-resistant to provide protection while also being breathable to keep your feet cool and dry.
NORTIV designed a dynamic 3-sole system for these boots making them a great indoor and outdoor footwear for everyone. The insole is shock-absorbent and removable.
The flexible EVA midsole reduces fatigue and further absorbs shock, while the outsole is made of high-quality rubber and produces a flexible response on any type of terrain. It's also cheap and comes in all colors so you'll definitely have one that suits your style.

FREE SOLDIER Men's 6" Military Tactical Boots
This Military Tactical Boots by FREE SOLDIER is primarily targeted at outdoorsmen and hikers but it also works really well for correctional officers and police forces.
It's durable, protective, and is also anti-puncture. The toe cap is strengthened for full protection of the heel as well as having anti-collision and ankle support. This is why it's well suited for tactical, military, combat, hunting, and other types of activities.
The outer surface of these boots has a waterproof coating and keeps your feet dry and breathable. The gusseted tongue prevents unwanted dirt like pebbles, sand, dirt, and other debris.
Overall, the urban casual fashion style of this footwear and its affordable price makes it a practical choice for correctional officers as their daily use boots.

Reebok Duty RB8678 Rapid Response Tactical Boot
The RB8678 Rapid Response Tactical Boot by Reebok is a durable footwear that's proven to protect and endure any type of challenge you'll be put against.
It is athletically inspired, lightweight, and battle-tested, especially handy for times when correctional officers go into action. The outsole provides great traction and allows uniformed personnel to respond quickly even during the most extreme conditions.
The upper is made from 100% leather and is breathable to keep your feet cool and dry all day. The shaft of the Rapid Response Tactical boot measures approx. 5.25" from the arch. It also uses a 6" side zipper for an easy on/off experience.
Another great feature is that it has electrical hazard protection and is airport friendly.

Fila Men's Chastizer Military and Tactical Boots
The Chastizer Military and Tactical Boots by Fila offer comfort without sacrificing performance and protection. It's made from durable leather and a breathable mesh keeping your feet cool and dry as you move.
This work boot is recommended for uniformed personnel because it has a specially designed EVA sole for optimum shock absorption and additional comfort when you're working long hours at the facility.
This work boot utilizes a lace-up front closure for a more secure fit. The structured style and high-top design make it compatible with every industry like military, tactical, construction, and even food service.
The versatility of the Chastizer boots ensures you'll be able to focus more on your work and deliver on your assignments without worries about pain and foot fatigue.

Thorogood GEN-Flex2 8" Tactical Boots for Men and Women
The GEN-Flex 2 by Thorogood is a durable, lightweight, and flexible boots for correctional officers to accompany them in any given situation. It has a Goodyear storm welt construction providing superior wear resistance and moisture seal on the upper and midsole.
The outsoles meanwhile are made from durable rubber that flexes much more when compared to other work boots. It easily absorbs impact and also has superior traction even on wet or oily surfaces.
The GEN-Flex 2 also protects correctional officers with a composite shank. This maintains the shape of the boots even under heavy duress, while the ankle support keeps you firmly grounded.
The footbed is made from single-density polyurethane that's removable for your utmost comfort. These work boots are available for both men and women making it one of our picks for the best boots for uniformed personnel.

WIDEWAY Men's 8" Military Tactical Work Boots
The WIDEWAY 8" Military and Tactical work boots take the last spot on our list of the best boots for correctional officers and uniformed personnel. These work boots are made from polish-able leather and nylon upper.
This combination provides long-lasting support, water resistance, as well as breathability, keeping your feet cool and dry throughout the day.
The outsole of these work boots is slip and oil resistant. It uses a padded tongue and cushioned inserts that are easily removable whenever you want.
This feature provides ample wiggle room on your toes to make it more comfortable as you work. It also utilizes a YKK side zipper for an easy on/off. It's perfect for indoor and outdoor assignments even during cold, warm, or hot climates.

Best Correctional Officer Boots Buying Guide
Protection
The first thing you must look out for when looking for ideal work boots is their ability to protect you in unwanted situations. Having a steel toe on the front is vital to protect yourself from injuries while working at the correctional facility or any other workplace.
Aside from the steel toe, having a high-quality outsole that has a considerable grip to keep your feet grounded is essential to prevent accidental slips on slippery or oily surfaces.
We cannot stress this enough, but the outsole will save you in an intense situation especially when interactions quickly develop into a foot chase if you're working in law enforcement.
Ankle Support
Your work boots should have up to 6" or 8" ankle support. The high padded support adds another layer of protection to your feet, shielding you from potential cuts, scrapes, or harmful debris. It also prevents injuries when making sharp turns while running through fields, city streets, or any type of pavement.
Price
Correctional officers should find the best boots that fit their budget. Since your choice of footwear is one of the most important gear you shouldn't skimp out on, it's best to not cut corners just to save a couple of dollars.
Look for boots that can withstand extreme conditions like adverse weather, mud, water, as well as oil and chemical exposure. Buying cheap work boots will cause blisters, cold feet, and you'll be at risk of injuries if your outsole is lacking in traction.
Fit-Look-Comfort
We're kidding if we wouldn't factor in the style of your work boots. After all, you'll have to wear them all the time, and getting your desired look is key to enhancing your overall fit and general comfort throughout the day.

Correctional officer boots explained (video)
Frequently Asked Questions
Which boots should I go for?
Steel and composite toe boots offer protection from impact and compression but are heavier, affecting your running performance. Meanwhile, side-zip or comfortable tactical boots are lighter and make getting out of the squad car quick and easy.
There are many options and styles for your work boots of choice but you can only wear one so research is key.
Choose one that works best for your needs and maybe even ask for recommendations from your fellow officers or look for online reviews.
Should I get expensive work boots?
Some members of the police force prefer getting multiple pairs of cheaper tactical work boots over a more expensive one because pounding the pavement all day takes a considerable toll on their duty boots.
Some do not find it practical to spend extra on an expensive work boot that will wear out as fast as cheaper alternatives so some correctional officers opt just to throw out the worn ones and have the new pair ready for maximum comfort on duty.
Remember that comfort and fit will always be subjective so try different boots out before you make your purchase.
Related Boots and shoes reviews