Everesting, named after the highest mountain worldwide, involves selecting a hill from anywhere in the world and ascending and descending it as quickly as possible to reach a total of 8,848 meters, the elevation of Mount Everest. Everesting initially started as a cycling challenge but has also gained popularity as a running or trekking challenge.
So what are the shoes for Everesting? Shoes that will make your Everesting running challenge more comfortable are breathable, must have great traction, are lightweight, and offer stability on all terrain.
It's vital to take care of your feet when Everesting as it involves running or trekking long distances, in wet or dry terrain, uphill and downhill, with a mix of off-road and pavement terrain.
When choosing shoes for Everesting, you must consider stability, cushioning, rock protection, and excellent comfort levels. Below are our editor's top picks of the shoes for Everesting in 2022, covering everything from lightweight and flexible shoes for smooth terrain to rigid and stable designs for mountainous terrain.
You can jump immediately to the Frequently Asked Questions section here
Top Recommended Shoes for Everesting
Related: Insoles for Hiking in 2022, Walking Shoes For Hip and Knee Pain
1. HOKA Mafate Speed 4 – Overall Best Shoes for Everesting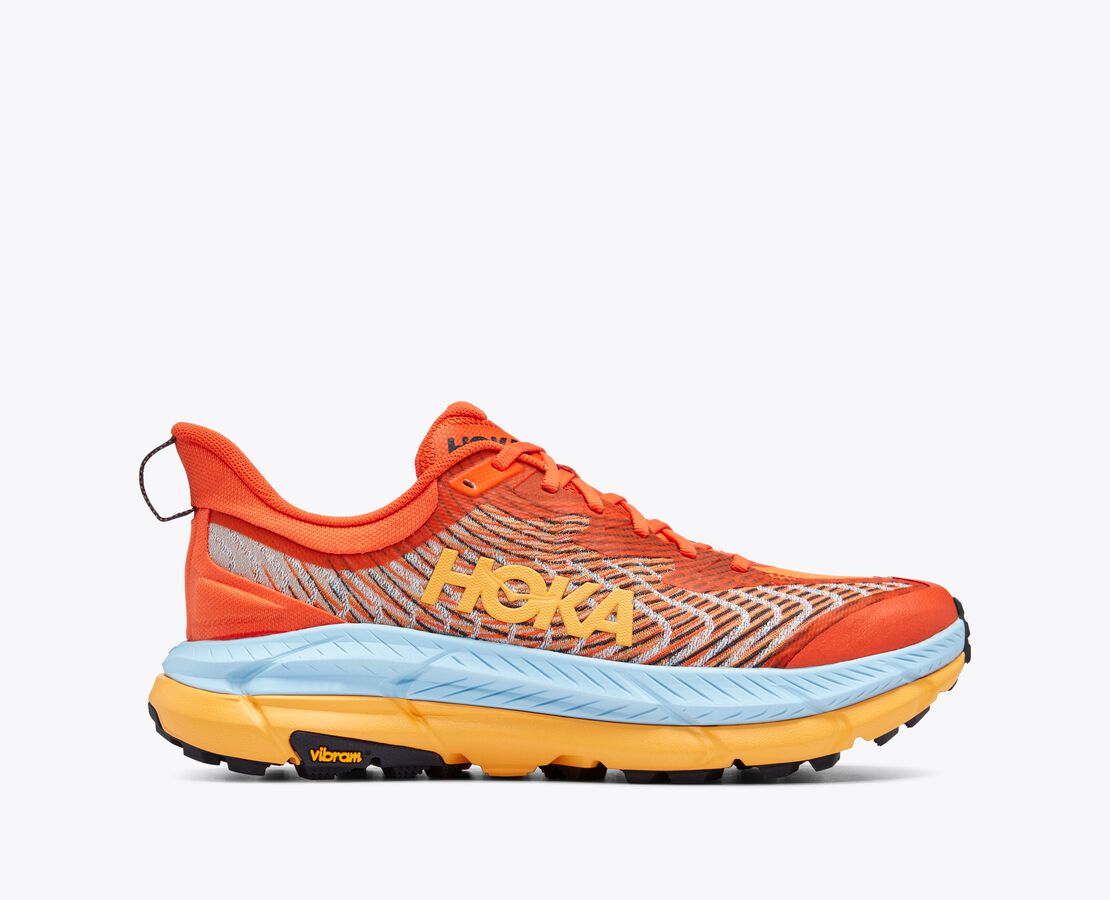 Weight: 10.4 oz
Cushioning: Moderate
Heel to Toe Drop: 4mm
What we like: Excellent combination of comfort and versatility
What we don't like: Pricey
The Hoka Mafate Speed 4 is lightweight and comfortable to enhance your long-distance trekking or running experience. The outsole is Vibram Megagrip rubber with an incredibly sticky tread and deep lugs designed to maximize contact and traction and allow you to dig into loose trail debris and mud comfortably.
The Speed 4 guarantees total confidence on steep descends and can dig into the trail on challenging climbs to give you the traction required for quick ascends. This makes it one of the best shoes for Everesting as you go up and down the hill or trail.
And that's not all.
The EVA foam midsole cushioning is one of the lightest and most responsive to give the right amount of protection and comfort. This ensures you get a smooth, enjoyable ride on even the most hard-packed trails and maintain a responsive ride with total control.
The Speed 4 has a 29mm forefoot stack height, providing plenty of cushioning without any lateral roll as you run over mountainous terrain. It has a breathable mesh that gives you foot-hugging comfort and a gusseted tongue to keep trail debris at bay as you move through the landscape.
A toe bumper on the Speed 4 delivers enhanced protection, while the firmer material aims to give you an efficient push-off. You can choose from different colors like fiesta, thyme, summer song, or puffins bill and get the perfect shoe for Everesting on all terrain for the long haul.
The only downside of the Speed 4 is the high premium price. At $185, it can be pricey for a pair of running shoes, but these versatile, do-it-all trail shoes are well worth the price.
Hoka Mafate Everesting running shoes explained (video)
2. Altra Lone Peak 6 – Shoes for Everesting with Wide Feet
Weight: 10.6 oz.
Cushioning: Moderate
Heal to Toe Drop: 0mm
What we like: Rugged-trail shoe that allows your foot and toes to spread out and relax naturally
What we don't like: They can be too roomy and sluggish for some
If you get blisters or experience hot spots and pressure points from tight or ill-fitting shoes, the Altra Lone Peak 6 is for you. Known for its zero-drop and famous in the barefoot running movement, the Peak 6 is one of the most comfortable and ergonomic trekking or trail running shoes on the market.
Your foot stays naturally flat and splayed in position in the Altra Lone Peak 6, thanks to a flat footbed. Roomy foot shape toe boxes also allow your toes to spread out and relax for increased stability and comfort in uphill climbs and downhill descends when Everesting.
Why does this matter?
It's excellent news for wide-footed runners and those with finicky feet. The Peak 6 allows you to move naturally if you have low-profile feet and still enjoy a soft and comfortable feel, thanks to the Altra Ego midsoles. The shoes climb well and descend even better thanks to a grippy MaxTrac outsole that gives you the perfect combination of traction, grip, and durability on all types of terrain.
The Peak 6 also features balanced cushioning. It ensures your forefoot and heel remain at the same distance from the sole of the shoe, providing low-impact landing and improved alignment and form. You'll be in total control on steep downhill trails thanks to canted lugs on the outsole, strategically placed for added traction.
Other features that make Peak 6 one of the best shoes for Everesting include the stone guard for protection against rocks and debris and the quick-dry air mesh with laser-cut holes for quick drainage after you cross a creek or run through a puddle or wet terrain.
The only downside of the Altra Lone Peak 6 is it can feel sluggish if you're used to more typical trail shoes.
3. La Sportiva Bushido 2 – Shoes for Everesting on Varied Terrain
Weight: 10.5 oz.
Cushioning: Moderate
Heal to Toe Drop: 6mm
What we like: High performing with impressive traction and stability
What we don't like: They can feel narrow if you have wide feet
The La Sportiva Bushido 2 shoes are designed for technical terrains. They're fast and light and an excellent choice if you're looking for a high-performance shoe that combines stability, responsiveness, and comfort with exceptional protection and traction.
Aimed at redefining mountain running, La Sportiva Bushido 2 is one of the shoes for Everesting and can help you comfortably run up and down rugged and varied terrain, from loose and rocky trails to snow-filled, soggy mountain paths. They feature FriXion Groove 2 outsoles with dual compound rubber for an excellent grip on wet or dry ground.
A slip-on construction allows the shoe to wrap your foot like a sock, so you don't have to worry about pressure points or compressions. You'll love the 19mm low heel stack height of the Bushido 2 when running up a hill, providing you with a solid ground feel and stability.
The Bushido 2 also features enhanced cushioning and aggressive, sticky outsole lugs that wrap the midsole to give you added traction on off-road terrains. It's one of the shoes for Everesting on varied, challenging terrain, but it can feel a bit over the top on smooth paths.
You also need to order a size up to ensure you get a better fit that doesn't feel too narrow or simply fit first if you're buying in-store.
4. Salomon Speedcross 5 – Shoes for Everesting on Soft or Muddy Terrain
Weight: 7.2 oz.
Cushioning: Moderate
Heal to Toe Drop: 10mm
What we like: Excellent adhesion and durability on soft, loose, uneven surfaces
What we don't like: They wear out quickly
The Salomon Speedcross 5 sets the standard for widely spaced, long lugs that bite the ground on a full rubber outs0le to go up and down soft terrain like snow or mud effortlessly. They feature an aggressive grip thanks to Contagrip rubber outsoles with deep sharp lugs and a snug-fitting supportive upper for excellent control at all speeds.
The Speedcross 5's have a single pull-closure mechanism to enable a quick lace system and pockets to keep the laces out of the way. A custom foothold combines with the quick lace system to wrap your foot snugly, while a sock liner delivers breathability and comfort as you move up and down terrains with mud, snow, wet leaves, or sand.
The Speedcross 5 is water-resistant and available for men and women who want to try out Everesting on rugged, wet mountain paths. It features removable footbeds with excellent shock absorption and protective toe caps that guard you against abrasion and bumps.
One thing to look out for is quick wear and tear, especially if you don't rinse them off and allow them to dry out properly after use.
5. Hoka Speedgoat 5 – Shoes for Everesting with Maximum Cushioning
Weight: 4.6 oz.
Cushioning: Maximum
Heal to Toe Drop: 4mm
What we like: Lightweight with excellent performance and traction on long distances
What we don't like: It can feel cumbersome
The Hoka Speedgoat 5 provides maximum comfort and underfoot protection on long-distance runs or intense trekking up and down a hill. The thick midsole allows a heel stack height of 33mm to absorb most of the impact on every stride. The Speedgoat 5 has a late-stage meta-rocker profile that will keep your forefoot on the ground a little longer to increase stability and smooth toe-off.
Flexible, protective toe rands on the Speedgoat 5 ensure you don't worry about your toes when trailing or running, especially during the late stages when you get sluggish. Thanks to their lightweight, the Speedgoat 5 promotes speed while the CMEVA midsole increases responsiveness.
The shoes feel comfortable right out of the box and can serve you well on challenging terrain with rocky areas. However, the Speedgoat 5 can feel cumbersome if you're not used to cushioning or taller heights.
What To Look For In The Shoes For Everesting
Breathability
The last thing you want to consider while moving your way up a steep climb is a sweaty, uncomfortable foot. A ventilating shoe is essential for all runners so look out for materials that allow air and water vapor to escape from inside while letting in cooler air.
Traction
Traction relates to the level of grip provided by the shoe. The rubber of the outsole, the tread pattern, and depth play a crucial role in maximizing grip. Shoes with sticky rubber will do well on rocks, while those with a more pliable and softer feel will excel on delicate or muddy ground. A tread design with tall, widely spaced lugs can outperform short, tightly spaced lugs on slippery ground.
Stability
Moving fast up and down a rough terrain requires stable shoes that can resist ankle rolls. The shoes must feature a solid platform that can absorb or sustain hard impacts. Choose stiff shoes with more structure like the Bushido 2 for mountain-oriented trails, and if you're going Everesting on easy trails, a more comfortable, flexible shoe can work.
Toe Protection
Everesting will likely put you in more challenging and hazardous terrain and requires shoes constructed with extra protection in mind. All shoes for Everesting have some kind of toe protection, such as a rubber cap or guard that absorbs direct hits when you kick a root or rock on the trail.
Everesting Running challenge explained – what shoes to use (video)
FAQs
What Are The Best Insoles For Everesting Shoes?
The best in-soles for Everesting shoes are high-volume in-soles and usually work well with high arches. They provide increased stability and responsiveness as you move up and down at high speeds. Most brands with the best shoes for Everesting feature EVA, TPU, PU, and Pebax insoles, which offer flexibility and softness to different degrees.
Related: Can You Wash the Insoles of Your Shoes? Yes, you can!
How Do I Care For The Shoes For Everesting?
Keep the shoes clean for breathability and reproof the fabrics once in a while to maintain water repellency. All outdoor footwear experience increased wear and tear, and you must give your shoes a little love to ensure they keep performing at their for as long as possible.
Related: How Often Should You Wash Your Shoes?
How High Is An Everesting Challenge?
Everesting is running (or cycling) for 8,848 meters or 29,030′ (feet) in altitude. It involves complete repetitions in single activities like running until you reach the height of Mount Everest.
Conclusion
Everything is an excellent way of challenging yourself and breaking from the monotony of the treadmill or pounding on the pavement. Some of the shoes for Everesting include Hoka Mafate Speed 4, the Altra Lone Peak 6, the La Sportiva Bushido 2, the Salomon Speedcross 5, and the Hoka Speedgoat 5.
Whether you have wide feet, are looking for maximum cushioning for increased comfort, or are planning to go Everesting on rugged, soft, or muddy terrain, the above shoes will serve you well.
Picture in this post by David Marcu on Unsplash
Related Shoe Guides