Our handy guide will give you a list of 10 of the best boots for dairy farmers. Read on to find out more.Dairy farmers are known to be some of the most hardworking people in the agriculture industry and the entire workforce.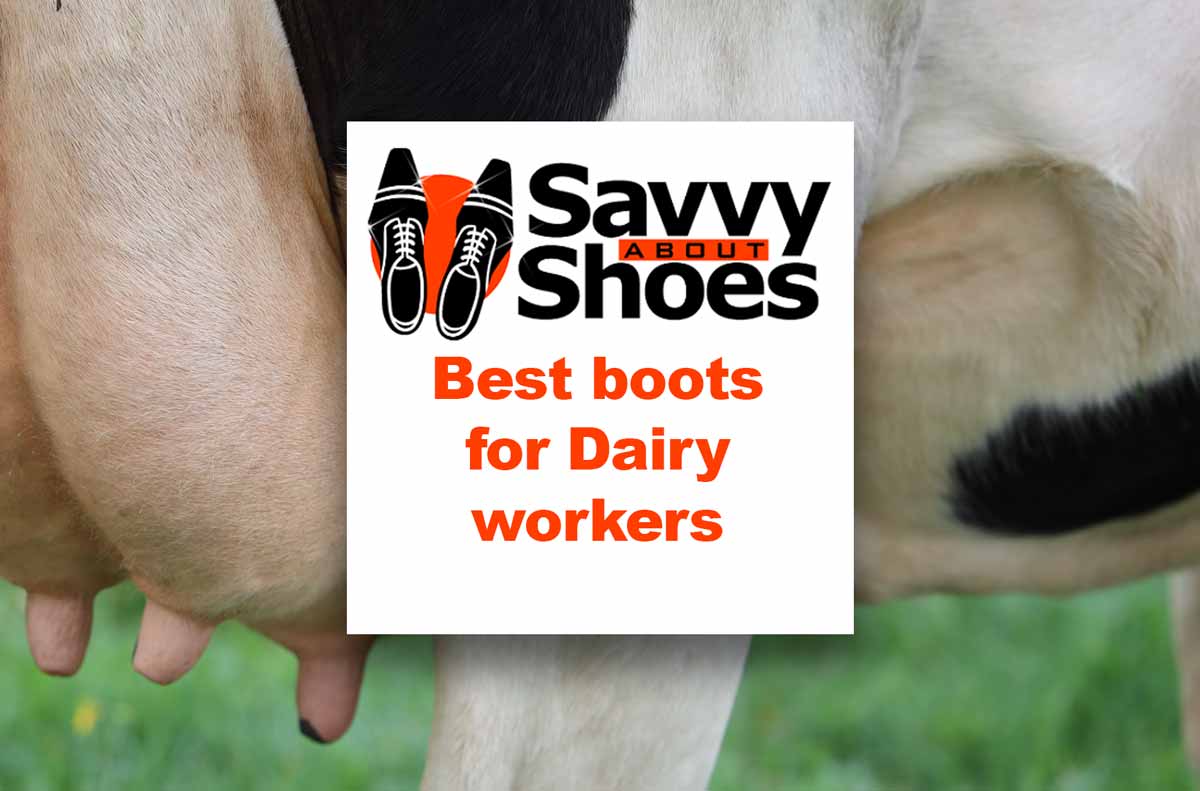 As dairy farmers tend to work for long periods without taking any break, their boots for dairy must withstand the constant beating when used and abused in harsh terrain. They must also be able to protect dairy farmers from rain, mud, and other wet conditions as well as accidental abrasions or scratches.
Related: How Do You Clean Farm Boots?, Best Insoles For Standing All Day, Best Boot Scraper Brush in 2022
A great boot for dairy farmers must have (summary)
Durable materials:
Dirt, mud, rocks, oils, acids, and chemicals are always around the corner
Invest in high-quality leather or Rubber boots with tough rubber outsoles so they can stay with you for a long time.
Waterproof:
Boots must be waterproof so your feet will always stay dry in all conditions.
Slip-resistant and great traction
On a farm you will most likely be working on slippery surfaces.
Toe protection:
A steel toe or adequate toe guards will keep your feet safe from heavy objects should they accidentally fall on you.
Comfort
Invest in work boots that provide cushioning and keep your feet dry so you can always feel comfortable working at the ranch.
Fitting
Select the correct size for your boots. These shoes will always be a bit more roomy than regular shoes. Too big shoes can cause accidents or blisters
Bonus tip: You can always replace the existing insole with a new comfortable insole (like used in hiking footwear)
Jump immediately to the FAQ section
Best Boots for Dairy Farmers

Tingley 31151 Economy Kneed Boot for Agriculture
An economy boot doesn't mean you're in for an uncomfortable fit and poor performance. The Tingley 31151 kneed boot provides an easy walking experience in wet and muddy conditions giving you all-day protection.
The pair is injection-molded and is 100% waterproof. The flexible upper material is made from 30% recycled material and stays nimble even in colder temperatures to ensure you won't have any issues while walking in such environments.
Meanwhile, the tough outsole has great abrasion resistance and works well in any place apart from the farm such as on a construction site. It has chemical resistance to fats, certain acids, hydrocarbons, caustics, and other chemical substances.
Overall, the Tingley 31151 economy kneed boots are reliable footwear for farmers.

Crocs Men's All Cast Rain Boot for dairy farmers
The Crocs men's all-cast rain boot is another perfect choice for dairy farmers because of its versatility. It is waterproof so your toes will always stay dry even when you're working in wet conditions.
It doesn't have any seams so you don't have to worry about leaks inside the boot. Additionally, it is intended for people who work outdoors like on dairy farms, on the shore, or at muddy job sites.
The pair is made with Crocs' iconic all-day comfort and lightweight support. The comfortable fit allows you to work longer hours without feeling any pain on your feet, so you're always focused on the task.
The sole is 100% synthetic and should keep your feet cushioned and dry all day. Lastly, it is also available for both men and women.

CEBU Men's Soft Toe Work Boots
The CEBU soft-toe work boots for dairy farmers use a combination of 2 types of polyurethane materials for protection.
One section is designed for durability and is located in areas that suffer the most wear and tear while the other is a cushion for added comfort.
The toe and heel areas of these work boots are reinforced with 'shark shield' technology, which acts as a buffer between the leather and any rough surface you may come across. This prevents abrasion and scrapes and adds endurance to your pair.
The boots are oil and acid-resistant and work well in the agriculture industries. It's made from 100% leather, has dependable shock absorption capabilities, and has adequate airflow in the insole.
The boots are pricier than other footwear on this list but you're getting your money's worth as it also looks good with your work jeans.

Bekina StepliteX SolidGrip 04 Agricultural Safety Work Boots
Bekina has been producing safety work boots since 1962 and the StepliteX Solidgrip 04 is one of their best iterations of footwear for agricultural use.
The boots offer excellent grip on muddy and slippery surfaces and insulate for up to -22 °F. It has an extra high steel toe cap to work with animals, sharp tools, and heavy machinery with no issue.
These work boots are made with Bekina's signature NEOTANE technology which utilizes high-quality polyurethane material to form the construction. It is 40% lighter than rubber or PVC.
Buying the work boots also comes with a free moisture-absorbing footbed so your feet will always stay dry when working long hours at the dairy farm.

TIDEWE Neoprene Boots for Men and Women
The TIDEWE neoprene boots for dairy farmers is marketed primarily for hunting and outdoor activities but it can also work as a great agricultural boot for dairy farmers because of its utility.
Its material is made from 100% waterproof CR flex-foam which absorbs impacts, retains heat, and flexes with your feet as you walk. The boots also have a reinforced toe cap made of rubber to protect your toes from any accidental bumps as you work at the dairy farm.
The rubber outsole is where the TIDEWE neoprene boots shine. The front has an anti-slip zone which offers frictional power, the sides have an anti-twist zone for increased stability which prevents you from sliding, and the back also has another anti-slip zone that offers support for sudden stops.
The price is quite reasonable for its impressive features. Lastly, it is also available for both men and women.

CLC R23008 Custom Leathercraft Men's Rain Boot
The CLC men's rain boot has a flexible upper and scalloped top edge that bends as you move. The CLC R23008 work boots are reinforced at critical stress points so that you can wear them for long.
It achieves its flexibility because the construction was done via injection molding using PVC polyblend. The material makes the boots 100% waterproof and resistant to many forms of degradation from agricultural chemicals, fertilizers, and animal waste.
The insole cushion provides considerable arch and heel support. It is also removable, washable, and replaceable with custom orthotics which is extremely helpful if you have foot issues.
Lastly, the outsole has deep cleated angles that prevent you from slipping or falling when you're walking on slippery surfaces.
Despite being affordable, the Custom Leathercrat R23009 men's rain boot is recommended for people who work in the agricultural industry.

ARIAT Groundbreaker Men's Safety Work Boots
The ARIAT Groundbreaker is styled with a western flair that makes you look like a cowboy as your work at the dairy farm. It is strong, sturdy, and has great supportive cushioning underneath which is ideal for everyday farm work.
The boots are made from 100% leather and the outsole is made of durable rubber.  It is oil and slip-resistant, providing maximum support and traction on any floor surface without sacrificing comfort.
These safety work boots also feature a mesh lining for added airflow and a 90-degree heel for extra stability.
The insole has a higher rebound for added support as ARIAT acknowledges people who work at the farm usually spend close to 8-12 hours at the job site. Now that is putting comfort as a priority for our dairy farmers.

Georgia Boot Farm and Ranch Boots for Men
One of the pricier boots on this list is the Georgia Boot farm and ranch boots for men. It is equipped with SPR leather that's 3 times stronger and 2 times more abrasion-resistant than conventional leathers.
It offers great protection against chemicals and other acids that you'll come across at the farm. It is also pasture-proof which is a trademark of Georgia Boot.
Another neat feature this pair has is its waterproofing system. Georgia Boots' are equipped with a heavily fortified defense against water wherein air gets in but water can't.
The manufacturer guarantees it is 100% waterproof so you don't have to worry about your feet getting wet when you're hard at work at the ranch.

Golden Fox Men's Leather Wellington Farm Work Boots
With all the dirt and mud flying around in the dairy farm, are you looking for quality work boots that are easy to clean? Look no further as the Golden Fox wellington farm work boots for men are exactly what you need.
The traction patterns of these boots make them very easy to clean, an obstacle most dairy farmers deal with daily. A leather pull tab also makes putting on the boot quite a breeze.
The insoles are dual-density and absorb shock. They also provide support on the lower back and legs to offer comfort during long workdays.
The outsole is made of polyurethane, which is one of the lightest outsole options on a work boot. It has oil resistance qualities so you can depend on it when you're busy at the farm.
The wedge pattern allows dairy farmers to walk freely without worrying about tripping over or getting their heel caught on a part.

WeaArco Rubber Boots for Men
Last on our list of the best boots are the WeaArco rubber boots. The pair is 100% waterproof and is made from durable polyester and vulcanized rubber.
It protects you from moisture and scratch as it can withstand the usual wear and tear. The seams are double-stitched and rubber-coated to ensure there is no leak. The quality of these work boots ensures your feet will stay dry even when you're in wet or muddy working locations.
The fabric lining makes it comfortable for you to easily put it on/off. The insoles are contoured for added comfort and you shouldn't have issues when you're wearing socks.
Lastly, the outsoles provide reliable traction on slippery or muddy surfaces so you're always upright and in control whenever you're at the ranch.

Best Boots for Dairy Farmers Buying Guide
Durability
Working on a farm or ranch is hard. Dirt, mud, rocks, oils, acids, and chemicals are always around the corner and your boots will carry the brunt of keeping them at bay.
Great work boots should be able to withstand the elements. If you cheap out on a pair, you may find that you're suddenly buying boots every few weeks. You should invest in high-quality leather boots with tough rubber outsoles so they can stay with you for a long time.
Protection
When shopping for work boots, always look for these 3 important things. First, boots for dairy farmersmust be waterproof so that your feet will always stay dry even when working in wet conditions.
Second, it must be slip-resistant and have great traction as you will most likely be working on slippery surfaces. Thirdly, it should have a steel toe or adequate toe guards. This will keep your feet safe from heavy objects should they accidentally fall on you.
Comfort
Dairy farmers shouldn't skimp out on comfort because they cannot focus on the task at hand if they're nursing some foot pain.
As farmers tend to work for long hours, invest in dependable work boots that provide cushioning and keep your feet dry so you can always feel comfortable as you work at the ranch.
Boots for dairy farmers testimonial (video)
Frequently Asked Questions
Should I go for lace-up or pull-up work boots for dairy farmers?
Farm or ranch work tends to get quite messy as you work throughout the day. We recommend pull-up boots more than the lace-up variety.
Because they do not have laces, a pull-up pair of boots drastically reduces the time and effort exerted to clean up your muddy pair.
I don't have waterproof farm boots. How can I waterproof it?
If you don't have the budget for waterproof work boots, you can add a layer of WD-40 to add water resistance to your pair. However, there is no comparison to a pair that is constructed to be waterproof.
How do I wash boots for dairy farmers?
If you're wearing leather, you can clean the outside of your boots with a damp brush, cloth, or even an old toothbrush with mild soap or shampoo.
Never clean it with a washing machine as doing so can damage the leather. Let the pair air dry, it should be ready for use the next day.
Photo by Tadeu Jnr on Unsplash
Related Shoe Guides