Anyone who has worked in a warehouse knows how tough the job can be. You're generally on your feet for the entire shift, and after several hours your legs and feet will feel it. You know you will have to walk long distances and pivot to get boxes and packages from the racks, so let's explore our review on the best shoes for warehouse work.
Warehouse Work Shoes summary
A good pair of shoes can make a huge difference in how you feel at the end of the day. You need a shoe that offers:
A good all-over support
Cushioning for your arch and heel
Breathable enough that your feet don't sweat
Steel or composite toe protection
Slip-resistance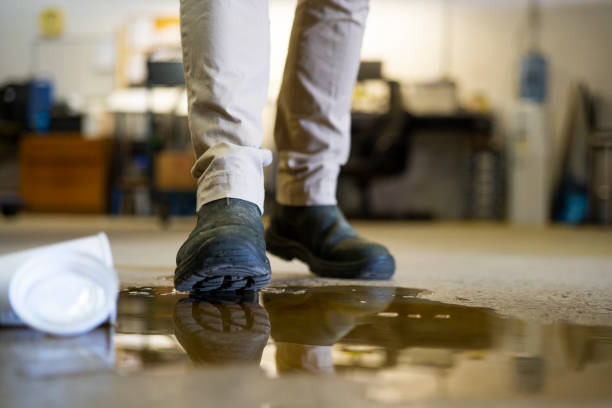 Related: Best Insoles for Sweaty Feet in 2022
Here are our reviews for the best warehouse shoes, broken down into the top 5 for men and top 5 for women. 
Best Shoes for Warehouse Work for Men

Reebok Work Men's Oxford
Designed specifically for construction and industrial use, these shoes by Reebok are literally perfect for warehouse work. A tough workhorse, they're made from 100% leather top with a rubber sole, cut with full foot grooves that help with mobility and flex.
The cut is low and attractive, looking more like a trainer than a boot. But even so, your toes are protected with an alloy cap that helps keep the weight down to a fantastic 350g per shoe, and a sublite foam memory insole offers a lot of adjustable support throughout the day.
Good looking, comfortable and with great protection, these are our number one choice for warehouse shoes for men.

Lanmern Steel Toe Men's Shoes
Resembling a sneaker more than a boot or shoe, these work shoes by Lanmern are smart enough to sneak by in general use, but still have a lot of protective measures built in.
First off, they're strong, with an anti-smash steel toecap that's going to keep you safe if you catch your feet or drop something. This is backed up with a rubber sole with slip resistant outsole sections that are tested on multiple surfaces for safety, as well as being anti-static and shockproof.
Despite being so protective, they're light, at just under 500 grams per shoe, partly because of the mesh top material that helps keep everything breathing. 
There are a few other nice touches, too, like comfortable ergonomic insoles, and reflective strips that can really help with visibility. They're also a very budget friendly option. All of this adds up to a solid choice that's dependable and hard working.

Suadex Indestructible Working Shoe
If you're looking for serious protection without having to resort to a heavy boot, these hi-top style trainers are the next best thing.
In terms of safety, they're second to none, with an anti-smash 2mm steel toecap that can take 200J of impact force, as well as an anti-pierce kevlar layer in the sole that can stop penetration by things like nails.
The upper is synthetic, flexible and breathable woven fabric, with a non-slip rubber jelly bottom sole and comfortable lining. The whole shoe is water resistant, and unlike a lot of shoes like this, they stay flexible and move easily.
It's worth pointing out that they do run heavy, and it's worth sizing up slightly, as they can be tight. But apart from that you're looking at an incredibly protective and well priced, not to mention smart looking, working shoe that's going to take anything you can throw at it.

Timberland Pro Men's Powertrain Sport
Most people know Timberland for their high-quality boots, but they also make much more. We'll get this out of the way early. These construction shoes are fantastic. But they're also expensive, especially compared to a lot of other options on the list.
First off, they're smart, big, chunky and made from 100% nylon with a bunch of color options. They almost resemble a skate shoe, and they're easily low profile enough to slip on when you're wearing smart-casual, as well as workwear.
Your feet are kept safe with an alloy safety toe and electric hazard protection. Impact from long days is also reduced by anti-fatigue tech, breathable mesh, and anti-fatigue insoles.
If you're on your feet for 50 hours a week, you know how fast you can go through a pair of boots. Even though these are expensive, Timberland build to last, so dropping the cash on these is an investment, and one that's generally a smart choice.

Reebok Sublite Cushion Safety Shoe
This shoe is the lightest on the list, for both men and women. It's also packed with tech. Not surprising, given the Reebok heritage.
Despite looking almost exactly like a standard trainer, these shoes have a protective alloy toecap built right in, as well as slip resistant soles with flex grooves for exceptional foot mobility.
The upper is 100% mesh which is light and breathable, and it's cut low. This limits upper foot protection, but it does keep the weight down and gives you a huge amount of ankle mobility. A sublite foam midsole and memorytech footbed also help to keep your feet feeling fresh after long days.
While they're a little too light for heavy duty work, if you need something that offers toe protection and still functions as a standard sneaker, these are it.

Best Shoes for Warehouse Work for Women

Caterpillar Women's Woodward Shoe
Caterpillar is a titan in the safety gear sector, and these shoes meet every single standard we'd want them to. They're protective, look good, they're comfortable, even after long days, and they're not too expensive either.
Despite being made by one of the biggest names in protective gear, you're not getting a heavy, clumping boot that's ugly to look at. Instead, these basically look like a chunky sneaky. Made from nylon mesh, they're reasonably light, strong, and long lasting.
In terms of protection, though, they're second to none. The entire shoe has been engineered for stability and comfort. From the rubber sole, which has a slip resistant outsole and electric hazard protection, to the abrasion resistant outer, and the solid steel toecap, everything keeps your feet snug and safe.

Mountain Warehouse Women's Hiking Shoe
These shoes have warehouse right there in the name, and the features list is impressive for light warehouse work.
Made from 100% synthetic material, the shoe itself is very light, flexible and breathable. This means that your feet are going to feel much more relaxed and comfortable throughout the day, helping to cut down on aches and pains.
Despite being built around a softshell outer with mesh cut outs and light, Phylon sole, these are still completely waterproof. They do suffer in terms of protectiveness, and run slightly larger than you'd expect, so be careful with sizing.
But in terms of comfort and relaxation, these shoes are seriously impressive. If you don't require fixed toe protection and you need a soft, comfortable shoe that's going to look after your feet, these outperform almost anything else we've seen.

DYKHMILY Steel Toe Shoes
A light, budget friendly protective shoe that functions just as well as a running shoe as well as a work shoe, while still looking like a smart pair of sneakers, these shoes by DYKHMILY are incredibly impressive, especially for the price you're paying.
Built from breathable mesh, they're light and flexible, but still have a steel safety toecap and an E-TPU compression moulded foam sole that will keep your feet safe and protected from impacts. Because they're light and flexible, the shoe is comfortable over long periods, with a shock absorbing heel that takes a lot of the impacts from harder floor surfaces.
The thick sole and cushioned, shaped insoles are also specifically designed to reinforce the areas of your feet that will take the most strain over long working days.
The only issue we've found is that they're incredibly light and cool, which isn't a problem for most working conditions, but might require some thicker socks if you work in a colder warehouse.

TQGold Safety Shoes
These sneakers are designed around protection first, but that doesn't mean that they're not comfortable and seriously cute.
First off, they're one of the safest shoes on the list, with a lightweight steel toe cap that can take up to 15000N of force, which is hundreds of pounds of crushing pressure. The insoles are made from kevlar, like a bulletproof vest, that makes them puncture resistant, and the non-slip rubber soles are strong and safe.
The light fabric outer is waterproof, oil resistant, and anti-spark, meaning that these shoes are suitable for most working environments, including warehouses, kitchens, and even meeting regs for a lot of construction sites. They run wide, but the sizing is good, with free returns and exchanges if they don't fit, or for any other reason.
They're also surprisingly attractive for something with so much protective power, built around striking color schemes and a high ankle design that will go with most styles.

Timberland Pro Titan Boot
Timberland are known for their boots, and in terms of protectiveness and strength, the Pro Titan series is absolutely second to none. If you need a thicker, heavier boot that's going to keep your feet safe in hostile working environments, then you should absolutely consider something like this first.
Made from 100% leather around the upper with a synthetic sole, the whole boot is strong and tough. A steel toecap keeps your feet safe from impacts, and is certified to meet safety standards. The boots are also waterproof and rated against electric hazards, if that's also something you face.
Despite being a large, heavy 6 inch boot, the Pro Titan series is incredibly comfortable. It sits high on the ankle, offering lots of support, but hugs close and comfortable so it doesn't feel stiff and stolid like a lot of boots. Pro Titans are also shaped specifically for the narrower foot profile of most women, meaning they're not cut like a pair of men's boots and they're going to stay comfortable throughout the day.
Downsides are relatively minor. The price is slightly higher than a lot of options on this list, but the features on offer are worth it, and these will last a seriously long time. They're also big and heavy, but in terms of support and protection, they're hard to beat.

How to Choose The Right Shoes For Warehouse Work
Choosing a shoe to work inside a warehouse isn't as easy as finding something you like the look of. You need to pay attention to a lot to make sure that your feet are as comfortable and secure as possible. 
Protection
Warehouse work can be dangerous, and hard on your feet, so buying shoes that have adequate protection is important. Depending on where you work, it may even be a requirement that you buy a set of shoes with a certain level of protection. 
The most common type of required protection is a toe cap. These tend to come in metal and plastic variants, and for warehouse work, both are generally sufficient.
Other protective options include sole protection, which generally protects against penetration by things like nails, as well as heavy waterproofing, and electric shock resistance.
Fit and comfort
If you're buying shoes for warehouse work, comfort is incredibly important as you're going to be wearing them for a long time, day after day.
Make sure that your shoes fit correctly, with adequate room in the toe box and sufficient ankle support, which will take the strain off your legs and help prevent injuries. Thick, cushioned soles and absorbent, comfortable inserts will also reduce end of day aches and pains. 
Affordability and longevity
No one has an infinite budget, and buying a set of shoes that are going to last longer is always a smart choice.
If you're buying shoes for work, definitely don't skimp on price, because a cheaper shoe will last a lot less time and fall to pieces faster. On top of this, price tends to affect both comfort and safety.  
Boots and shoes for Warehouse work explained (video)
Frequently Asked Questions
Are safety shoes mandatory for warehouse work?
It depends on your workplace. Safety shoes that meet a certain regulatory standard will be necessary in some environments. Even in warehouses that safety shoes aren't a necessity, we still recommend wearing shoes that are designed with safety in mind because of the risks involved. 
What should I avoid when buying shoes for warehouse work?
Avoid shoes that offer bad support, especially shoes with a higher, narrow heel or flat, featureless soles that don't give you any grip, as both of these things will seriously affect your ability to move around on the types of floors that you find in warehouses, and could put you at risk. 
Related Shoes reviews