Repositioning the knots on the laces is the best technique to tighten your Hey Dudes. Follow this simple 3-step process:
Step 1: Untie the knots on both sides of the shoe.
Step 2: Pull the laces to adjust the tension.
Step 3: Tie a new knot near the eyelet to secure each lace in the appropriate position.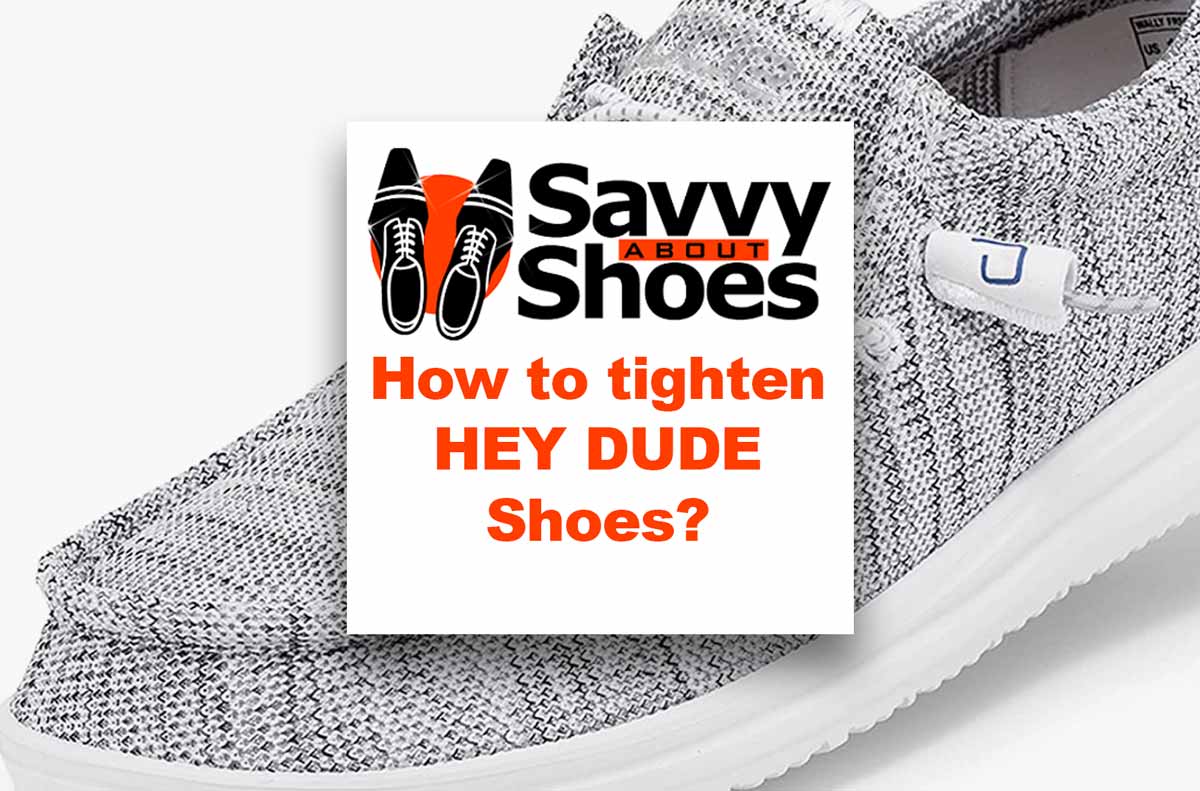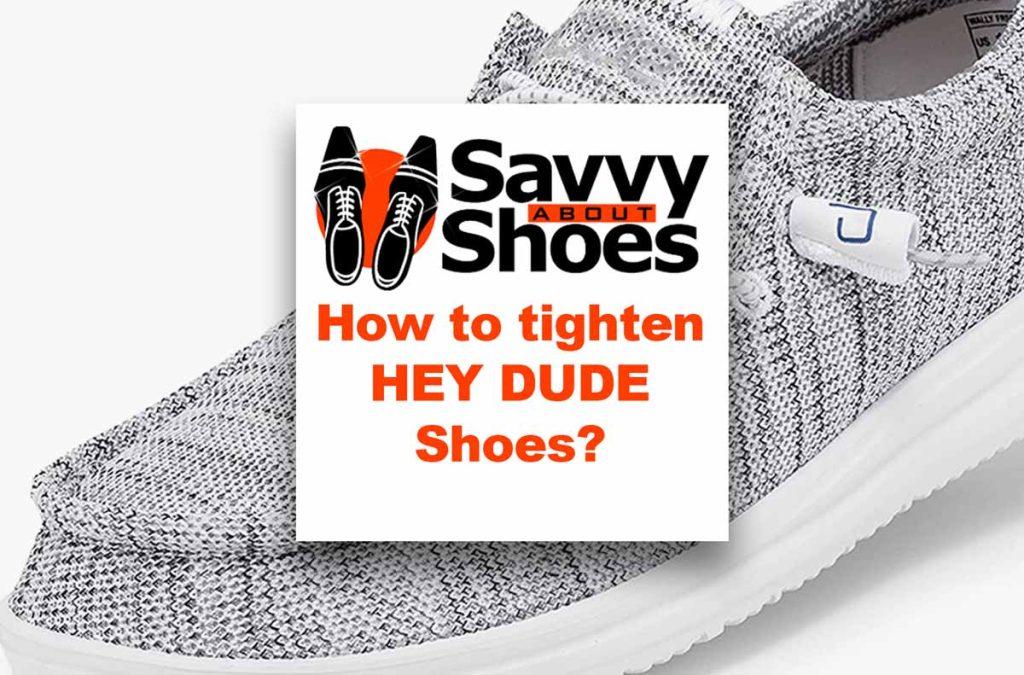 Key takeaway when you're looking to tighten Hey Dudes:
Remove the knots from the shoe's two sides, tighten the lace to the proper tension, and then tie a knot to keep it from coming undone. A full step-by-step instructions you find here in the article.
Hey Dude shoes are popular among teens and adults as everyday wear for school and work due to their incredible comfort. The brand was established in 2008 by Alessandro and Dario in the City of Florence, Italy. His goal was to create modern shoes with the comfort of slippers. As one of the leading brands of contemporary footwear, many people have asked how to tighten hey dude shoes, a dilemma that comes up due to its unique style. Therefore, here's an easy fix to ensure that your Hey Dudes fit nicely. This article will demonstrate how to tighten hey dude sneakers to make your life easier.
Jump immediately to the Frequently asked questions
Table of Content:
How to Tighten Hey Dude Shoes?
Due to Hey Dude shoes' unique lace fit, you can tighten the footwear by pulling the knots on each side of your pair as you see fit. Since the shoes are designed to provide a loose and comfortable fitting, it's optional to tighten and tie the shoelaces up depending on your preference and style.
Related: How to clean Hey Dude shoes
Instructions on how to Tighten Hey Dude Shoes
Step 1
trim the excess laces from the ends. It's much simpler to trim them all to approximately five inches than to try to make them all the same length, so I advise you to do so.
Step 2
To make tying a knot easier, pinch the ends of your laces together. Next, form a double knot. You don't want your shoes undone because that could make you uncomfortable and cause an accident.
Step 3
Thread the laces through the first opening, then tighten them around your foot by pulling the excess laces through the remaining holes. To get to the final hole, repeat Steps 2 and 3.
Step 4
Check your shoes for any loops protruding from the top or sides, as they can cause discomfort while walking.
Step 5
You're all set. Just be careful not to wear them too tightly, as that will make them uncomfortable over time. Consider putting on an extra pair of socks as well.
Are Hey Dude shoes supposed to have a loose fit?
When you've just bought a new pair of Hey Dude shoes, you'll notice that they are naturally looser than some of your used ones. This could be because your pair has never been outside before, has no dirt build-up, and hasn't conformed to your feet.
Wearing your Hey Dude shoes daily will wear them down and produce a more snug fit for better traction with each stride you take.
How do you lace up Hey Dude shoes?
Many footwear enthusiasts appreciate that Hey Dude shoelaces don't need to be tied because of their easy-on lace fit. The Men's Wally, Paul, Jack, and Walsh, as well as the Women's Wendy and Polly, utilize this fit that allows you to slide the shoes while remaining comfortable without needing to lace up or tighten.
If you want a more snug fit, then you can still lace your Hey Dude shoes by tying it into a bow or wrapping the lace in and out of the eyelets. However, there is another better solution than regularly tying the lace into bows or other patterns. If you're wearing single-laced Hey Dude shoes, you can make a loop by tucking one end under the other and wrapping the laces around. To create a knot, do it again on itself one more and repeat four times for each lacing.
Meanwhile, for Hey Dude shoes that are double laced, take one lace in each hand and extend both ends of the lace to open them up. After that, repeat the steps with single-laced Hey Dude shoes for the desired effect.
How comfortable are Hey Dude shoes?
Hey Dude shoes are popular due to their lightweight, breathable, unique style, and top-notch quality. Their footwear is also very accessible in terms of fit and is available in various colors, designs, and patterns. You'll be able to find Hey Dude shoes for almost any occasion if you want something comfortable, casual, or formal.
The shoe brand offers a lot of selections to choose from for men, women, and even teens. The shoes are made with high-quality fabric that conforms to your feet and is fitted with a replaceable memory foam footbed for sustained comfort. Most Hey Dude shoes are fitted with elastic laces which also means they're very easy to slip on or off.
The most popular styles of Hey Dude shoes for men are Wally and Wendy for women. Even then, there are slip-on models from sandals, boots, and even styles with a plush-fleece lining that works really well during the cold weather. In addition, some moisture-wicking models keep your feet cool and dry throughout the day. This is especially handy if you have sweaty feet.
Related: How to Break in Birkenstocks
What are the essentials to ensure my Hey Dude shoes stay in perfect shape?
With your new pair of Hey Dudes, wearing them in the morning when your feet are slightly swollen is ideal because this can affect how much space will be left around your feet. Wearing a clean pair of socks is also essential to protect the material from scratches, tears, or cracks.
Tie the laces as tight as needed but not too much that it makes your feet numb or in pain. Due to its unique lace system, you'll eventually get used to tightening your Hey Dudes over time. You can also tie and untie your laces a few times throughout the day to adjust your foot with the shoe.
Using the last hole on each lace is recommended to keep them as tight as possible. If you're using a different kind of shoelace such as those from athletic shoes or sneakers, it will deteriorate faster as they're made from cotton, which is not as durable as Hey Dude laces.
Are Hey Dude shoes washable?
Hey Dude shoes are washable. You can use a small amount of dish soap and water. You can soak the shoes completely under soapy water for 10-15 minutes and then squeeze out any excess water with your hands. It's also worth noting that most Hey Dude shoes are machine washable so you can also do that if you want. The shoes won't shrink so it's no problem to tighten hey dude shoes after washing them.
If your footwear is made from canvas or fabric, you can safely wash it on a machine to clean it up. Air-dry the shoes until it's no longer damp before wearing your favorite pair again. If your Hey Dudes are made from canvas, remove the insoles and any toggles or badges fitted before washing them by hand or machine.
How to tighten hey dude shoes explained (video)
Frequently Asked Questions (FAQ)
Do Hey Dudes fit too tight?
In contrast to other styles of casual slip-on shoes, I discovered that Hey Dude Shoe sizing fits true to size. However, they do fit narrower than everyday lace-up athletic shoes. Thanks to their snug style, they can have a solid fit without traditional laces. If the shoes are too loose, you can still tighten Hey Dude by pulling the laces.
Conclusion
Hey Dude shoes have revolutionized the way footwear takes us to places. This modern footwear promises comfort every single day without worries. Simply said, the shoes are built to last. The unique lace setup of most Hey Dude shoes provides wearers with many shoe-tying options to tighten the footwear as you see fit. As such, you can make the shoes conform to your foot size and style by just tightening the lace.
If you have remarks or questions how to tighten hey dude shoes, drop a line in the comments bow
Related Hey Dude lace hack (video)
Related shoe care articles