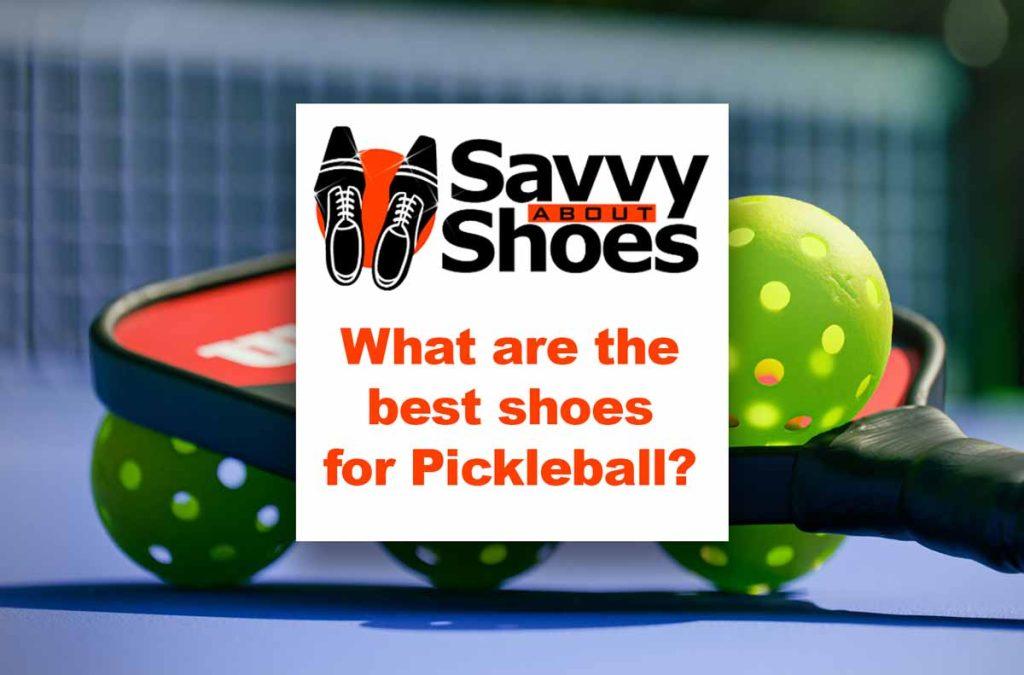 Playing your best at Pickleball requires you to have the best gear, including a pair of pickleball shoes. The first thing to note in this sport is that once you opt for the wrong shoe to get the perfect lateral and traction stability, you may end up with a bad game and experience. The best way to stand out from the rest on the court is to get the right type of shoe for the game. But the first question that comes to mind is, "How do you select the best shoes for pickleball?" How do you know what to look for in your indoor and outdoor pickleball shoes? These and many other similar questions are answered in this review. But first, let's briefly overview what pickleball shoes are.
The growth of pickleball courts and playing facilities has brought about a full-on boom train for America's fastest growing sport (for the second year in a row). For the best results opt for great gear, like shoes, paddle etc…

Pickleball magazine
Related: Best Insoles for Hiking in 2022
What Is an Ideal Pickleball Shoe?
An ideal pickleball shoe often has a broader foundation than average athletic shoes and increased rigidity across the outsole and midsole.
Whether you're just starting or have been playing for years, it's always a good idea to have the proper footwear available.
Jump immediately to the Frequently asked questions
Table of content
Best Pickleball Shoes

Skechers Pickleball Shoes
Fila Pickleball Shoes
Tyrol Pickleball Shoes
Acacia Pickleball Shoes
New Balance Pickleball Shoes
Adidas Pickleball Shoes
Head Pickleball Shoes

What Are the Best Pickleball Shoes?
Best Pickleball Shoes for Women
Best Pickleball Shoes for Men
Are Tennis Shoes Great for Pickleball?
Is It Possible to Play Pickleball in Basketball Shoes?
TOP 5 Shoes for Pickleball (based on our own experience)
In the wake of pickleball's meteoric rise in popularity, it has rapidly spread among various communities, playing on indoor and outdoor Pickleball courts. Pickleball games can be combined with ping-pong, tennis, and badminton, and other racquet sports elements.
Enjoying the game requires outdoor or indoor shoes for pickleball with sturdy outsoles, responsive traction designs and a midsole construction designed to accommodate quick movements, providing extra traction and support twitches in a side-to-side manner. Unlike most athletic shoes, comfort, breathability, and weight are essential features of a good pair of pickleball shoes.
Before choosing your outdoor or indoor pickleball shoes, it is crucial to prioritize improving your performance on the field and ensure that you can enjoy the game without experiencing foot pain or foot drag, which is common to people with wider feet.
Related: Top 10 Best insoles for sneakers
Best Pickleball Shoes
K Swiss Express Light Pickleball Shoes
Description
K-Swiss is the pioneer in producing court shoes tailored to the rapidly expanding sport of pickleball in the U.S. The Express Light Pickleball Shoes are some of your most comfortable shoes. That's why they're among most players' favorite shoes for picklepall. They are designed to provide players with a lightweight durable shoes, ventilated, and supportive of the necessary on-court performance and motion for the sport of pickleball.
K Swiss Pickleball shoe is an excellent indoor and outdoor shoe for beginners and experienced players because of its versatility. Beginners would find it perfect for indoor and outdoor courts. It is ideal for playing on grounds consisting of either hard courts or clay courts. The shoe features a K-Swiss Pickleball symbol and a sock liner tailored for the sport of pickleball. They are adapted for all foot sizes, including players with wide feet.
Concerning This Product:
Aösta 7.0 Rubber Compound: The shoe has a durable outsole with a high density that extends from the heel to the toe to provide unrivaled durability.
Durawrap: It offers an additional line of protection against the use of an excessive amount of toe-dragging.
180 Psc Plantar: It includes a plantar support chassis made of thermoplastic with a 180-degree angle that improves stability in the midfoot.
Ortholite Sock Liner: The one-of-a-kind open-cell setup of OrthoLite foam helps to create a moisture management mechanism, which contributes to the removal of moisture and the provision of an environment that is cooler, drier, and more conducive to good health.
Dragguard: It increases abrasion resistance and is found in the high-wear sections of the heel and toe of the shoe.
Weight: 12.7 oz
What We Like (Pros)
They are easy to carry, have good air circulation, and provide extra traction.
They are lighter and broader than the majority of tennis-specific shoes.
They allow you a greater degree of control on both indoor and outdoor pickleball courts.
What We Don't Like (cons)
The rubber may wear out quickly, making them less durable shoes for aggressive players, which would shorten the shoe's life span.
They are equipped with insoles already glued in and offer no arch support. Check for removable insoles
Asics Gel Renma Pickleball Shoes
Description
Asics manufactures high-performance outdoor and indoor pickleball shoe that emphasizes comfort. This type of shoe, which features the exclusive GEL cushioning technology, will keep your feet from hurting even after playing in extended matches due to their innovative design. Their outsoles have construction that makes them suitable for hard courts without compromising their durability.
Concerning This Product
The forefoot features a GEL technology: It increases the amount of shock absorption during sudden landings.
Trusstic System Technology: It increases support while decreasing the amount of twisting that occurs.
Wrap-Up Outsole: Combining the wrap-up outsole and the broader gauge results in less choppy and more balanced motions.
Outsole Flex Grooves: It is positioned in a way that makes it possible to accommodate movement in multiple directions. They increase flexibility, allowing you to move more easily and do more things.
What We Like (pro)
These shoes have an outstanding balance of comfort and support.
They are adaptable, and they have a pretty adorable appearance.
The insoles are easily removable. (check how to wash your insoles)
Perfect for outdoor Pickleball
They come in 4 colors
What We Don't Like (con)
They are hard and might potentially cause discomfort.
Skechers Pickleball Shoes
Description
Skechers Performance, a division of The Comfort Technology Company, dedicated to innovation, produces a wide variety of athletic-inspired outdoor and indoor shoes for walking, jogging, golf, and other activities using lightweight and incredibly comfortable materials. Also, you'll find it appealing on outdoor courts, as well as indoor courts
Skechers Performance provides a wide selection of comfortable sports shoe alternatives to promote an active lifestyle. It ranges from everyday informal slip-on for a stroll to profound footwear that will assist you in performing golf course and pickleball court footwear and rugged shoes for outdoor explorations.
Construction:
Relaxed Fit provides extra space and comfort at the toe and forefoot areas.
Upper constructed of a breathable athletic mesh with a lace-up front closure.
Skechers pickleball logo with Arch Fit technology
A comfortable soft collar for maximum wearability
Adaptation of the comfort sneaker for athletic use
Concerning This Product
Skechers Pickleball Shoes: Skechers Pickleball indoor and outdoor court shoes provide a cushioned and stable foundation for your workouts, and its Goodyear durable rubber outsoles ensure superior traction on the court, whether you're playing indoors or outdoors.
Relaxed Match: These tennis shoes have a slouchy fit with an adjustable lace-up front to ensure a comfortable workout. Additionally, the breathable athletic mesh upper provides a cooling effect.
Insole Cushion: These insoles have been approved by podiatrists and include a unique shape created after analyzing 20 years of information and 120,000 weightless scans of feet. This design provides extra cushioning system that makes it an ideal outdoor shoe.
Athletic Activities: They can be worn at any time of the year and are ideal for activities such as pickleball, tennis, running, cross-training, badminton, volleyball, walking, treadmill workouts, gym lifting, and multi-sport activity.
Multi-Purpose Function: These performance outdoor and indoor shoes can be worn for multiple occasions like work, travel, driving, around the house, and business
Details:
Skechers' exclusive Arch Fit insole technology features podiatrist-recommended arch support.
Podiatrist-designed shape generated with the use of 20 years' worth of data and 120,000 scans of unweighted feet
Removable insoles assist the shoe in conforming to the shape of the wearer's foot, thereby reducing shock and improving weight distribution.
The Goodyear Performance Outsole offers improved traction, increased stability, and long-term durability.
Ultra-Flight cushioning system is ultra-light and incredibly responsive.
What We Like (pro)
The footwear is available in a variety of beautiful hues.
They are subdued and subtle in their presentation.
They are quite relaxing to wear.
They come in men's and women's sizes
What We Don't Like (con)
They may be too sturdy for some people
They tend to run small, so size up when you're in between sizes
Fila Pickleball Shoes
Concerning This Product
The shoe is made of leather, synthetic, and textile materials.
The abrasion rubber outsole has a herringbone pattern for increased traction and durability.
The pivotal portion of the forefoot circle
TPU midfoot shank for further support and stability
Boosted EVA in the midsole for additional shock absorption
Description
The Volley Zone Pickleball Shoe from FILA is the brand's first performance outdoor and indoor shoe designed specifically for the sport of pickleball. They feature a herringbone-patterned natural rubber sole for increased traction and longevity, pivot sections in the forefront for increased traction, and an Invigorated midsole for more cushioning. Keep in mind that the brand also offers non-volley zone lines.
What We Like
They are not only comfortable to wear but also attractive due to the pickleball decals that are located on the sides.
Available in men's and women's sizes
Reasonably priced
What We Don't Like
Tyrol Pickleball Shoes
Concerning This Product
The Drive V series shoe was released in 2020. It offers a redesigned top pattern as well as some new color options in addition to retaining all of the performance characteristics of the Striker Pro V Series.
The Drive V series was developed with the serious player, who places a premium on long-lasting court performance. The pair of shoes is designed to provide a comfortable and solid fit due to its sculpted heel and large toe box.
The phylon midsole and the Vibram outsole are both materials developed specifically for outdoor sporting grounds. The medial side Power Clip and the external heel counter further contribute stability and support.
Description
Comfort: These products were meticulously designed and developed to offer the optimal combination of convenience and performance, enabling you to enjoy countless enjoyable hours of gameplay. The enjoyment of playing is increased when using easy gear on the body. They have designed these sneakers, so they are ready to go as soon as you take them out of the box.
Stability: Its design methods have been centred on providing support and stability because court games like squash, pickleball, tennis, and racquetball are known for their high movement levels and quick direction changes. The construction quality keeps players playing by minimizing the weariness felt throughout your foot, from the toes to the heel.
Breathability: The frequent player of court sports is the target demographic for these shoes, which have a high-durability structure and a Vibram bottom. Using a Vibram sole with its phylon material results in increased comfort, efficiency, and durability regardless of the temperature or court ground.
What We Like
They are quite narrow.
It possesses a firm base, high lateral stability, and convenience.
What We Don't Like
The shoelaces are overly lengthy.
Acacia Pickleball Shoes
Concerning This Product
Acacia HyperShot footwear is designed with adequate ankle support to provide a premium experience for the player on the court. The cool-looking shoes have developed high-abrasion curved outsoles with minimal foot drag guards that allow for rapid lateral motions while providing exceptional support and stability, making them excellent for aggressive players.
The shoe's outsole is constructed from non-marking natural gum rubber and features high gel-injected heels that boost leverage and control. Meanwhile, the padded memory foam ankle collar and insole deliver outstanding comfort, ventilation, and shock absorption.
These characteristics allow for superior grip and control regardless of whether the court is made of wood or synthetic material. The HyperShot is a specialized shoe that caters to the specific requirements of indoor and outdoor pickleball players.
Description
It is constructed with support for the ankles.
This footwear has low-drag guards and high-abrasion rounded outsoles.
It permits fast lateral movements.
The outsole is constructed with natural gum rubber that does not leave marks.
What We Like
It has a natural gum rubber sole, needed for hardwood floors.
What We Don't Like
The presentation is attractive, but the quality is lacking.
New Balance Pickleball Shoes
Concerning This Product
New Balance Lav Shoes: The Fresh Foam Lav is New Balance's high-performance shoe and is the sneaker tennis superstar Milos Raonic chooses to wear. This shoe blends comfort and performance. The top and sock are both made of mesh and paired with a newly developed technology-enhanced cushioned midsole to produce long-lasting comfort.
New Balance 996 Shoes: For quick footwork and an excellent court feel, the 996 series have been built with a primary focus on minimizing weight while providing a responsive cushioning system. Athletes wear these shoes on tour because they are versatile, suitable for various players, and prevent foot drag.
New Balance 806 Shoes: Since it was first introduced over a decade ago, this shoe's design has remained unchanged. The 806 is the only shoe made of leather that is still commercially available; it is cumbersome and long-lasting, but it is also quite solid and supportive; therefore, many podiatrists suggest it as a walking shoe.
What We Like
The shoes have a roomier toe box, making them more comfortable overall, and the stiff sole of each shoe feels very durable and stable while worn on the court.
They offer a reasonable amount of arch support.
What We Don't Like
Although it has a lot of unique qualities, this shoe is unsuitable for a foot shaped like a pig chop.
Nike Pickleball Shoes
Description
Nike has a large selection of shoes for many sports, including running, weightlifting, and other gym activities. They provide an excellent fit and the necessary support for the activity.
When you walk, the level of comfort provided by Nike shoes helps to retain your feet's natural posture. Nike is among the most well-known shoe brands, and its products offer a laid-back vibe while maintaining a high level of fashion.
Some of the available design motifs are canvas, buckle closures, adjustable straps, sporty sliders, slip-on, lace-ups, and a great deal more. You can wear them with joggers, track pants, jeans, or even casual trousers to achieve a fashionable style.
They are easy to wear and lightweight, making them ideal for various activities such as jogging, walking, running, trekking, and even working out in the gym.
Determine your needs and requirements before making a decision. There is a large selection of men's Nike shoes available, and to get the most out of your workouts and other athletic pursuits, you should choose your footwear based on those activities.
The shoes can be washed by hand or machine, but the laces need to be removed before washing and placed in a mesh backpack. They come in various shapes, sizes, and varieties.
You can select from various models and a range of colourful hues like blue, navy, purple, olive, yellow, red, copper, brown, and others that are tailored to your sense of fashion.
Concerning This Product
Nike Zoom Vapor Pro Shoes: An improvement to one of Nike's most popular shoe series reduces weight while simultaneously improving the shoe's stability. This shoe doesn't feel like a cumbersome tennis shoe because of its slipper-like fitting and lightweight sensation.
Nike Court Zoom NXT Shoes: These shoes are a favourite among players since they offer comfort and support while maintaining a lightweight sensation.
Nike React Vapor Shoes: The NikeCourt React Vapor NXT was designed with input from athletes over several years. It features an advanced technology cushioning mechanism and excellent traction, allowing you to perform at your peak, even during the most intense and grueling matches.
Nike Court Zoom Pro Shoes: This shoe has a terrific value, is breathable and responsive, and has a higher energy return than similar models.
What We Like
These shoes are great for walking and other daily activities because they are so comfortable.
The shoe offers a satisfactory level of comfort and respectable support.
What We Don't Like
They are relatively narrow, and there is little protection against scuffing.
Adidas Pickleball Shoes
Description
Adidas is a brand that caters to a wide variety of athletes, including the runner, the basketball player, the soccer kid, the fitness enthusiast, the yogi, and even the weekend hiker who is trying to get away from the city. Before the starting gun goes off, competitors are in the middle of the race, and after they cross the finish line, the three stripes can be found virtually anywhere and everywhere. They offer support to content creators, to make their game better, and to make a difference in the world.
What We Like
The cushioning in the midsole is done quite well.
What We Don't Like
It would be wonderful if there were additional cushioning in the forefoot area of the heel-to-toe offset.
Head Pickleball Shoes
Description
Pickleball is a game that places a premium on sportsmanship, so it's essential to maintain your composure while playing. This sports shoe giant's Head pickleball shoes have several remarkable strengths, one of which is their ability to maintain a comfortable temperature.
Although all shoe manufacturers tout their products as being comfortable and stable, Head is among the few brands that believe the upper has a significant role in both the comfort and the overall performance of the shoe.
The fact that Head has such a stellar reputation for being able to design shoes that tennis and indoor pickleball players continue to wear year after year is very impressive.
Concerning This Product
Mesh Upper: Whether playing tennis or pickleball, your feet will be sweaty in that footwear. The mesh upper is an extra effort by the Head to ensure the foot stays as comfortable as possible and prevent foot drag as well. Outdoor pickleball players, especially, would experience sweaty feet more frequently.
The upper, on the other hand, is not only a comfort factor but also a stability factor because the Head has integrated a strap into the lacing system. This make-up gives the player the optimism that the rapid side-to-side athletic movement patterns required on the court can be carried out while maintaining their comfort.
Durable Outsole: Even though the insole provides stability and cushioning, the outsole, which is made of their unique Hybrasion+ rubber composition, is more than capable of supporting average or broader feet.
Playing pickleball with these shoes, made with material exclusive to Head, will make your feet comfortable no matter what level you play. These shoes are designed to be worn immediately upon removal from the packaging, requiring little to no break-in time. In addition, you may use these pairs of pickleball shoes on every type of surface (rough surface, abrasive surface, smooth, etc) without compromising quality.
What We Like
True to size fit and great support.
What We Don't Like
Playing for long may cause pain
What shoes are best for pickleball and tennis, explained (video)
How We Selected the shoes for pickleball
The past 4 months I tested some shoes myself, together with my wife, combined with 4 other contributors to Savvyaboutshoes. We tested a variety of pickleball shoes and assessed their stability, durability, and weight. We also took into account pickleball shoes with excellent customer reviews on reputable online stores.
What Are the Best Pickleball Shoes?
It is essential not just to take the pair of athletic footwear most convenient to you but to ensure that the shoes are suitable for the backward, forward, and lateral motions necessary on the pickleball field.
When playing pickleball, you should wear something more appropriate than walking shoes, jogging shoes, or cross-trainers. They are not intended to assist your side-to-side or athletic movement that involves frequent pauses and starts. Instead, they are meant to aid your forward mobility. Here is a list of the best pairs of pickleball shoes that experts recommend based on the brand that they are made by:
Acacia Pickleball Shoes
Adidas Men's Game Court Tennis Shoe
Adidas Women's Game Court Shoe
ASICS Men's Volleyball Shoes
ASICS Women's Tennis Shoe
ASICS Women's Volleyball Shoe
Babolat SFX 3 All Court Shoe
Babolat Jet Mach II All Court Shoe
FILA Double Bounce Pickleball Shoe
FILA Volley Zone Pickleball Shoe
HEAD Men's Tennis Shoe
HEAD Women's Tennis Shoes
K-Swiss Express Light Pickleball Shoe
K-Swiss Men's Express Light Pickleball Shoe
Mizuno Men's Indoor Court Shoe
Mizuno Women's Volleyball Shoe
New Balance Men's 806 V1 Tennis Shoe
Wilson Rush Pro 2.5 Pickleball Shoe
Best Pickleball Shoes for Women
Pickleball is a sport that combines fun and intensity in equal measure. Maintaining sufficient athleticism and stamina is essential to providing adequate court coverage. Even though you need to work on your pace, if you wear the correct shoes, you won't have any problems getting where you need to go.
To begin, having the appropriate footwear provides you with optimal traction and lessens the likelihood that you may get an injury. In addition, it protects your feet from blisters and sores and ensures that your feet are comfortable no matter what. Here is a list of the best men's and women's shoes that are high-quality, comfortable, and can help you perform better over the long term.
1. Best Breathable Material: K-Swiss Women's Express Light Pickleball Shoes
The K-Swiss Light Women's Shoes are designed to help you perform at your peak on the pickleball court. These sneakers provide cushioning and a comfortable feel thanks to the high-quality EVA material used in their construction. Because they have excellent traction, the shoes make it easier for you to move around and change directions while you're on the court. Your feet will not smell because the shoes can absorb sweat fast. The heel line gripping, made up of woven fibres, ensures a firmer hold on the socks and fewer heel slides.
2. Best Comfortable: Acacia Dinkshot Ii Pickleball Shoes
People who are passionate about sports and fitness will find the Acacia Dinkshot Pickleball Shoes an excellent choice. The upper portion of their bodies is constructed out of polymer microfiber, which offers excellent support to the joints and ankles to prevent ankle injury.
Honeycomb memory foam ankle collar, used in the insoles, provides a higher level of breathability while also improving shock absorption. Furthermore, the shoes are incredibly lightweight and have sufficient stretchability for quick direction changes on the court.
EVA of the highest calibre is used to construct the midsoles. It has ARK technology, which offers improved grip to the feet and enhances the product's ability to resist the effects of water. The footwear will serve you well in maintaining your balance and stability as you navigate the pickleball court. It is the ideal product for making you the perfect player you want to be.
3. Best Stability: Wilson Rush Pro Pickleball Shoes
The Wilson Rush Pro Pickleball Shoes have an appealing design, great appearance, and optimum comfort to round out their package. They are made entirely of high-quality synthetic material and have a rubber bottom for heightened comfort levels.
The pair of sneakers are incredibly lightweight and provide an exceptional feel on the court. They contribute to an increase in overall acceleration and agility. In addition, the shoes' cushioning and rebounding capabilities have been improved. When you move quickly across the court, the sophisticated arch technology in these shoes will give stability and support to you.
4. Best Lightweight Design: Python Wide Width Indoor Mid Racquetball Shoes
The synthetic leather used in constructing these shoes is of the highest quality. They are lightweight and have excellent breathability. These pairs of shoes offer exceptional comfort and cushioning, enabling you to play for extended periods without tired feet. It keeps your feet cool and prevents blisters.
The Artholite insoles provide superior cushioning and absorption of shock. In addition, even after prolonged use, they do not give off an unpleasant odour.
5. Best for High Shock Absorption: Acacia Unisex-Adult Pickleball Shoes
Your time spent on the court will be significantly better and elevated to a higher level of satisfaction when you wear the Acacia Pickleball sneakers. They come equipped with high-abrasion matched outsoles that have been imaginatively engineered to make lateral movements easier and more effective.
You will benefit from the shoes' excellent cushioning and traction when working out on the court. In addition to that, the outsole is made of gum rubber that is non-marking and has elevated injected gel. Because of this, improved control and stability are ensured.
The cushioned foam that makes up the insole contributes to the shoe's overall level of convenience. In addition to this, it assists in the circulation of air, which serves to provide breathability, moisture absorption, and shock resistance. The shoes have a superior court grip and are designed to facilitate the player's natural motions.
Best Pickleball Shoes for Men
1. Best Overall: Men's Asics Gel-Rocket 8 Shoes
The Gel-Rocket shoe is an excellent choice for usage on an indoor pickleball court due to the gripping gum rubber outsole and its features. This is the ideal material to use on indoor pickleball courts or indoor gym courts made of hardwood indoors because it provides extra traction. Asics shoes are not only perfect for outdoors as most people think, but they also work well as indoor shoes due to their versatile designs.
2. Best Premium: K-Swiss Men's Hypercourt Express
When it comes to producing premium-quality athletic footwear, K-Swiss Men's Hypercourt Express is, without a doubt, the shoe brand that reigns supreme. Although some people might not like the wide form, experts found it was more of an advantage than a disadvantage. The shoe's base did not feel cumbersome at any time; instead, it offered the wearer a greater sensation of balance and stability when playing pickleball on the court. It would make an excellent, dedicated pickleball shoe for both beginner and advanced players.
3. Runner-Up: Under Armour Men's Ultimate Turf Trainer
The all-black and all-white Under Armour Ultimate Turf Trainer is a shoe that has a very sophisticated appearance. The Turf Trainers have an insole crafted with Under Armour's revolutionary Super Foam, which provides an extra bounce. The superior cushioning and support offered by this insole make these stable shoes among the most comfortable options for extended pickleball matches. Additionally, they offer the highest level of shock absorption available.
4. Worthy Mention: Nike Men's Court Lite Tennis Shoes
The introduction of Nike's Court Lite tennis court shoes is unquestionably one more cause to have faith in the brilliance of the company's illustrious history. These great sneakers may come with a price tag comparable to those of Nike products, but you won't have to worry about their longevity or performance.
The mesh tongue is a very ingenious design element incorporated into the Court Lite sneakers. As a result, your feet will stay relaxed, and keeps your feet cool and comfortable even throughout extended pickleball matches, thanks to the increased airflow via the shoes' uppers.
Frequently asked questions
Are Tennis Shoes Great for Pickleball?
Yes, you can wear tennis or court shoes for playing pickleball. They are constructed to withstand the same pressures you put your body through when playing pickleball and provide the most appropriate support for this kind of sport. However, wearing the proper pickleball shoes offers you a superior advantage regarding movement on the court.
Can I use my running shoes for Pickleball?
Running shoes are not appropriate footwear for playing pickleball at all. Regular running shoes are intended for forwarding motion and do not offer the lateral stability necessary for playing pickleball because of their design. It is recommended that you wear the proper pickleball shoes when playing pickleball. Running shoes, casual shoes, comfy shoes, etc don't offer the Plush cushioning and responsive cushioning that you need for quick movement.
Are Cross Trainers Helpful Pieces of Equipment for Pickleball?
Most high-quality, commercially available sports shoes, such as tennis, court, cross trainer, and running shoes, are excellent and affordable options for playing pickleball. It's possible you'd be happier with a pairs of shoes designed just for running or even a pair of cross-training shoes. The decision is entirely up to you.
Do I need special shoes for pickleball?
It depends on the quality of your play. If you just want to play for fun, you may wear regular sneakers or Athletic shoes. But, Pro players in any sport such as Tiger Woods, Roger Federer and others understand the value of wearing the proper pair of shoes regularly. It helps them master accurate movement and response at any moment in time. If you are working towards developing your skills, you need a separate pair for your pickleball games. It is better to opt for some of the shoes above.
What makes a sneaker good for pickleball?
The most important thing in any Pickleball shoe is the literal movement. If the sneaker is optimized for literal, it would make a great Pickleball shoe. Also, you can check for sole. If they have a wider sole, it would definitely support your movement on the court.
Is It Possible to Play Pickleball in Basketball Shoes?
Yes. However, if you intend to play pro-Pickleball, you may find it difficult to manoeuvre in basketball shoes because of their excessive grip on the court or gym floor. While this may help on slippery gym floors, they are not ideal for the quick movement required for Pickleball. It's best to opt for one of the shoes reviewed above.
Conclusion
When searching for the best shoe for Pickleball, lateral and traction stability are the two aspects that you should consider. A shoe with lateral stability will have a broader base, a more rigid bottom structure, and a specific pocket for the heel to prevent future possible ankle problems. While a natural rubber sole may be great for the sport, it may not offer a great outer sole or durable sole due to wear and tear. The right shoe may not guarantee an increased skill level but can prevent errors resulting from poor gear. If you have questions or you need further information about the best shoes for Pickleball, leave them in the comment below. Kindly share this article to help others benefit from the information it offers.
Related Shoe reviews