I bought a pair for my five-year-old and even though he wears them regularly they are holding up well. However, I did discover that the insoles the shoes came with have started to wear off, but as they are removable, I decided to simply replace them as I am happy with the actual shoe. This article noted all my findings when looking for replacement insoles for Doc Martens shoes.
When you have kids, buying good quality and comfortable shoes becomes very important. My kids love to play around in school and at home and any cheaper quality footwear gets worn out instantly – well it feels like that to me. One of my friends suggested Doc Martens shoes for their durability, and let me assure you that they serve the purpose well.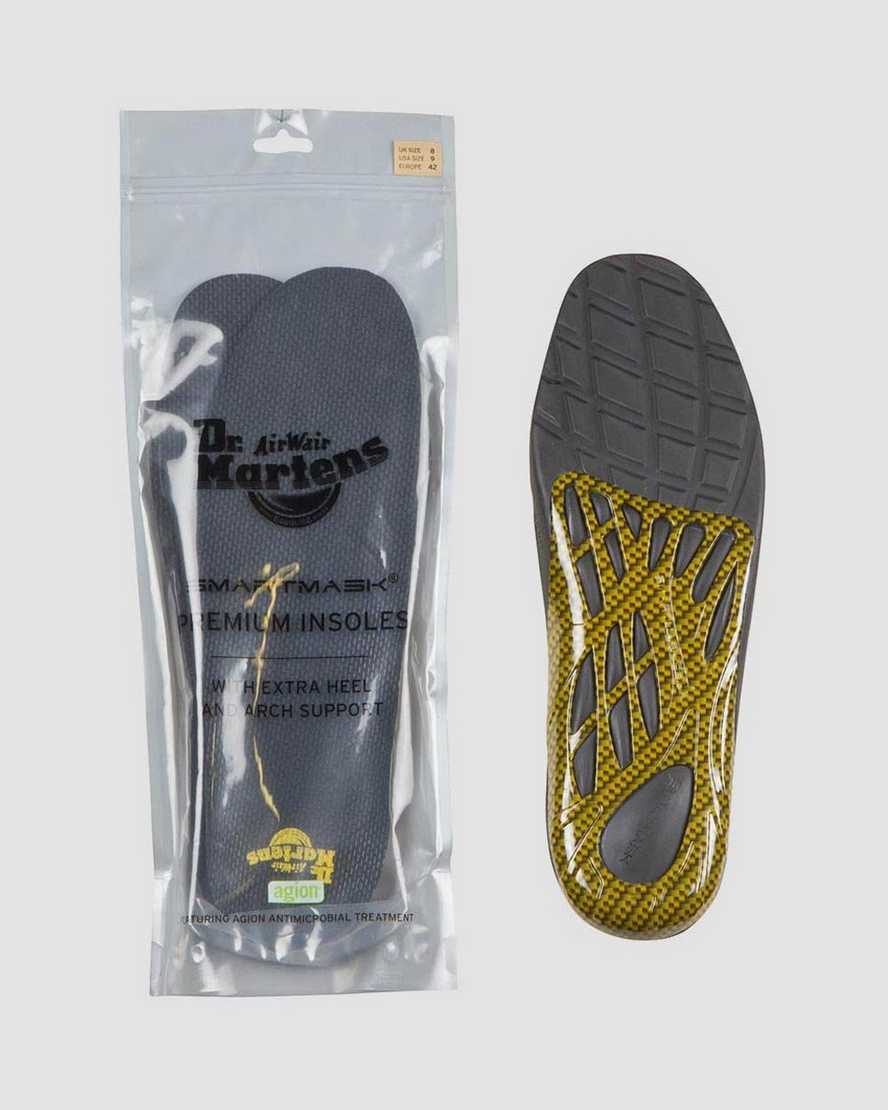 Are Doc Martens Insoles Removable?
The simple answer to this question is yes. Doc Martens shoes come with insoles but these insoles are removable so you can opt for a more suitable alternative. Doc Martens are primarily work shoes and boots. As Doc Martens footwear can last for many years, original insoles may become worn out or uncomfortable. When that happens, you can opt to buy new insoles for Doc Martens.
When I tried these as a replacement for the original ones, they felt a little big. My shoes felt tighter for a few hours. However, by the end of the day, the fit seemed much better. After wearing them for one to two days, it felt like the original, which was a win as I liked the original insoles.
The insoles do need a few days to be broken in. Don't give up after the first day. After a few days of wearing them, you will feel the comfort and fit – I guarantee it.
Related: Best Insoles for Sweaty Feet in 2022, Best Insoles for Vans in 2022, Adidas Insole Replacement 2022, Best Nike Insole Replacement, Best Converse Insoles Replacement in 2022
What are the Best Insoles for Doc Martens?
Doc Martens sells full-size shoes like 6, 7, 8, etc. but not in halves. Now if you need that half size for a perfect fit, these insoles can be very helpful. You can remove the original insoles and try Superfeet BLUE Insoles for Doc Martens to get a perfect size. My friends that have tried these insoles for sizing have been very satisfied.
Each reported that the shoe fit was better and after a few days of wearing them they were super comfortable. In fact, each one of my friends said that wearing these insoles made them very comfy after a few hours or days. In short, whatever is the reason for the replacement of the original insoles, this might be a good choice .
If you don't want to go with my best choice for insoles, there are more options out there. Here are the next best available insoles for Doc Martens.
Can I replace insoles for Doc Martens boots that are too big?
Yes, you can. Aside from other tricks, using a replacement insole for your Doc Martens boots or shoes is one of the smartest moves you can make. Replacement insoles for shoes that are too big is a common solution.
Top 5 Best Doc Martens Insoles
1. Superfeet BLUE Insoles for Doc Martens
The first thing you should know about Doc Martens shoes is that they come with insoles, but sometimes these insoles may not fit perfectly or will get worn out over time. Hence, I decided to research some alternatives insoles for Doc Martens. Additionally, one of my friends complained that her Doc Martens had a narrow heel cup that caused pain in her heels. That is how I came across Superfeet BLUE Insoles for Doc Martens.
If your boots are a bit loose or have stretched out due to wearing, these insoles are great for occupying the extra space. As one of my Doc Martens work shoes had become a bit loose and I stopped wearing them I decided to try them out before suggesting them to my friend or using them for my kids.
Superfeet Blue Insoles provide long term support packed into a thinner, higher performance structure designed to enhance the overall fit and comfort of Doc Martens shoes among other footwear. The heel cup on the Superfeet Blue Insoles helps position the heel in a natural position to absorb impact.
The closed-cell foam provides support and cushions for the feet for long-lasting comfort – something you would appreciate if you spend long time on your feet standing or walking around. Another aspect that I liked about these insoles is their medium profile shape.
It provides biomechanical support in the areas you need it but takes less space in the shoes. You don't want to buy a whole size bigger shoe just to fit the insole.
The narrow cap of the insole is reinforced by a rail to provide additional structure and support, a feature not found in every insole available for Doc Martens. The insoles are coated with an odor control system which prevents odor-causing bacteria buildup. I hate smelly shoes that I must disinfect at the end of each day. Between work and my kids, my plate is already full.
2. Superfeet ORANGE Insoles with High Arch Support for Doc Martens
Superfeet Orange Insoles are designed for high-impact activities with incredible high arch support suitable for any Doc Martens. It features a shock-absorbing foam especially suited if you spend a lot of time on your feet or enjoy intense activities like hiking, camping, jogging, etc.
Superfeet Orange Insoles showcase a deep, narrow heel cup engineered to help support your feet over long distances and time. The construction of the insole is so durable that they maintain their shape while providing stability and comfort for up to 12 months – perfect for work footwear or 500 miles – ideal for hikes and runs. In fact, the foam forefoot can absorb a lot of shocks so you can go crazy on any sports field, go for a run and simply walk around the block.
Support and stability are important but so is comfort. You can't do much for long if you are not comfy in your shoes – I mean literally. Closed-cell foam cushions your feet and provides the desired comfort. Likewise, the shape and construction of the insoles protect your feet, ankles, and knees from stress so that you don't have aching feet at the end of the day.
The insoles have organic odor-controlling coating which prevents odor-causing bacteria and let's face it you don't want to deal with smelly shoes or feet after a long day out.
3. Dr. Scholl's Work Massaging Gel Doc Martens Inserts
Dr. Scholl's Work Massaging Gel Inserts for Doc Martens are created especially for all day long comfort – suitable for you if you spend long hours on your feet at work or play. The insoles aim to reduce muscle fatigue in your feet and legs so that you can give the task at hand your complete attention.
These insoles feature massaging gel technology to provide additional cushioning required for demanding environments and hard surfaces as well as to absorb shock during extensive use. Furthermore, the heel support is equipped with extra gel for improved comfort and support. The arch support is reinforced to provide stability.
A special feature of these insoles is that they have cooling vents to keep your feet cool and dry which is a major plus for me as there is nothing more uncomfortable than hot or sweaty feet. These insoles can be trimmed and customized to any fit as we all have a slightly different fit.
4. Dr. Martens Unisex Comfort Insoles
Dr. Martens Unisex Comfort Insoles features a Smartmask Technology which smartly combines custom blended polyurethane foam with millions of tiny air bubbles. It helps provide cushion to your feet when you walk or run. It is essentially like you are walking on air – though not literally, and as a result these insoles feel very comfortable.
Polyurethane foam is unique because it doesn't go flat and loses its comfort after regular extensive use. You can rely on these insoles to provide you comfort for years to come. I always feel that comfortable shoes provide for unaching feet, making life a little better.
The usefulness of these insoles is not restricted to comfort! Stability while on your feet is equally essential. The insoles provide stability to your heel and arch which helps in walking steadily and is vital for preventing muscular stress and tension as no one wants stress – in feet, body or life. The shape of the insoles maintains your feet correct anatomical position, contributing to lesser muscular fatigue and more comfort.
Odor caused by insoles is a huge problem for most people including me. An antimicrobial treatment is always a major point winner for me, and these insoles have it. It helps prevent odor-causing bacteria and reduces the risk of any infection or fungus which is important for me for more than myself as I want my kids protected from such problems. And yes, they have kids sizes too.
5. Spenco Total Support Max Insole
Spenco Total Support Max Insoles are mainly suitable for athletes or people participating in similar activities. They will serve you well if you are seeking stiffer, more rigid arch support for maximum stability.
These insoles provide rigid support and improved motion control to decrease overpronation while walking or running. But that is not all. Spenco Total Support Insoles features a specialized 3-POD Modulation System which does sound very techy but is quite simple to understand.
Essentially the insoles are designed so pods with different degree of hardness are positioned beneath important areas of the feet. Hence, when you undertake extremely physical activity, these pods work to change the amount of ground force reaching your feet. As a result, your performance is better with greater comfort and stability.
And as you would expect from a pair of insoles worth your time and money, these provide advanced support for the arch and heel, which helps in stability and support and provides cushion to your feet.
Another important aspect that I must mention is that the life of your shoes also increases due to rigid and stiff support provided by these insoles. Spending so much on those Dr Martens boots, you probably want them to last longer. And talking about life, these insoles comes with an unconditional one-year guarantee.  
Replacement Insoles for Dr Martens Explained (video)
Stretch your boots to fit in replacement insoles for Doc Martens
Related: How to Stretch the Toe Box of a Shoe
Related Best Insole Guides